The London Fish Exchange
Data / Market Insight / News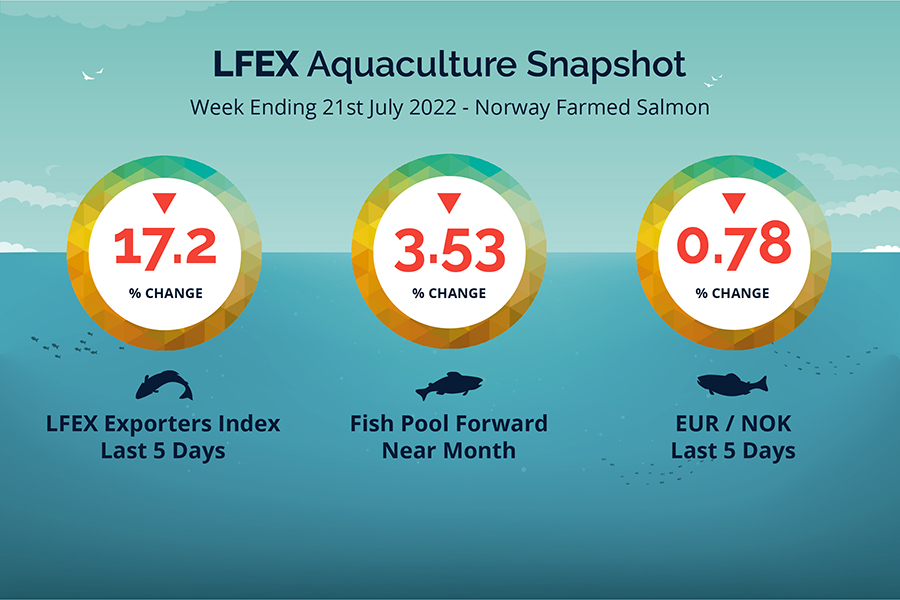 LFEX European Aquaculture Snapshot to 21st July, 2022
Published: 22nd July 2022

This Article was Written by: John Ersser
---
The LFEX Norwegian Exporters Index week 29 was down -17.27%, -15.56 NOK to stand at 74.53 NOK FCA Oslo Week ending Thursday vs previous Thursday.
The NOK was a little stronger at 10.17 to the Euro over the period Thursday to Thursday -0.08 NOK or 0.78%. The Fish Pool future July down -3.25 NOK at 88.75 NOK with August showing 76.80.
The expectation of softer prices wasn't wrong with a huge overall -17.27% fall in prices. The market kicked off down -3.35% on Friday at 87.17 NOK, continued to manage the drop on Monday at 85.27 NOK and fell consistently across the week 81.37 on Tuesday, 79.82 on Wednesday and a rout on Thursday down -5.29 NOK in a day. The cure for high prices before seeming to be high prices, a holiday period, more fish and a huge heatwave across Europe. Volumes in week 28 were up at 17,935. Thoughts for next week include hopes for a stabilization around these prices given the huge drop seen, while recognising prices are still comparatively high (FPIndex was 66.75 week 29 2021), to maintaining these levels into the new week but then softer again, unless some harvesting is held back. As usual, we will see…
David Nye's analysis for a Technical viewpoint will be published on Monday.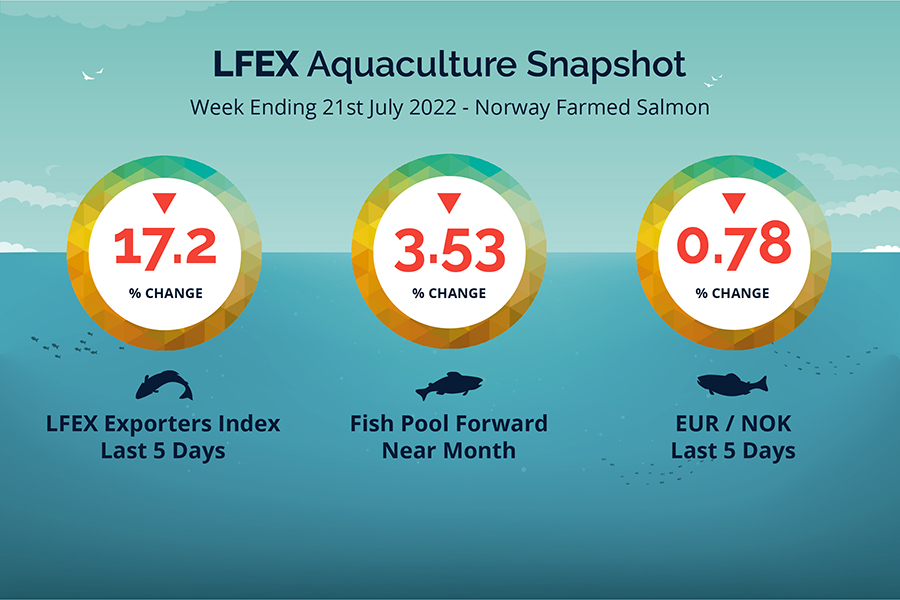 Market Data (Click Each to Expand)
| | | | |
| --- | --- | --- | --- |
| LFEX Prices | FX Rates | LFEX Indicative Exporter Prices (4 Week) | EUR / NOK FX Rate (4 Week) |
Did You Know?
LFEX Exporters Index is the only DAILY calculated salmon price index and gives users the granularity to track prices intraweek.
In weeks like we have just seen with a huge drop across 5 days the LFEX is the best way to track market volatility and direction. It also gives clues as to how prices are holding up or not during the week in times of stress. Combined with our technical analysis we seek to give users a window on potential price movements in the short term (based purely on historical price analysis).
FAQ's
Q. I travel a lot and need the flexibility to transact wherever and whenever the need arises. Can LFEX help?
A. The system is designed to be there for you 24 x 7, no matter where you are or what time zone you are in you will be able to access the platform and place orders or make offers or execute trades. Because of the system design (as long as you have your login credentials) you can login from a different computer and access all your own information and data as usual.