The London Fish Exchange
Data / Market Insight / News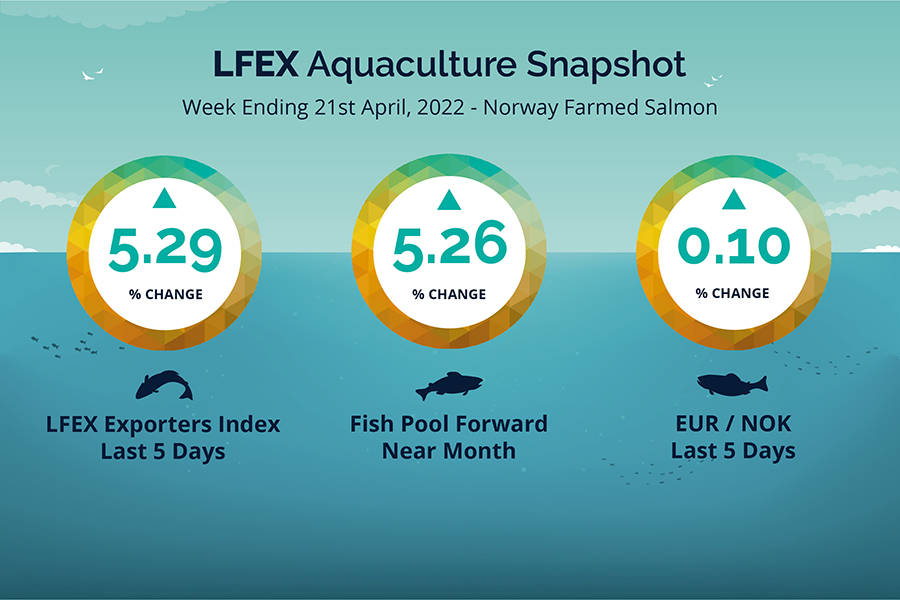 LFEX European Aquaculture Snapshot to 21st April, 2022
Published: 22nd April 2022

This Article was Written by: John Ersser
---
A third week in which prices hit record highs with prices pushing on from even intra-week highs of the previous week. The LFEX Norwegian Exporters index week 16 was up +5.29%, +5.94 NOK to stand at 118.23 NOK FCA Oslo Week ending Thursday vs previous Wednesday price for the short Easter week.
The NOK remained flat at 9.58 to the Euro over the period Wednesday to Thursday +0.01or 0.1% weaker. The Fish Pool future April gained +5.25 NOK to 105.00, +5.26% over the same period.
After the short Easter week markets opened slightly stronger, showing 114.1 NOK versus 112.29 +1.61% on Wednesdays' close. Pricing moved consistently up on both Wednesday and Thursday to finish the week at 118.23, the high of the week. Despite price levels and significantly reduced volumes there was buying demand at these levels. Next week is back to a full week, with good interest for fish on Friday / Monday and volumes remaining low. Expectations remain for high prices but maybe a little weakening as the week progresses. We'll see.
David Nye's analysis for a Technical viewpoint will be published on Monday.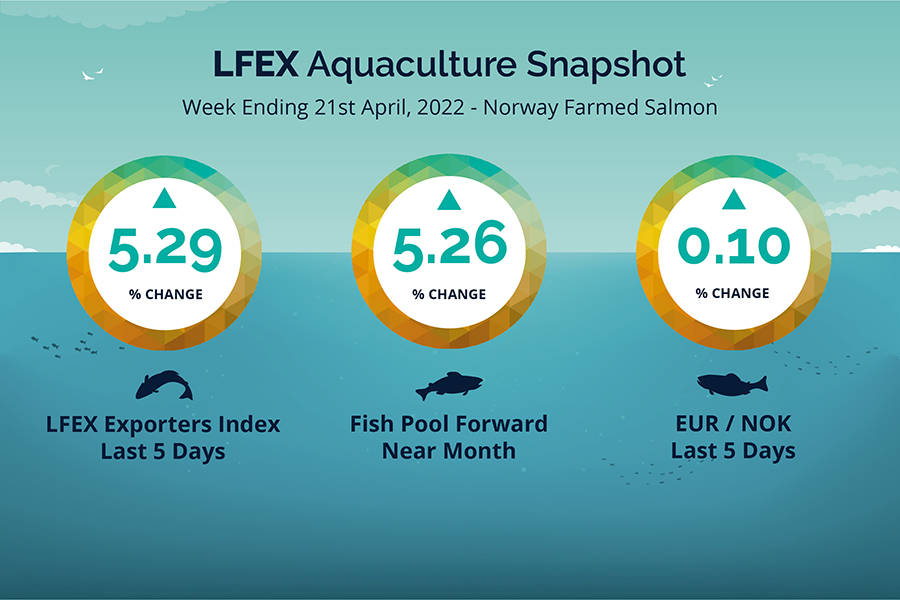 Market Data (Click Each to Expand)
| | | | |
| --- | --- | --- | --- |
| LFEX Prices | FX Rates | LFEX Indicative Exporter Prices (4 Week) | EUR / NOK FX Rate (4 Week) |
Did You Know?
The recent pricing is of course linked to available supply.
We track the volumes coming out of Norway on the platform for you, with Week 15 2022 showing 12,041 tons versus 17,628 for the previous Easter lead in week. In 2021, Week 15 showed 17,979 tons as a comparison, while 2020 which is not so representational because of Covid was at 11,992 – so very similar supply but much reduced demand. We also track the Chilean volumes through DataSalmon to help build a global supply picture.
FAQ's
Q. I'm worried competitors can see my price – can they?
A. The answer is no. The system is built to manage and curate your business, securely bringing your relationships onto the platform. This means that you decide who can see your prices and offers, which could be specific to just one customer or group of customers. It also means that your competitors (as a seller) can't see your pricing. For buyers putting up prices or responding to RFQ's with counter offers, this information is secure and private between you and the counterparty you are negotiating with.