The London Fish Exchange
Data / Market Insight / News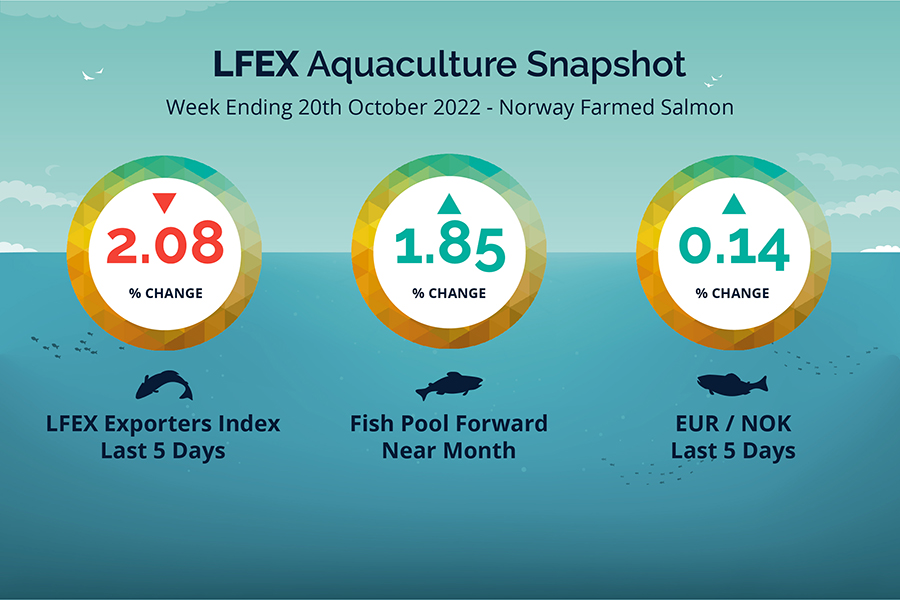 LFEX European Aquaculture Snapshot to 20th October, 2022
Published: 21st October 2022

This Article was Written by: John Ersser
---
The LFEX Norwegian Exporters Index week 42 was down -2.08%, -1.48 NOK to stand at 69.70 NOK FCA Oslo Week ending Thursday vs previous Thursday.
The NOK ended up flat over the week ending at 10.375 to the Euro over the period Thursday to Thursday -0.015 NOK or +0.14%. The Fish Pool future October was up +1.3 NOK at 71.5 NOK.
The predictions for last week were again nailed and we pretty much revisited the previous weeks' trading pattern except prices broke on Monday. Prices jumped up on Friday 2.5 NOK to 73.68 NOK or 3.51% as sellers pushed prices at the beginning of the week. Monday was down at 72.1 NOK and continued down on Tuesday at 70.89 and a low of 69.5 NOK on Wednesday (a peak fall of 4.18 NOK / 5.6%) intra week with Thursday flat at 69.7 NOK. Despite sellers pushing, buyers didn't have appetite above the 7 Euro level. There looks to be unsold fish this week which could have an overhang on pricing for week 43. For next week sellers are pushing for a lift but the buyers price ceiling seems to remain at 7 Euro, a level above which freezing economics start to drop off level. Expectations are for more of the same with any unsold overhang may have an influence. As usual we will see…
David Nye's analysis for a Technical viewpoint will be published on Monday.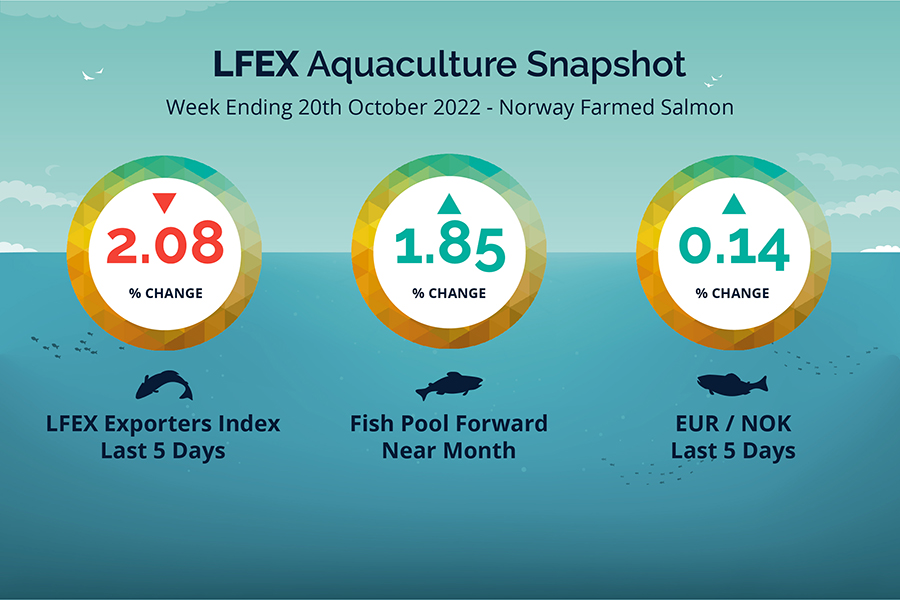 Market Data (Click Each to Expand)
| | | | |
| --- | --- | --- | --- |
| LFEX Prices | FX Rates | LFEX Indicative Exporter Prices (4 Week) | EUR / NOK FX Rate (4 Week) |
Did You Know?
Odd Lots – what does it mean, and can I trade them?
Odd Lots, or smaller orders and unusual one-off transactions are often the result of a surprise demand that needs to be facilitated by a buyer, or a smaller excess inventory from a seller. The use of a platform is ideal in this scenario allowing both sides to broadcast their Odd Lot requirement to multiple counterparties quickly and easily, and to source and mop up the requirement. It means the system can take the strain as opposed to chasing around for ultimately a low volume order.
FAQ's
Q. I am looking to seller bigger quantities can I do this?
A. With prices looking fairly fixed last week moving volume was important. There are two main elements to this; the first is being prepared for this type of market by having as many counterparties set-up as possible to distribute inventory to, along with a good working practise on the system. The second is to proactively offer into the market and to work these offers, as well as discretely offering volumes to preferred counterparties. A combination of both gives you most chance of success. If you are there and engaged people have an opportunity to react to you and help to get you filled.