The London Fish Exchange
Data / Market Insight / News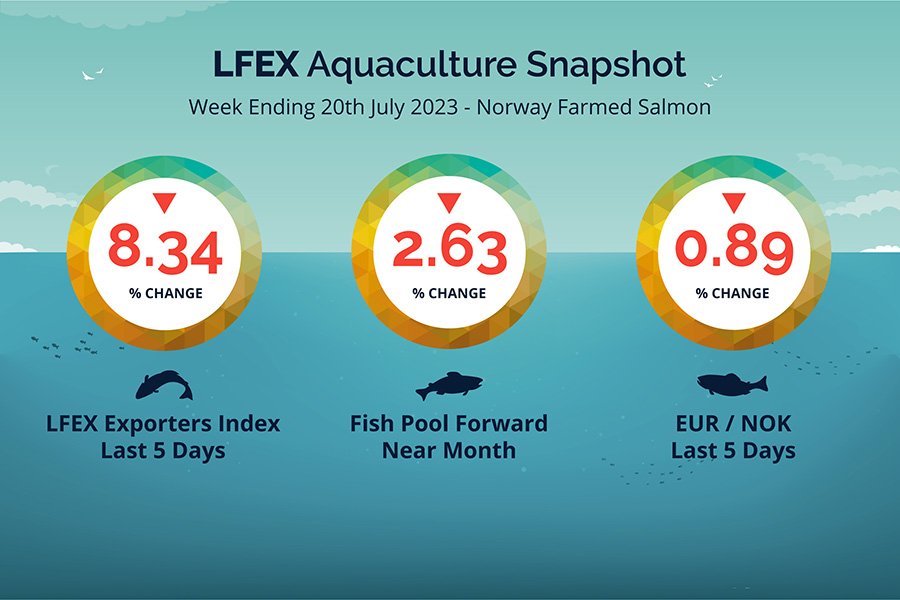 LFEX European Aquaculture Snapshot to 20th July, 2023
Published: 21st July 2023

This Article was Written by: John Ersser
---
The LFEX Norwegian Exporters Index for Week 29 2023 was down -8.34%, -7.90 NOK to stand at 86.88 NOK FCA Oslo Week ending Thursday vs previous Thursday.
The NOK rate was down at 11.16 to the Euro over the period Thursday to Thursday -0.10 NOK or -0.89%. The Fish Pool future July was reported lower at 89.0 NOK down -2.40 NOK or -2.63%.
The index price opened lower for week 29 trading last Friday at 90.81 NOK -3.97 NOK from the previous week. The index reduction was influenced by the decline in the 5/6s of around 9 NOK to 101.55 which helped push the index lower. 4/5s down around 4 NOK and 3/4s less than 1 NOK. While a reduction in the 5/6s was expect it was probably a little over blown meaning prices then pushed back up Monday / Tuesday to the 107 levels. Smaller fish remained level-ish, but Wednesday and Thursday saw a fall off again, particularly the 5/6s closing out at 95.29 and an overall fall in the index. Spread was down to 15.75. Looking forward to next week, a slow market during summer holiday time and more fish coming through means an overall expectation of further weakness. Smaller fish remaining relatively stable, 4/5s and 5/6s expecting a reduction with more volume, however 6+ still in demand. We shall see.
David Nye's technical analysis report will be published on Monday.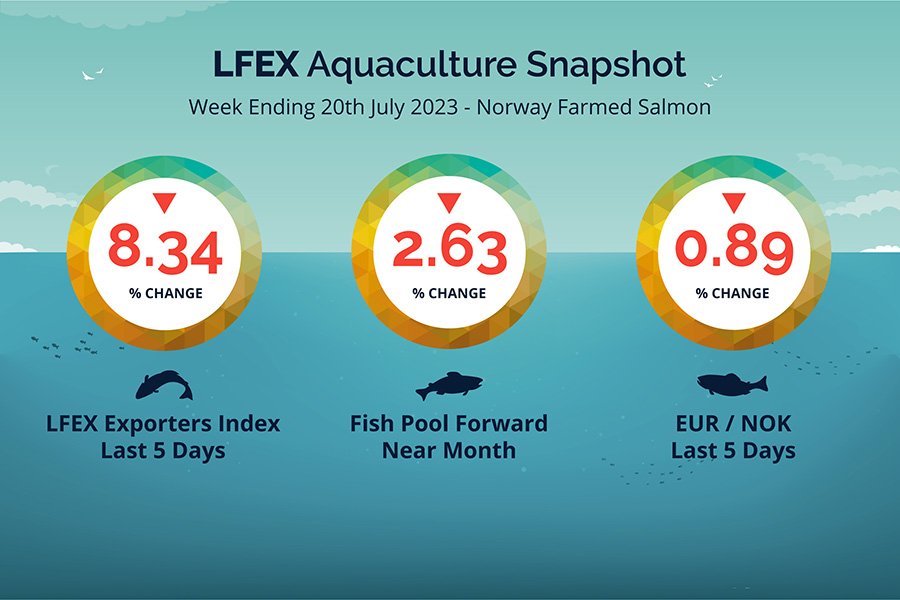 Market Data (Click Each to Expand)
| | | | |
| --- | --- | --- | --- |
| LFEX Prices | FX Rates | LFEX Indicative Exporter Prices (4 Week) | EUR / NOK FX Rate (4 Week) |
Did You Know?
Odd Lots – what does it mean, and can I trade them?
Odd Lots, or smaller orders and unusual one-off transactions are often the result of a surprise demand that needs to be facilitated by a buyer, or a smaller excess inventory from a seller. The use of a platform is ideal in this scenario allowing both sides to broadcast their Odd Lot requirement to multiple counterparties quickly and easily, and to source and mop up the requirement. It means the system can take the strain as opposed to chasing around for ultimately a low volume order.
FAQ's
Q. How can I optimise my sales in weeks where there may be more volume coming through?
A. Active engagement with as many counterparties as possible will help with distribution. Widening global reach would also help with this, especially if the softness is within a particular market, and funnel volume elsewhere. Proactive updating of pricing and offers will create a sense of movement in the market and spur activity, as well as targeted pricing by clients or geography. Encourage engagement with dialogue on chat and market updates and even get buyers to put up bids to you help build a better market picture.