The London Fish Exchange
Data / Market Insight / News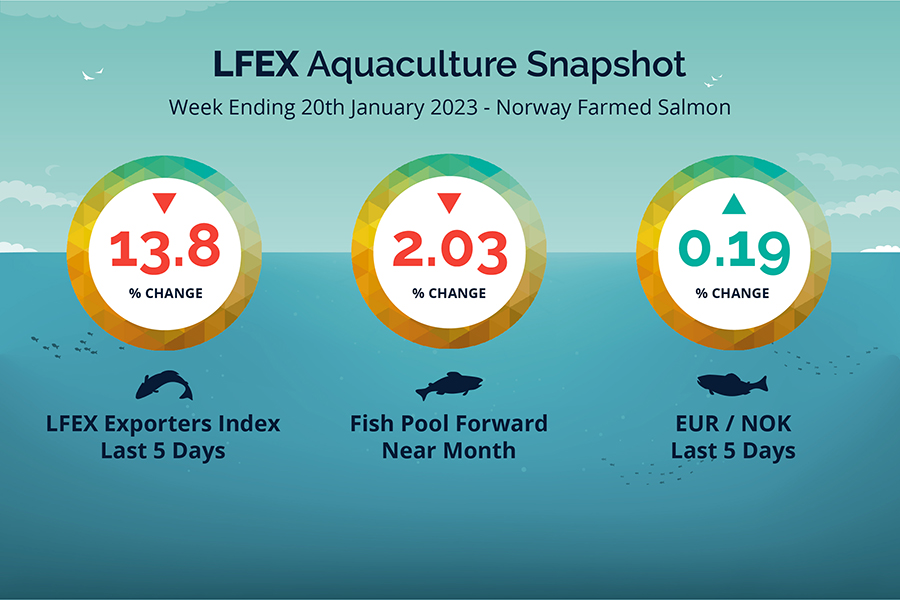 LFEX European Aquaculture Snapshot to 20th January, 2023
Published: 20th January 2023

This Article was Written by: John Ersser
---
The LFEX Norwegian Exporters Index Week 3 2023 was down -13.80 %, -13.48 NOK to stand at 84.19 NOK FCA Oslo Week ending Thursday vs previous Thursday.
The NOK rate ended up over the week ending at 10.74 to the Euro over the period Thursday to Thursday -0.02 NOK or -0.19%. The Fish Pool future January was reported lower at 91.5 NOK down -1.9 NOK or +2.03%.
The market saw a significant pull back this week with the demand for Chinese New Year out of the way. Sellers managed to hold prices for the open of the week as prices opened flat at 97.67 and the hope of strong prices kept the market to 96.17 on Monday. However, it was not to be the sellers week as price tumbled on lack of demand on Tuesday, a further drop on Wednesday with the rout finishing at 84.19 NOK. Next week the sentiment is around the 8 Euro level as the tipping point for buyers. Higher than this and buyers can secure frozen inventory. As usual we shall see.
David Nye's technical analysis report will be out on Monday.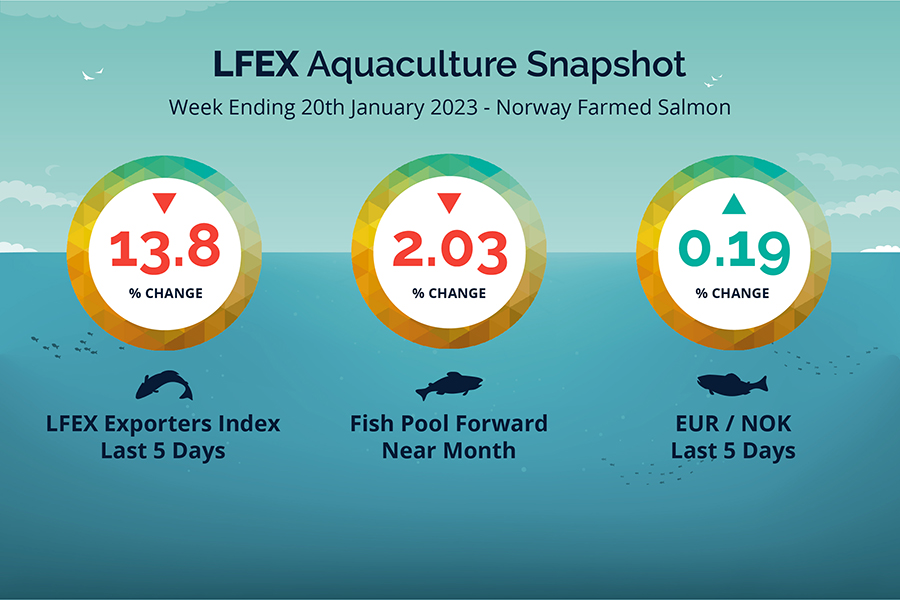 Market Data (Click Each to Expand)
| | | | |
| --- | --- | --- | --- |
| LFEX Prices | FX Rates | LFEX Indicative Exporter Prices (4 Week) | EUR / NOK FX Rate (4 Week) |
Did You Know?
Provenance and specifications documentation are supported order by order.
As provenance and certifications become more important to buyers, it is imperative that the supporting documentation can be made available down to the individual order/trade level. The system supports Fish CV's, certification documentation and detailed product specifications to ensure that you have all the required documentation and can evidence these materials for counterparty auditing, internal reporting and third-party auditing – all instantly available within your organisation.
FAQ's
Q. I want to buy fish from different regions, can I do this?
A. The LFEX is geography and product agnostic. You can trade European salmon from Norway or Iceland for example or choose fish from Chile, depending on your needs and requirements on any given week or program. It gives you access to fresh and frozen and the potential to secure the best pricing by market for your business. We can help you connect to new suppliers in different regions to optimise your business.