The London Fish Exchange
Data / Market Insight / News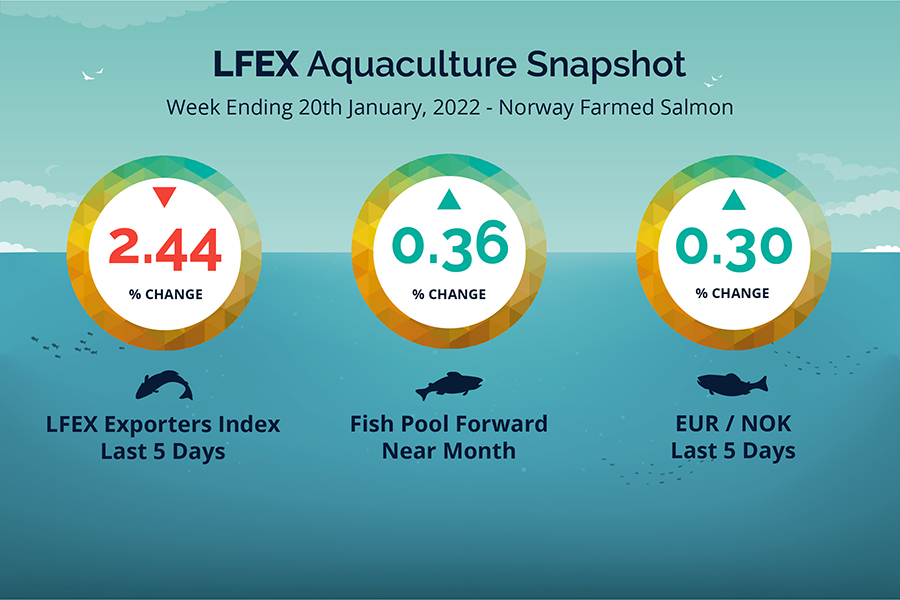 LFEX European Aquaculture Snapshot to 20th January, 2022
Published: 21st January 2022

This Article was Written by: John Ersser
---
Market Insight – Europe
The market was down this week with the LFEX Norwegian Exporters prices -2.44% lower, -1.79 NOK at 71.7NOK FCA Oslo Week 3 ending Thursday vs previous Thursday price.
The NOK slightly softer against the Euro at 9.96 up +0.3% or +0.03 NOK Thursday to Thursday and the Fish Pool future January climbed +0.25 to 68.75 NOK or +0.36% over the same period.
The market opened up as expected on Friday at 73.98, +0.49 NOK better and pushed-on on Monday to 74.58, the high for the week, before retrenching back to 71.7 NOK or -3.85%. A mixed market with perceived pressure from Chilean algae problems, the Asian demand for bigger fish meaning spreads between 3/4's and 5/6's doubled from 3.7 NOK last week to 7.3 on Thursday and mixed demand keeping pricing in a balance.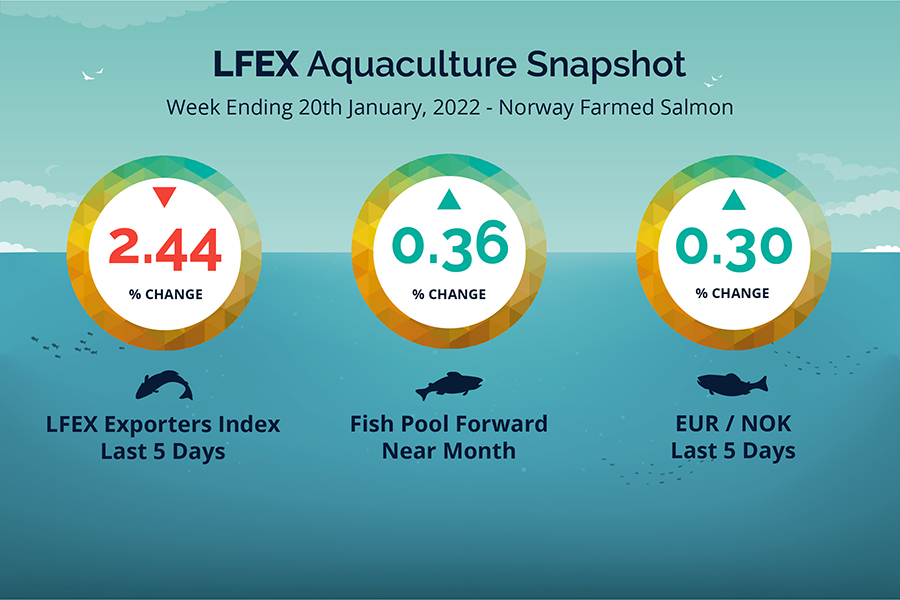 Market Data (Click Each to Expand)
| | | | |
| --- | --- | --- | --- |
| LFEX Prices | FX Rates | LFEX Indicative Exporter Prices (4 Week) | EUR / NOK FX Rate (4 Week) |
Did You Know?
Digital Transformation – what does it mean?
It is about delivering value to your business and its customers in new ways. It's how modern technologies enable us to be more effective and efficient within our businesses processes. It supports and enhances business models, behaviour, pricing, marketing, organisational capabilities, data availability and data use. By adopting different ways of working, it changes how staff deliver value to their companies, how companies deliver value to their customers and builds persistent relationships enhancing business performance.
FAQ's
Q. As a buyer how can I benefit from putting up prices onto the platform?
A. There are many benefits for buyers to put up prices on the platform. We think this is a key component of price discovery as well as opportunity creation for buyers. Instead of being a price taker buyers can show the price they are prepared to trade at (and this can be amended during the life of the order). If the price is for example 3% below the market you might not get filled, but you might, or you might get a better counter-offer as a consequence. The best thing is, it doesn't hurt you or cost you to have a go, it only creates an opportunity for you. The worst that can happen is you don't get any takers, in which case you can react accordingly.