The London Fish Exchange
Data / Market Insight / News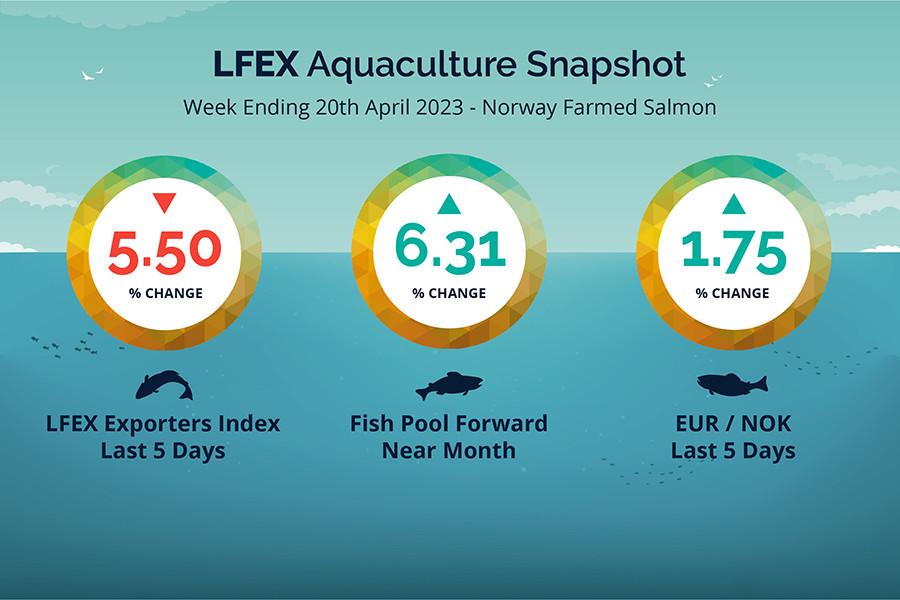 LFEX European Aquaculture Snapshot to 20th April, 2023
Published: 21st April 2023

This Article was Written by: John Ersser
---
The LFEX Norwegian Exporters Index for Week 16 2023 was overall down -5.50%, -6.92 NOK to stand at 119.01 NOK FCA Oslo Week ending Thursday vs previous Thursday.
The NOK rate was up at 11.60 to the Euro over the period Thursday to Thursday +0.20 NOK or +1.75%. The Fish Pool future April was reported higher at 118.0 NOK up +7.0 NOK or +6.31%.
The market opened +4.14 NOK to the good at 130.07 for the usual Friday pick-up and high of the week. Monday held firm at 129.37 as buyers hopes of an initial decrease didn't materialise. However, Tuesday (124.02 NOK) through to Thursday saw a steady fall to 119.01 and the low of the week – but still very strong prices in NOK. The NOK was further battered this week against the EURO finishing around 11.6. The NOK has been losing ground to the Euro since 24th August last year (9.6211) a fall of over 20.5% – some respite for Euro buyers, more difficult if you have a NOK business.
Next week what do we know? The first is it is the Barcelona Expo and a lot of people will be there. We also know there is good volume in smaller fish 2-4's coming through but a lack of larger 5-6's and this is already reflecting in price spread around 10 – 12 NOK over the smaller size. Some older fish went through at the end of the last week a bit cheaper giving the opportunity to push pricing at the start of this week. With the NOK at a record low it is hard to judge. A sense that prices will start stronger again and over all see a stable price in NOK and lower in Euro. Difficult one to call and a lot of range at the moment, we shall see.
Looking forward to catching up at the Expo. David Nye's technical analysis report will be published on Monday.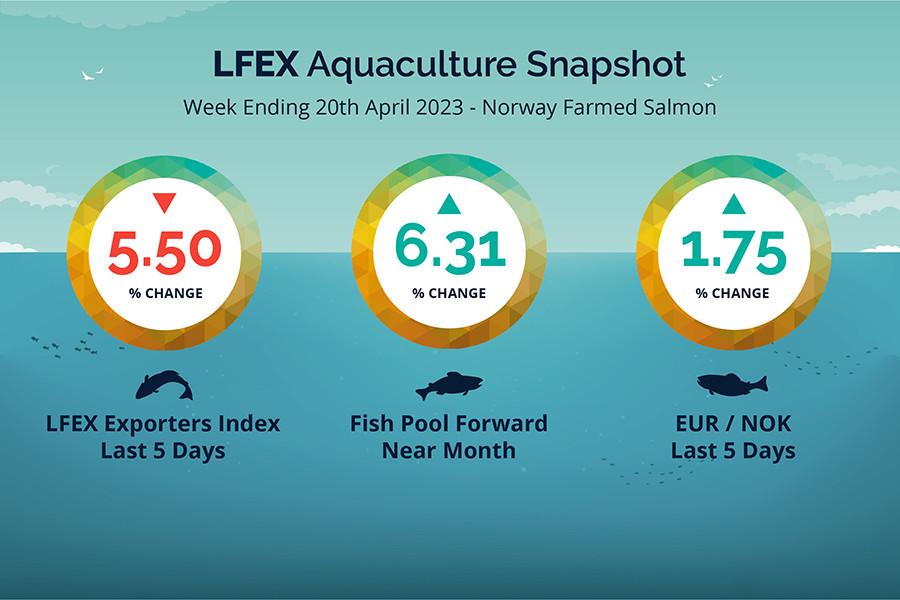 Market Data (Click Each to Expand)
| | | | |
| --- | --- | --- | --- |
| LFEX Prices | FX Rates | LFEX Indicative Exporter Prices (4 Week) | EUR / NOK FX Rate (4 Week) |
Did You Know?
LFEX Exporters Index is the only DAILY calculated salmon price index and gives users the granularity to track prices intraweek.
In weeks like we have just seen with big intra week pricing variability, and both sides of the market unsure of the direction of travel, the LFEX is the best way to track market volatility and direction. It also gives clues as to how prices are holding up or not during the week in times of stress. Combined with our technical analysis we also seek to give users a window on potential price movements in the short term (based purely on historical price analysis).
FAQ's
Q. I travel a lot and need the flexibility to transact wherever and whenever the need arises. Can LFEX help?
A. The system is designed to be there for you 24 x 7, no matter where you are or what time zone you are in you will be able to access the platform and communicate, place orders or make offers or execute trades. You can log in remotely and securely from any location, see the most recent data and offers. The system has been designed to ensure you never miss an opportunity and sends notifications to users (SMS and Email) of events affecting you even when not logged in. We also provide access to the LFEX Mobile app should you not have access to a computer or WiFi, and real-time LFEX Chat services. Whether you are away from the desk, office or country, at an Expo or on holiday you will always have everything you need to optimise your business.