The London Fish Exchange
Data / Market Insight / News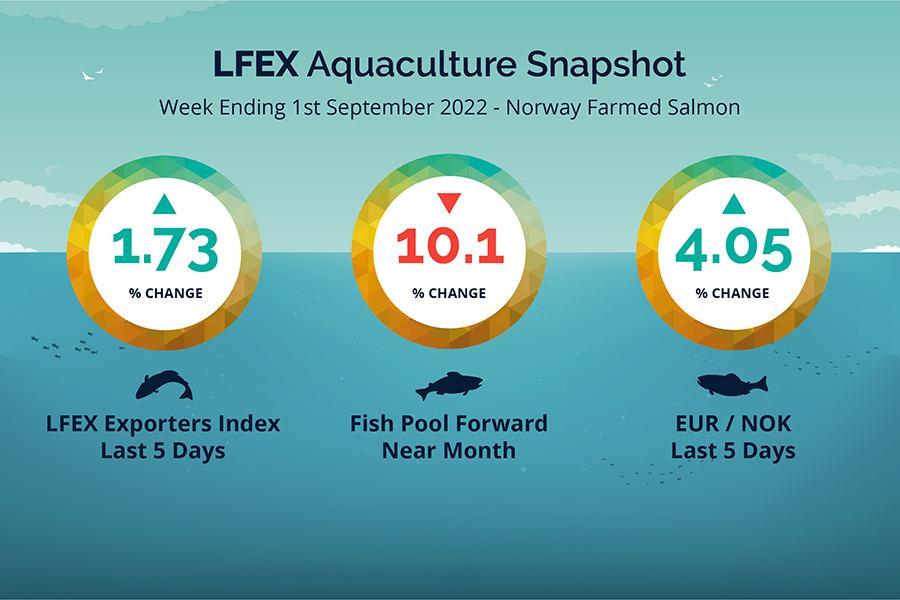 LFEX European Aquaculture Snapshot to 1st September, 2022
Published: 2nd September 2022

This Article was Written by: John Ersser
---
The LFEX Norwegian Exporters Index week 35 was overall up +1.73%, +1.01 NOK to stand at 59.48 NOK FCA Oslo Week ending Thursday vs previous Thursday.
The NOK was weaker ending at 10.02 to the Euro over the period Thursday to Thursday +0.39 NOK or +4.05%. The Fish Pool future September was down -7.00 NOK at 59.50 NOK.
A very varied week. The market opened almost unchanged at 58.42 following the falls of the previous week, but weakness resumed on Monday with a drop to 55.93 or -4.25% as prices continued their downward movement on heavy harvest volumes. However, stability was found at these levels with Tuesday a very consistent 55.96 NOK. Prices then rallied +3.35 NOK over a period of 24 hours to 59.31 NOK a jump back up of nearly 6%, with Thursday seeing 59.48 NOK, an overall rise for the week, but one that doesn't tell the whole story. Volume was pushed through the market earlier in the week and rumours of some harvesting management resulting in the mid-week jump. NOK weakness provided some respite for the farmers with an overall 4% rise helping them along a little. Next week 36 volumes to be similar to this. 4-5 to 5-6 prices spread has narrowed to .50/.60 NOK. Pricing currently looks to be around / just slightly off Thursday closing levels. As usual, we will see…
David Nye's analysis for a Technical viewpoint will be published on Monday.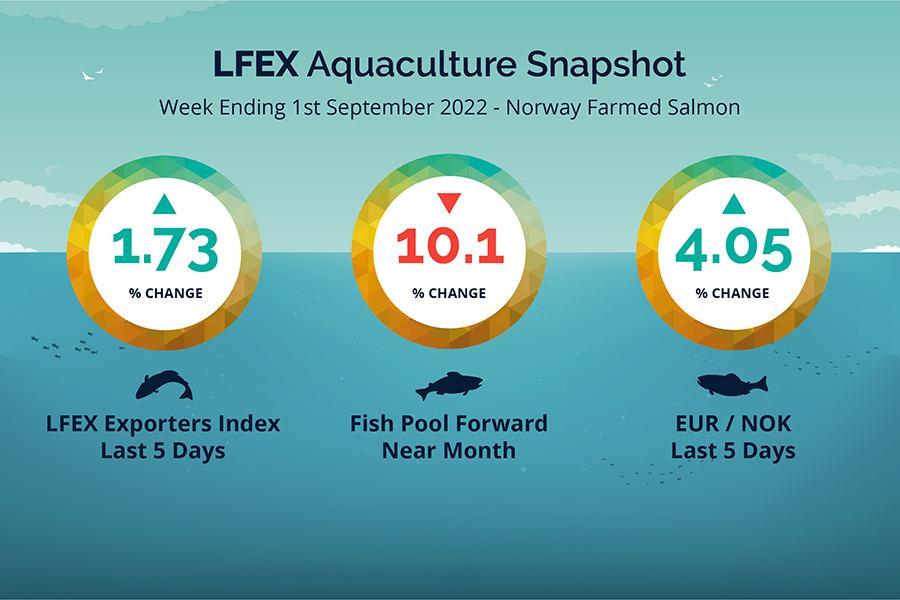 Market Data (Click Each to Expand)
| | | | |
| --- | --- | --- | --- |
| LFEX Prices | FX Rates | LFEX Indicative Exporter Prices (4 Week) | EUR / NOK FX Rate (4 Week) |
Did You Know?
Smaller orders and unusual one-off transactions are often the result of a surprise demand that needs to be facilitated by a buyer, or a smaller excess inventory from a seller.
The use of a platform is ideal in this scenario allowing both sides to broadcast their 'Odd Lot' requirement to multiple counterparties quickly and easily, and to source and mop up the requirement. It means the system can take the strain as opposed to chasing around for ultimately a low volume order.
FAQ's
Q. Can I amend or add to orders transacting on LFEX?
A. This is a good question and LFEX gives you many of the answers. The system allows you to very quickly put up offers / orders within the RFQ service and manage pricing in real-time. The system not only lets you manage order parameters during the sale/purchase process but by single or multiple counterparties. It has been built to replicate your business activity, is highly flexible and captures your business activity / management perfectly.