The London Fish Exchange
Data / Market Insight / News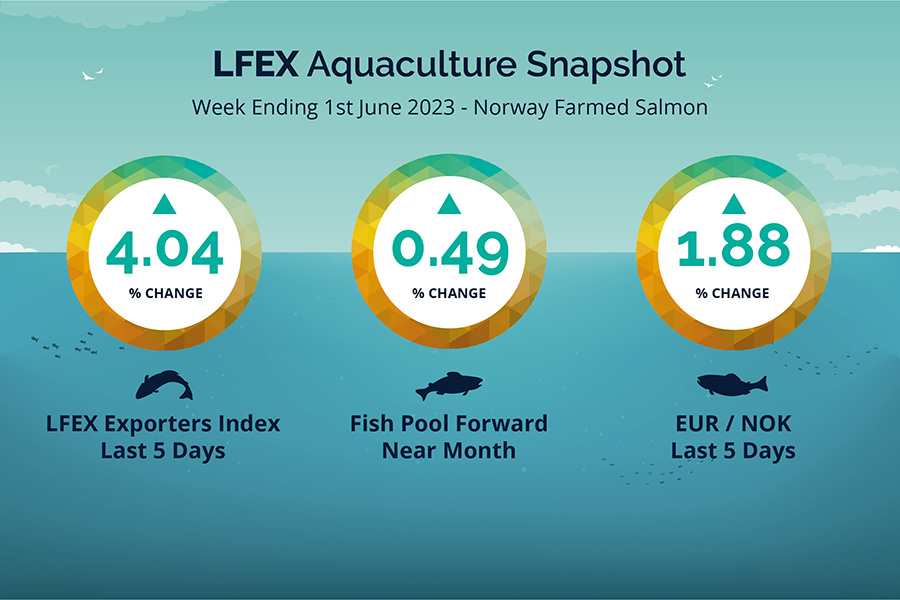 LFEX European Aquaculture Snapshot to 1st June, 2023
Published: 2nd June 2023

This Article was Written by: John Ersser
---
The LFEX Norwegian Exporters Index for Week 22 2023 was stronger with the market up +4.04%, +4.52 NOK to stand at 116.49 NOK FCA Oslo Week ending Thursday vs previous Thursday.
The NOK rate was up at 11.95 to the Euro over the period Thursday to Thursday +0.22 NOK or +1.88%. The Fish Pool future June was reported higher at 102.0 NOK up +0.5 NOK or +0.49%.
The last bank holiday for a while and a 4 day week. Prices opened firmer as predicted, although maybe firmer than expected with a 5.98 NOK / 5.34% jump on last weeks close. Monday was bank holiday and the market found more strength on Tuesday for the peak at 119.05. Wednesday and Thursday started to see the market tail off a little. Lower harvest volumes saw reduced supply keeping pricing stronger. Next week there are expectations of more harvesting coming through and Poland is off on Thursday which leads to pricing indicating a little softer than this week. 5/6's pricing is starting to come back into line now that there is more / or imminently more volumes in this size. EURNOK has been powering away to the highest level since March 2020 benefitting Euro buyers. We shall see.
David Nye's technical analysis report will be published on Monday.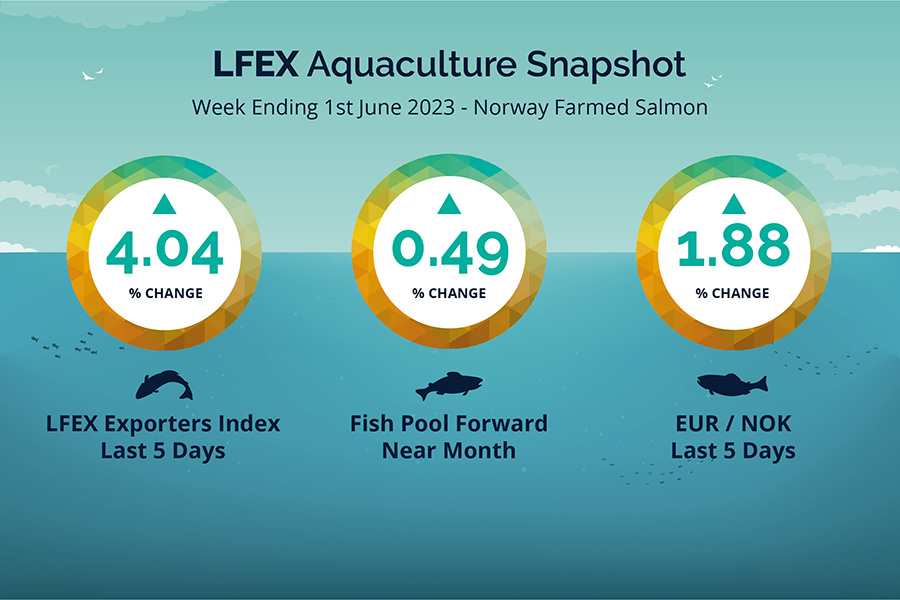 Market Data (Click Each to Expand)
| | | | |
| --- | --- | --- | --- |
| LFEX Prices | FX Rates | LFEX Indicative Exporter Prices (4 Week) | EUR / NOK FX Rate (4 Week) |
Did You Know?
You can place orders / make offers (or RFQ's) on the system for 15 minutes, an hour, a week, 2 weeks or longer, in fact any time period you want, allowing you to match your orders with your business demands.
It also means you can for example put out offers for available frozen inventory, and update prices as often as you want against this, whole fish, fillets or even VAP like bellies.
FAQ's
Q. I want to send the same order request as last week, how can I do this?
A. The purpose of technology is to build in efficiencies into your daily operations. The beauty of a professional and well thought through mature technology is that we offer these user efficiencies. The system will remember your last RFQ order and auto populate if you are not a heavy user. You can also set-up your own default RFQ's meaning your whole order profile is literally available at the click of 1 button. Within 5 seconds you can get your perfect RFQ out to as many sellers as you want.