The London Fish Exchange
Data / Market Insight / News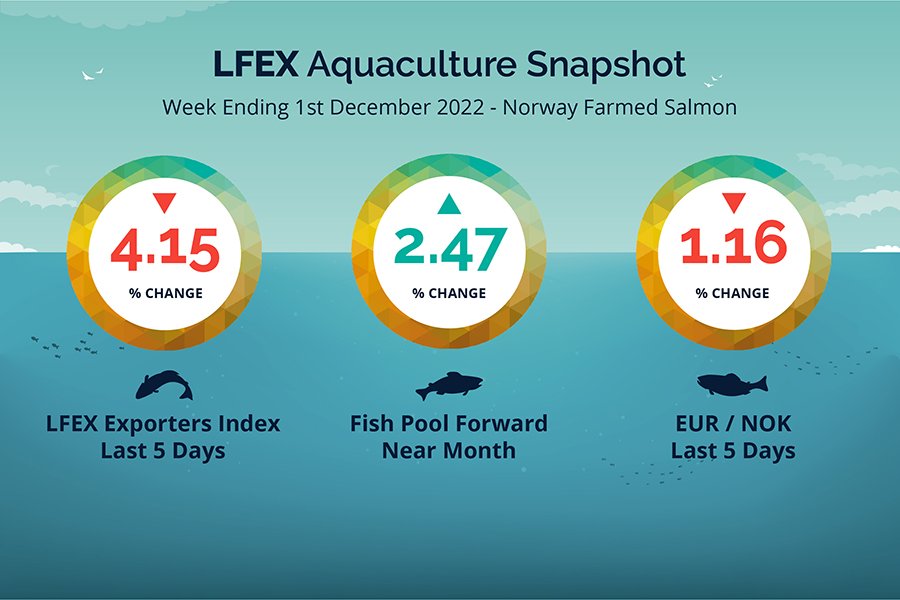 LFEX European Aquaculture Snapshot to 1st December, 2022
Published: 2nd December 2022

This Article was Written by: John Ersser
---
The LFEX Norwegian Exporters Index week 48 was down -4.15%, -3.38 NOK to stand at 78.07 NOK FCA Oslo Week ending Thursday vs previous Thursday.
The NOK ended lower over the week ending at 10.23 to the Euro over the period Thursday to Thursday -0.12 NOK or -1.16%. The Fish Pool future November was reported up at 83 NOK +2.0 NOK for December.
The market didn't play out as expected as volumes remained strong and the poor weather narrative didn't arrive. A big push on prices on Friday up over 5 NOK / +6.24% was too much for buyers, the buyers backed off and prices slumped or crashed as the market stopped. Over the week there was an -8.46 NOK fall or- 9.38% top (Friday) to bottom Thursday. Monday sellers tried to maintain pricing, showing 85.74 NOK and 84.42 NOK Tuesday with the damage really coming through Wednesday 81.88 and Thursday 78.07 NOK. Looking forward to next week prices are expected to continue their slide further today Friday, with views of prices firming next week / to a continued weakening if bigger volumes are seen coming through. As usual we will see…
David Nye's analysis for a Technical viewpoint will be published on Monday.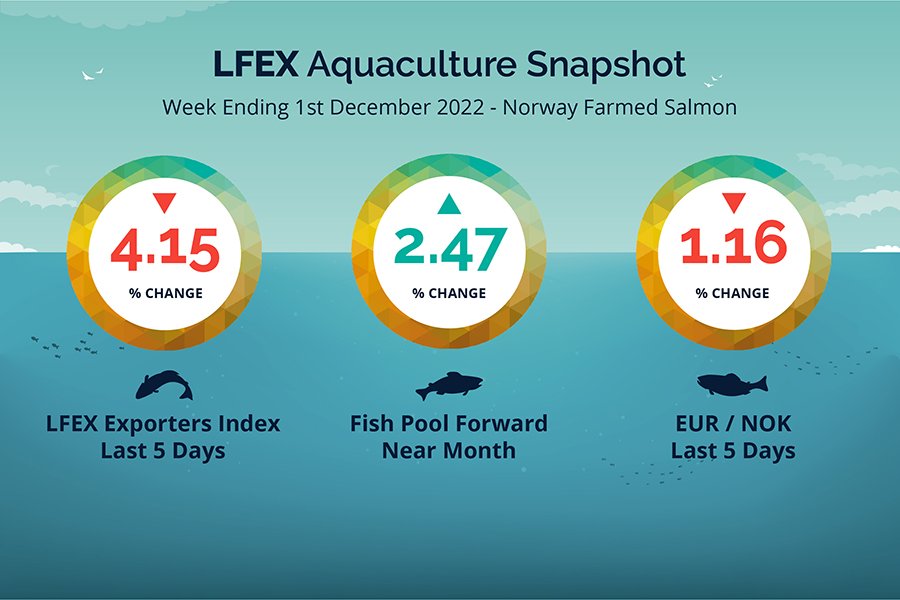 Market Data (Click Each to Expand)
| | | | |
| --- | --- | --- | --- |
| LFEX Prices | FX Rates | LFEX Indicative Exporter Prices (4 Week) | EUR / NOK FX Rate (4 Week) |
Did You Know?
Provenance, specifications and logistics documentation are supported order by order?
Operational documentation can be added to the platform to allow you to manage the sales, shipping, invoicing and provenance and certifications. Buyers are becoming more demanding of supporting documentation, and this can be made available down to the individual order/trade level or managed and searched on the system for your administrative teams to handle in real-time.
FAQ's
Q. I am concerned about the move from manual to electronic transacting, can I do both?
A. Yes – using a platform is designed to support and enhance your existing relationships and allow you to expand on them. We recommend that you start by dipping your toes and learn about the system, what you see and what to expect. You can then build confidence and proactively use the system to get the maximum benefit from it. You can download the orders from the system if you need to into a CSV file, or input data into your existing system in the same way you do a manual trade – there are no downsides.