The London Fish Exchange
Data / Market Insight / News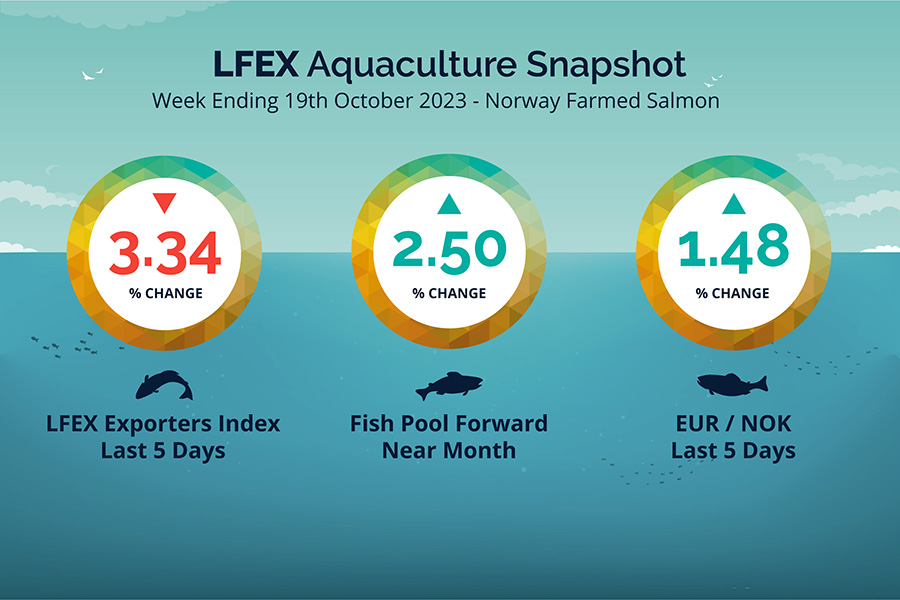 LFEX European Aquaculture Snapshot to 19th October, 2023
Published: 20th October 2023

This Article was Written by: John Ersser
---
The LFEX Norwegian Exporters Index for Week 42 2023 ended the week down -3.34%, -2.84 NOK to stand at 82.17 NOK (in EUR terms 7.03 / – 0.35 /- 4.75%) FCA Oslo Week ending Thursday vs previous Thursday.
The NOK rate was higher at 11.69 to the Euro over the period Thursday to Thursday +0.17 NOK or +1.48%. The Fish Pool future October was reported up + 2.00 NOK, +2.50% at 82.0 NOK.
Index prices opened up on the Friday at 87.73 NOK / +3.1% in line with the initial indications with an even 1 NOK spread between sizes 3-6. The story of the week was bad weather reducing volumes and pushing up prices, as supply was cancelled at the beginning of the week. Prices went (too) high and came off sharply as the week progressed. Top to bottom down -5.50 NOK / -6.27%. Further NOK weakness contributed to larger falls for EURO buyers. Fresh volumes for week 41 were 24,679 (vs 25,537 wk41 2022). Looking forward to next week potential for more bigger fish 5+. Early pricing is limited still, but general feedback is pricing to be a little lower than Thursday which closed at 82.17.
David Nye's technical analysis report will be published on Monday.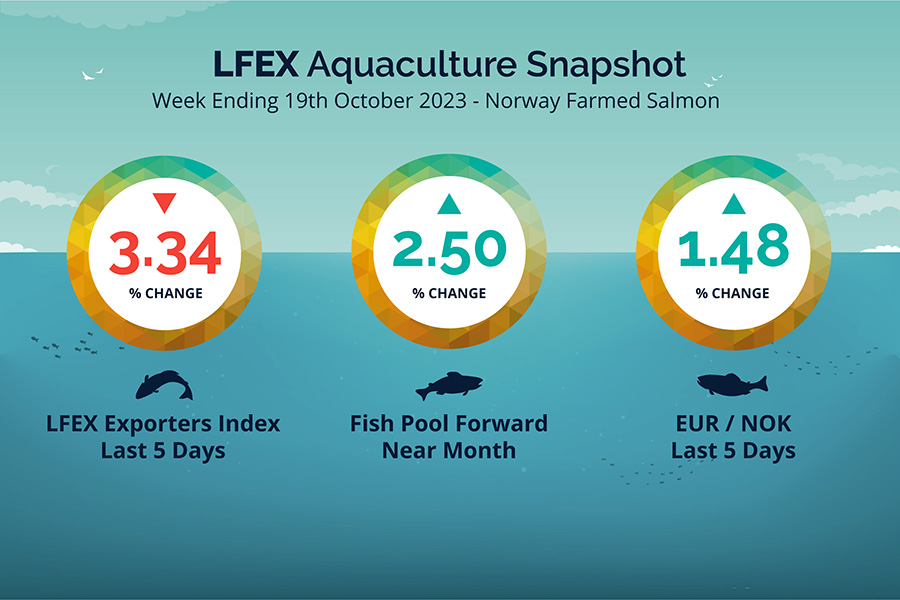 Market Data (Click Each to Expand)
| | | | |
| --- | --- | --- | --- |
| LFEX Prices | FX Rates | LFEX Indicative Exporter Prices (4 Week) | EUR / NOK FX Rate (4 Week) |
Did You Know?
The London Fish Exchange works 365 days, 24/7!
Let the LFEX work for you. It never needs an afternoon off, or a day off, or holiday (although you can access it on your vacation). It can help your company buy or sell efficiently and in a cost effective manner. Let the LFEX be a key member of your team.
FAQ's
Q. What is the purpose of the platform?
A. Bring together the buying and selling communities on a single platform. Delivering a tool for users to connect, communicate, discover inventory and pricing, and trading in a secure, modern and transparent environment, 24 x 7 globally. To provide the benefits enjoyed by other financial and commodity markets, as well as a single source for post sales activity, documentation and market data. Delivering efficiency, opportunity and knowledge.