The London Fish Exchange
Data / Market Insight / News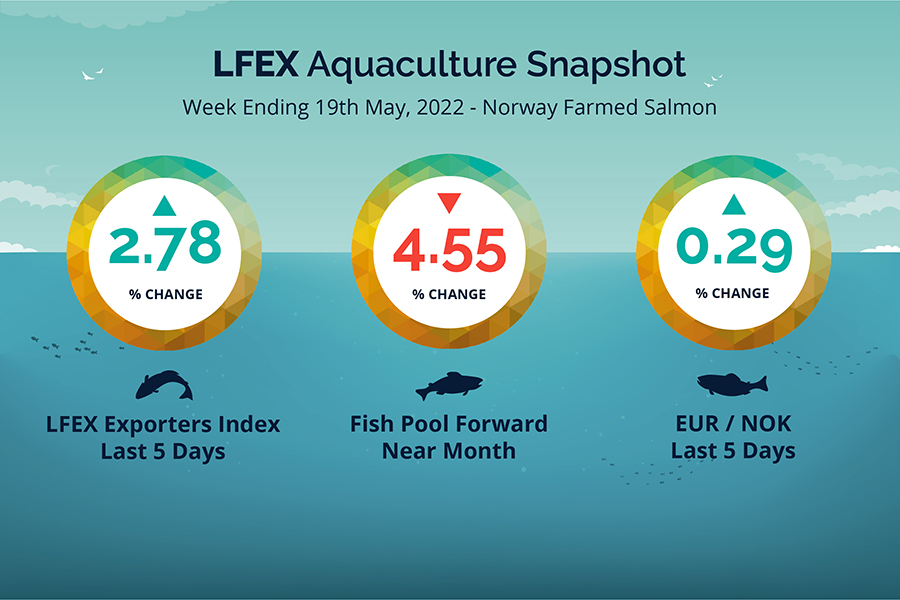 LFEX European Aquaculture Snapshot to 19th May, 2022
Published: 20th May 2022

This Article was Written by: John Ersser
---
A steadier week in week 20 with less volatility. The LFEX Norwegian Exporters index was up +2.78%, +2.82 NOK to stand at 104.41 NOK FCA Oslo Week ending Thursday vs previous Thursday.
The NOK was relatively flat at 10.32 to the Euro over the period Thursday to Thursday +0.03 or 0.29% weaker. The Fish Pool future May lost -5.0 NOK to 105.00, -4.55% over the same period.
A shorter trading week with a big holiday in the middle. Although no one was sure of the direction last week, prices were maintained and overall crept up. The market opened down on Friday -2.28 NOK below 100 NOK level continuing the previous weeks falls, but this was the low of the week. Prices climbed consistently and over all picked up just over 5% from the low through to Thursday. Next week is another 4 day week and consensus points to a stable start to the week. A reduced harvest week and low volumes but no one is expecting much volatility this week. We'll see.
David Nye's analysis for a Technical viewpoint will be published on Monday.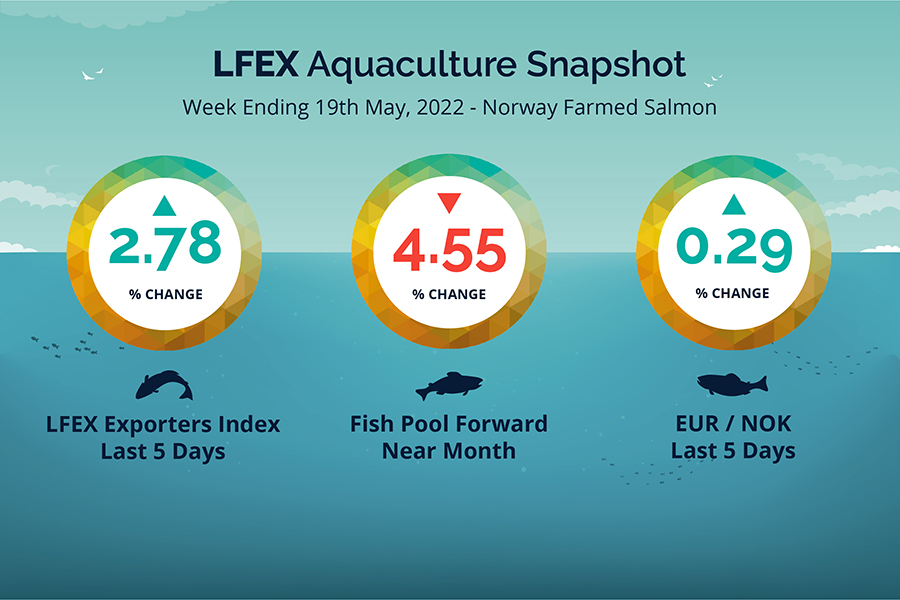 Market Data (Click Each to Expand)
| | | | |
| --- | --- | --- | --- |
| LFEX Prices | FX Rates | LFEX Indicative Exporter Prices (4 Week) | EUR / NOK FX Rate (4 Week) |
Did You Know?
You can trade contracts on LFEX.
The system will support all the same product types for contracts as spot, and can go from short term offers (2,3,4 weeks…), promotional contracts to multi-month contracts. The system allows you to negotiate and manage contracts and further allows complexity and flexibility with the contracts to ensure you can exactly define your needs and it becomes the record of truth for all parties with supporting documentation.
FAQ's
Q. Can I track FX on LFEX?
A. We helpfully offer a huge range of FX rates on the system, although clearly certain pairs will be watched more than most. You can see the EURNOK chart and get a very clear picture of the trend affecting the producers selling into Europe. Currency weakness may well have affected NOK pricing, NOK has lost 8.3% in the last month versus the EUR (9.53 to 10.32), although this was coming off of the back of NOK strength prior.