The London Fish Exchange
Data / Market Insight / News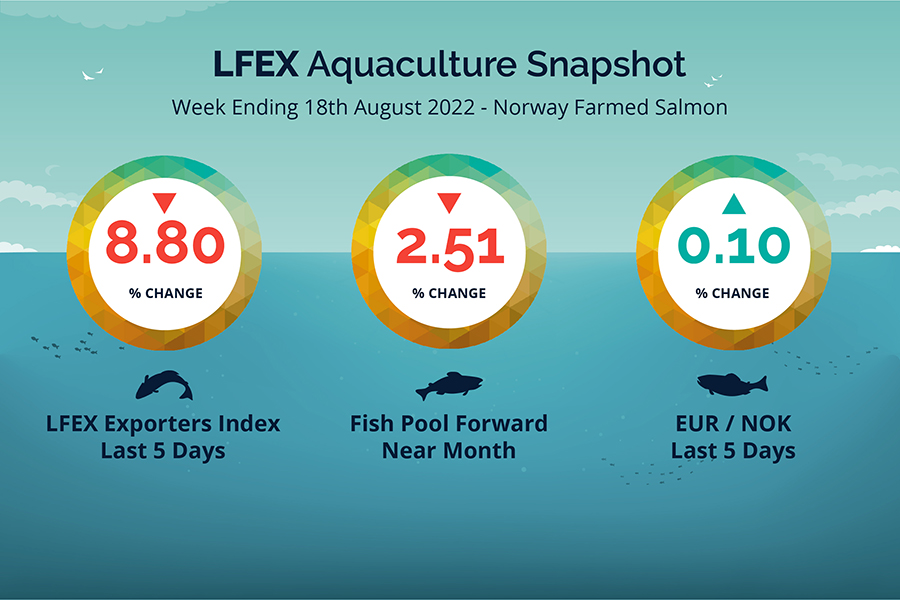 LFEX European Aquaculture Snapshot to 18th August, 2022
Published: 19th August 2022

This Article was Written by: John Ersser
---
The LFEX Norwegian Exporters Index week 33 was down -8.80%, -6.17 NOK to stand at 63.97 NOK FCA Oslo Week ending Thursday vs previous Thursday.
The NOK was flat ending at 9.83 to the Euro over the period Thursday to Thursday -0.01 NOK or 0.10%. The Fish Pool future August was down -1.80 NOK at 69.90 NOK.
The market opened off 0.90 NOK at 69.24 or -1.28% (when prices are normally pushed higher at the start of the week) and continued to fall for a large overall percentage drop of -8.80%. Monday saw a further similar fall of -1.12 NOK followed by -1.24 NOK on Tuesday to 66.88 NOK. Wednesday found some stability at 66.46 but still down, and Thursday finished with a 2.50 NOK drop at 63.97. More volume coming through the market pushed prices down as is usual for this time of year, with rumours of unsold fish at the end of the week accounting for the dip. For week 34 production is increasing as everyone is back from holidays and gearing up. Expectations range with maintaining pricing around these levels and if there is movement it will be on the downside. A usual, we will see…
David Nye's analysis for a Technical viewpoint will be published on Monday.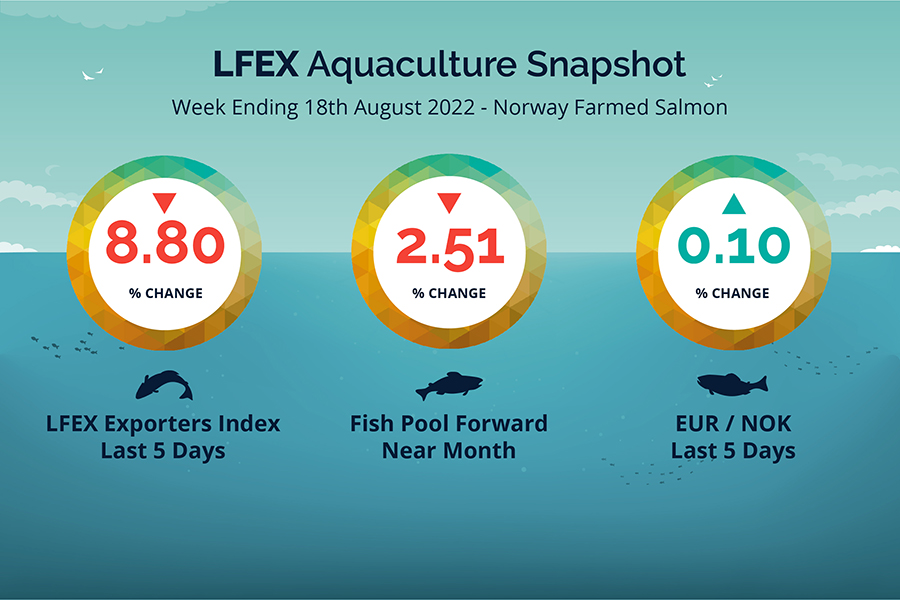 Market Data (Click Each to Expand)
| | | | |
| --- | --- | --- | --- |
| LFEX Prices | FX Rates | LFEX Indicative Exporter Prices (4 Week) | EUR / NOK FX Rate (4 Week) |
Did You Know?
The platform is live 24 x 7 which means that it doesn't matter where your buyer or seller is based, you can connect with them live day or night, which is perfect for covering global time zones from one place.
Sellers can put up offers at the end of the day and send to customers in Asia or the US for example and come back in the morning to collect their overnight trades, the system doing the work for you and a great way to capture business.
FAQ's
Q. I trade a range of specifications – how can you support this?
A. At LFEX we spend a lot of time working closely with both buyers and sellers to capture the different activities of all the participants in the market and continually improve the system. As a consequence we are able to offer a huge range of possibilities and specifications to support all of your business.