The London Fish Exchange
Data / Market Insight / News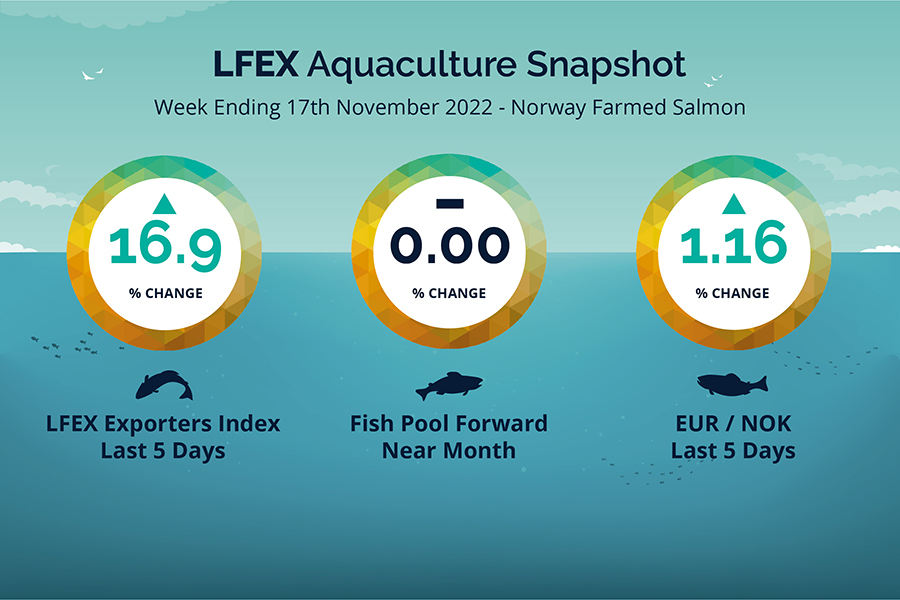 LFEX European Aquaculture Snapshot to 17th November, 2022
Published: 18th November 2022

This Article was Written by: John Ersser
---
The LFEX Norwegian Exporters Index week 46 was up +16.94%, +10.9 NOK to stand at 75.26 NOK FCA Oslo Week ending Thursday vs previous Thursday.
The NOK ended up over the week ending at 10.49 to the Euro over the period Thursday to Thursday +0.12 NOK or +1.16%. The Fish Pool future November was reported unchanged at 67.5 NOK with December showing 78 NOK.
Prices came back with a bang this week after weeks of subdued pricing as demand was maintained but stocks were reduced primarily due to bad weather affecting harvesting as suggested. The scale of the rise probably caught people a little by surprise as sellers ran out of fish towards the end of the week. Friday opened higher at around 67 NOK or 4.1% and continued to rise on Monday 68.90 NOK and Tuesday 69.67 NOK, before really taking off on Wednesday at 73.42 NOK and pushing Thursday to the weeks high to close out at 75.26 NOK. Stock was sold quite quickly at the beginning of the week which exacerbated the reduced supply as the week went on accelerating the price rise. A full week of trading ahead next week and the pattern of reduced supply is expected to continue which means higher prices. How much higher over the week no one is sure. As usual we will see…
David Nye's analysis for a Technical viewpoint will be published on Monday.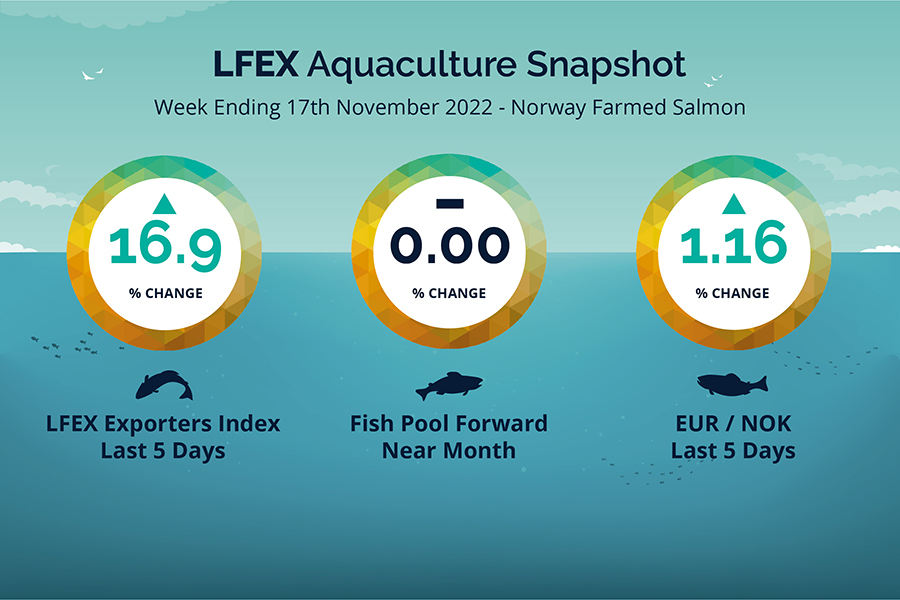 Market Data (Click Each to Expand)
| | | | |
| --- | --- | --- | --- |
| LFEX Prices | FX Rates | LFEX Indicative Exporter Prices (4 Week) | EUR / NOK FX Rate (4 Week) |
Did You Know?
Is it possible to work multiple orders simultaneously on the LFEX?
Different customers, weight classes, classifications, species, locations, pricing etc the platform can manage it all for you allowing you to focus on optimising inventory or securing orders.
FAQ's
Q. I can't get any contracts from suppliers how can you help me?
A. The market structure has turned very quickly from a percentage of activity on contract to no/few new contracts being written. This is proving challenging for both sides of the market and also downstream activity as processors struggle to offer fixed contracts to their customers. Giving yourself maximum opportunity to access prices and counterparties in the spot market is key going forwards, as well as managing downstream contract exposure. By building your counterparty network on LFEX you create a pipeline of prices and liquidity to support your business.