The London Fish Exchange
Data / Market Insight / News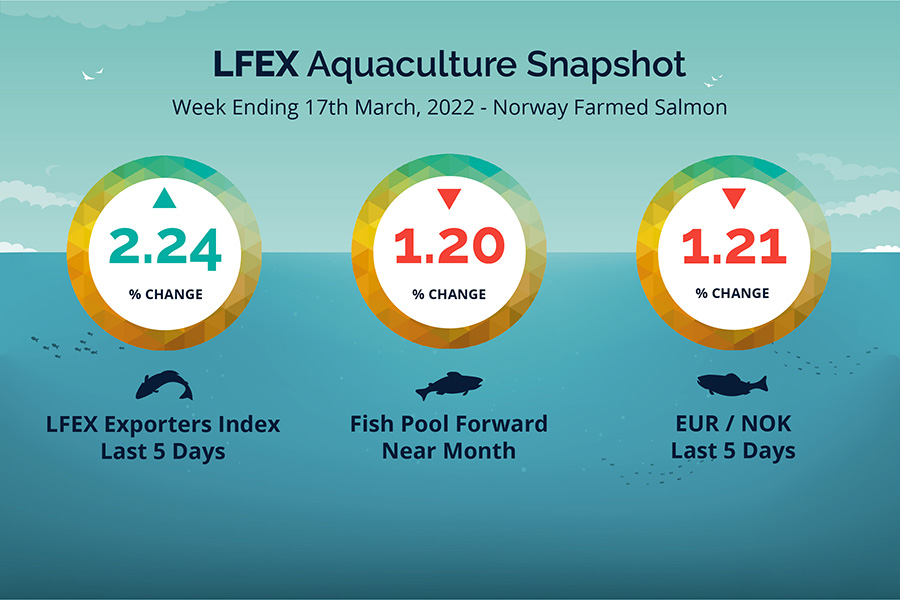 LFEX European Aquaculture Snapshot to 17th March, 2022
Published: 18th March 2022

This Article was Written by: John Ersser
---
Prices for Week 11 bucked the recent downward trend. The LFEX Norwegian Exporters index was up +2.24%. +1.81 NOK to stand at 82.67 NOK FCA Oslo Week ending Thursday vs previous Thursday price.
The NOK was a little stronger again at 9.77 to the Euro versus 9.89 NOK over the period Thursday to Thursday, the low of the week. The Fish Pool future March lost -1.00 NOK to 82.50 NOK, – 1.20% weaker over the same period.
The market opened below 80 NOK at 79.69 on Friday down -1.45% and expectations had been for some further reductions. However, this proved to be the low of the week and prices were stable but rising gently. Bottom to top prices moved +3.74% / 2.98 NOK. The spread between 3's and 6's reduced to 1.21 NOK by the end of the week. Expectations for next week are varied with no clear read on direction although prices popped a little on Thursday.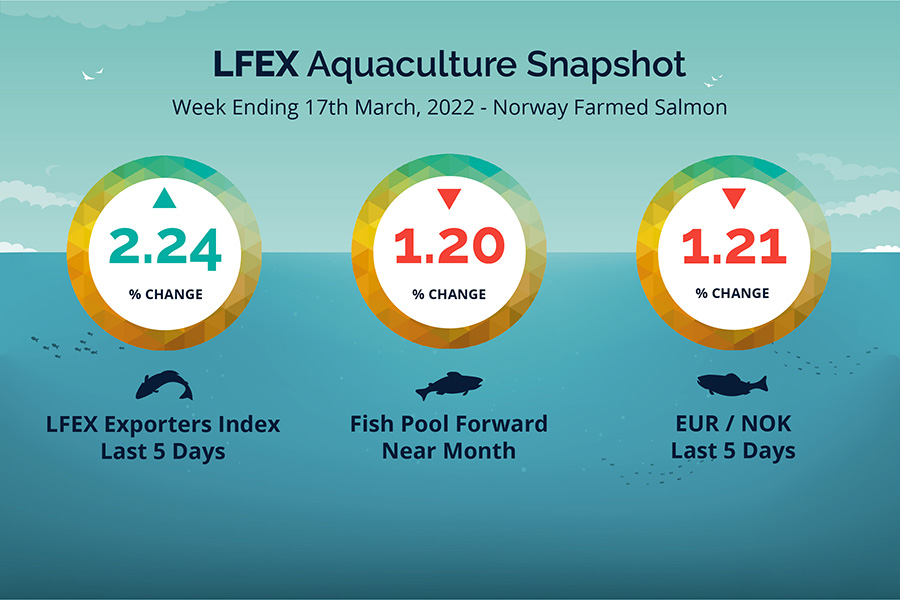 Market Data (Click Each to Expand)
| | | | |
| --- | --- | --- | --- |
| LFEX Prices | FX Rates | LFEX Indicative Exporter Prices (4 Week) | EUR / NOK FX Rate (4 Week) |
Did You Know?
It was great to meet up with market participants this last week in Boston and get continued feedback and understanding of the market.
The overall sense is that the market is quite fragmented, and pricing transparency is difficult to judge and execute against. Everyone is looking for opportunities and technology can play a huge part in this to the benefit of both buyers and sellers. By consolidating relationships on the technology, activity, pricing and data all become much more accessible and delivers benefits to all users.
FAQ's
Q. How does your platform work – buyers and sellers?
A. In its simplest form the system, using the RFQ (Request for Quote) module, allows you to reach out to multiple buyers / sellers on the platform within your private (or the wider) community. You can put up offers for fish you have available or as a buyer put on your orders / requests for pricing to multiple sellers at the same time – securely and discretely. By moving your relationships on-line you immediately generate more opportunity and more efficiency in your daily business, benefitting you and your business. In weeks when price discovery is challenging, using technology as a tool to cut through this effectively is very powerful.