The London Fish Exchange
Data / Market Insight / News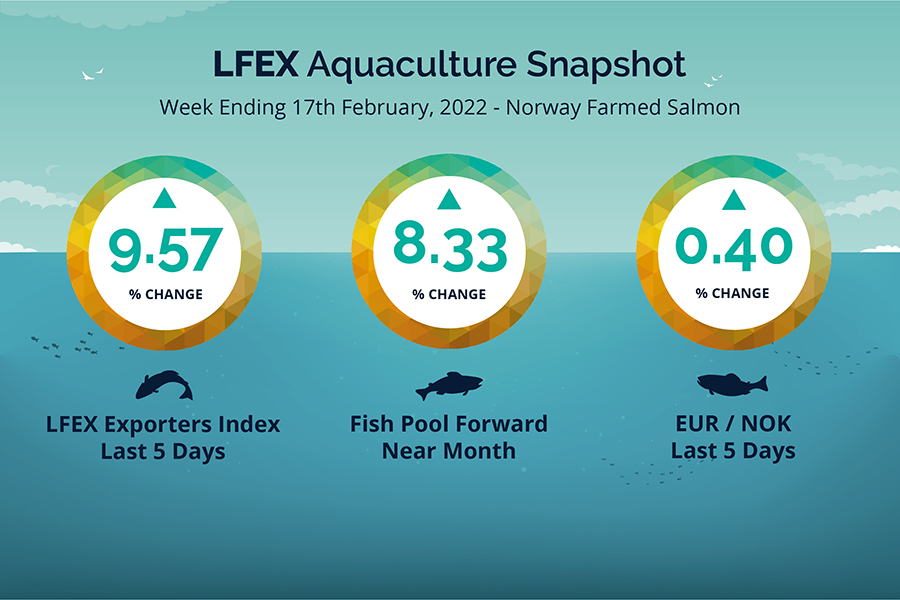 LFEX European Aquaculture Snapshot to 17th February, 2022
Published: 18th February 2022

This Article was Written by: John Ersser
---
Another huge jump this week in the market. The LFEX Norwegian Exporters index was up 9.57%, +8.13 NOK at 93.04 NOK FCA Oslo Week 7 ending Thursday vs previous Thursday price.
The NOK was +0.4% weaker to the Euro +0.04 at 10.13 NOK over the period Thursday to Thursday and the Fish Pool future February also climbed +6.25 to 81.25 NOK, +8.33% better over the same period.
Despite a huge jump in week 6, prices opened at 94.97 for week 7, up 11.81% from the previous week close, and then carried on, to peak at 95.92 on Monday, the 9 Euro level easily surpassed. Pricing trickled down 2.88 NOK by week-end Thursday. Same story as last week with lack of export quality fish available for sale, poor weather and buyers chasing fish continue to drive pricing. Buyers holding back a little at the end of the week, expectations are still high for next week.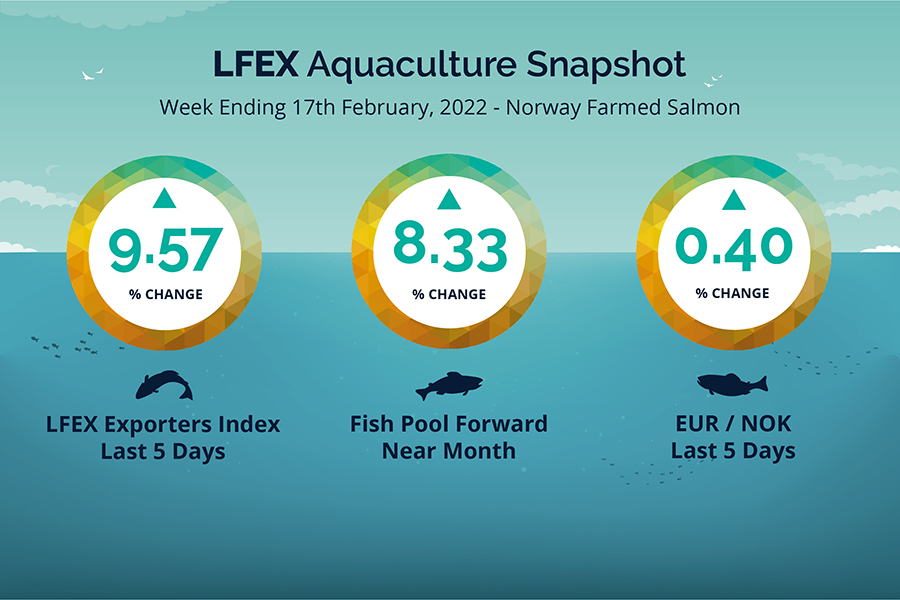 Market Data (Click Each to Expand)
| | | | |
| --- | --- | --- | --- |
| LFEX Prices | FX Rates | LFEX Indicative Exporter Prices (4 Week) | EUR / NOK FX Rate (4 Week) |
Did You Know?
You can trade from anywhere in the world, with seamless access to products from a range of territories?
If you are travelling, in the office, at home or based pretty much anywhere in the world you can log on and have secure, full access to your accounts and business activity immediately. All features and functionality are available, including making prices, offers and requests, trading, market data etc. Everything you need is immediately to hand to run and manage your business seamlessly from wherever you are.
FAQ's
Q. I am concerned about beginning the transition from manual to electronic transacting. Is it acceptable to do both?
A. The short answer is of course yes. In fact we recommend that this is how people start. By dipping your toes you learn about the system, what you see and what to expect. You can then build confidence and proactively use the system to get the maximum benefit from it. You can download the orders from the system if you need to into a CSV file, or input data into your existing system in the same way you do a manual trade.