The London Fish Exchange
Data / Market Insight / News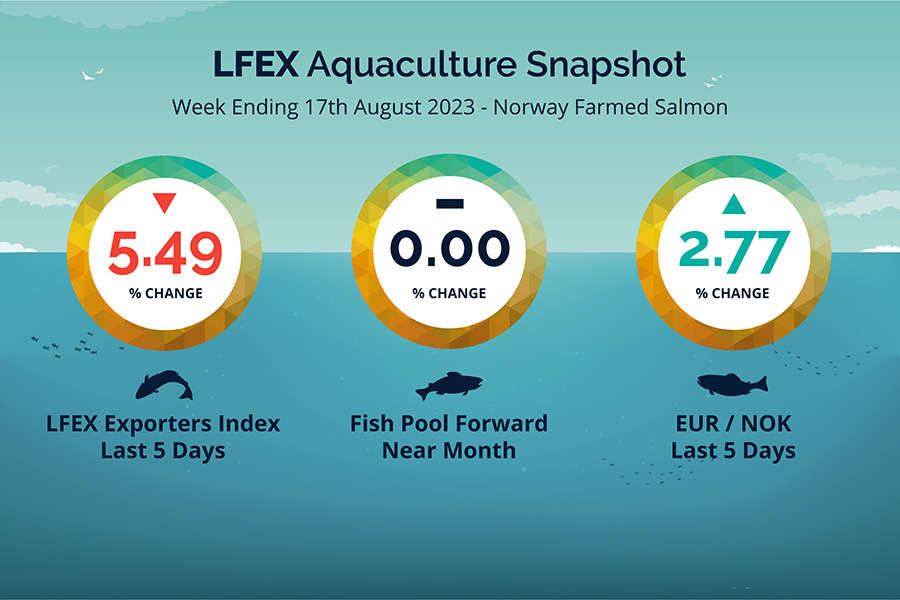 LFEX European Aquaculture Snapshot to 17th August, 2023
Published: 18th August 2023

This Article was Written by: John Ersser
---
The LFEX Norwegian Exporters Index for Week 33 2023 was down -5.49%, -4.17 NOK to stand at 71.82 NOK FCA Oslo Week ending Thursday vs previous Thursday.
The NOK rate was up at 11.50 to the Euro over the period Thursday to Thursday +0.31 NOK or +2.77%. The Fish Pool future August was flat at 74.0 NOK.
The index price opened slightly lower for week 33 trading last Friday at 74.25 NOK -1.71 NOK from the previous week, with all weight classes (3-6) down slightly led by 3/4s. Again, we saw a gentle but steady decline of the index over the week and prices remained in a tight range. Wednesday felt like the bottom for the week, with 3/5s flat on Thursday only the larger fish bringing the index down, Spread reduced to 2.72 NOK at the close. Fresh volumes for week 32 were 21,060. The index last week has gone through the 72.98 NOK technical support level and it will be interesting to see what the next levels show. For next week early views are more of the same. More fish, not much volatility with prices easing, and 5/6s now coming inline to 3/5s historical levels and no premium. We shall see.
David Nye's technical analysis report will be published on Monday.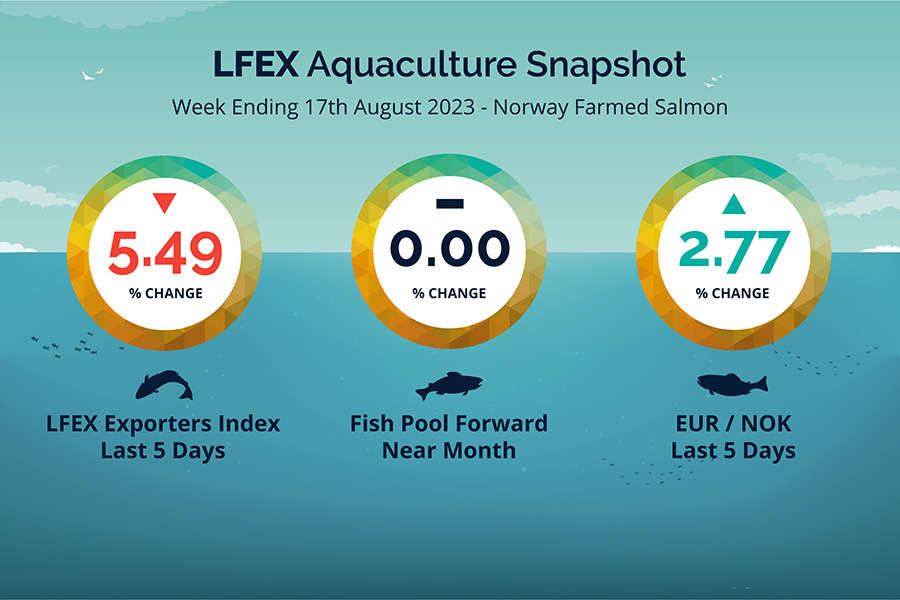 Market Data (Click Each to Expand)
| | | | |
| --- | --- | --- | --- |
| LFEX Prices | FX Rates | LFEX Indicative Exporter Prices (4 Week) | EUR / NOK FX Rate (4 Week) |
Did You Know?
The LFEX RFQ allows users to make offers and requests for forward orders not just the current week?
If a customer has a specific need for inventory at a specific day / week in the near future this request can be put up – for example a short-term campaign. Likewise, if a seller wants to secure some early sales (especially in a falling market) they can put up offers for that date / following week. The system also offers contracts trading for multi-leg orders.
FAQ's
Q. Can I manage a sub-set of my client list to show prices or specific requests for prices?
A. Yes the LFEX system flexibility allows users to show interest to one counterpart, all counterparties or a specific group of counterparties that you chose. The system is built to be as flexible as possible, replicating real world processes, but automating them making it much more efficient. So if you want to quote/target a sub-set of users because of geography / currency / inco terms etc it is easy to do.