The London Fish Exchange
Data / Market Insight / News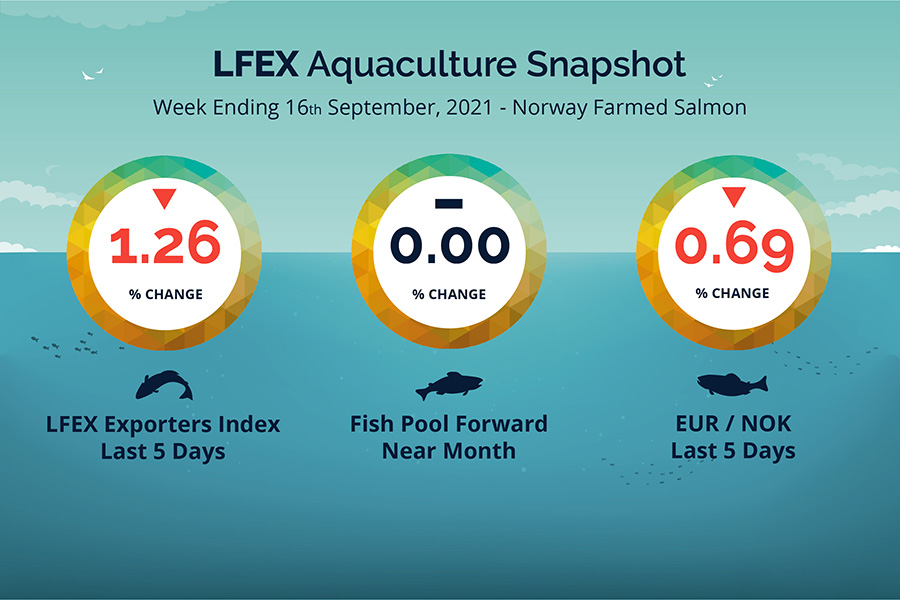 LFEX European Aquaculture Snapshot to 16th September, 2021
Published: 17th September 2021

This Article was Written by: John Ersser
---
Market Insight – Europe
The LFEX Norwegian Exporters price was down – 1.26%, – 0.64 NOK at 50.14 FCA Oslo over the trading Week 37 ending Thursday.
The NOK continued to strengthen against the Euro at 10.13 down 0.07 NOK or 0.69% Friday to Thursday and the Fish Pool future September continued to remain flat at 50.75 over the same period. Average prices were steady during the week, although declined slightly on Thursday, in-line with the overall cyclical trend. Spreads remained consistent 3 – 6's.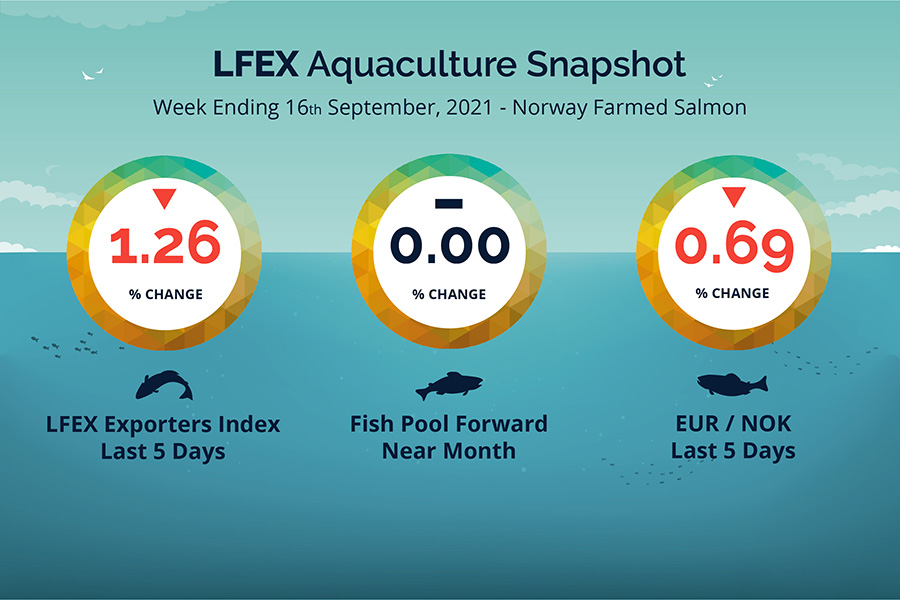 Market Data (Click Each to Expand)
| | | | |
| --- | --- | --- | --- |
| LFEX Prices | FX Rates | LFEX Indicative Exporter Prices (4 Week) | EUR / NOK FX Rate (4 Week) |
Did You Know?
The LFEX platform provides access to Atlantic salmon for Europe, but also offers both Trout and CoHo on the platform.
In line with the imminent launch of live trading with our partners in Chile, the system will help support buyers in South America, USA and Canada, as well as Japan, Asia and Europe to securely connect and trade with a growing list of registered farmers in these products.
FAQ's
Q. I trade whole fish and VAP (value added products) can you help with this?
A. We have worked hard with both buyers and sellers to ensure that we are in a position to help you sell / buy the products you wish to distribute / purchase in the way you normally do. We also know that different markets have different requirements, and we therefore support whole fish in a large range of presentations, weight classes, certifications etc, as well as multi parameter VAP to ensure you can trade the products you want, in the way you want.