The London Fish Exchange
Data / Market Insight / News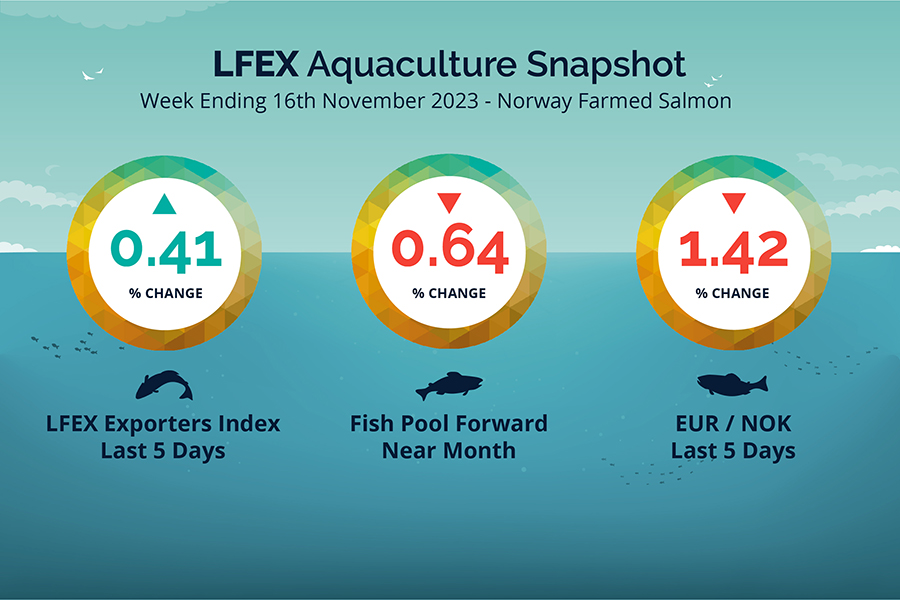 LFEX European Aquaculture Snapshot to 16th November, 2023
Published: 17th November 2023

This Article was Written by: John Ersser
---
The LFEX Norwegian Exporters Index for Week 46 2023 ended the week up +0.41%, +0.31 NOK to stand at 76.12 NOK (in EUR terms 6.47 / + 0.12 / + 1.86 %) FCA Oslo Week ending Thursday vs previous Thursday.
The NOK rate ended down at 11.86 to the Euro over the period Thursday to Thursday -0.17 NOK or -1.42%. The Fish Pool future November was reported down -0.50 NOK, -0.64% at 77.5 NOK.
The index price opened on the Friday at 76.7 NOK / – 1.16 %, +0.89 NOK close to the flat expectations that had been telegraphed. The week progressed with a flat / slight strengthening pricing 77.15/77/51/77.52 through Wednesday the high, before a small drop on Thursday to finish in the week low at 76.12. A small appreciation in the NOK, for once, brough Euro prices up 1.86% on the week. A pretty flat and quiet week, with the market currently in a balance.
Next week early indications are slow and hard to come by. Early thoughts around a stable price / to up small +2 / 3 NOK at the open around 79 NOK. A little less volume available next week and some potential of Christmas promotions from week 48 will take some of the volume, again supporting pricing. Updated index pricing as usual will be published later today.
David Nye's technical analysis report will be published on Monday.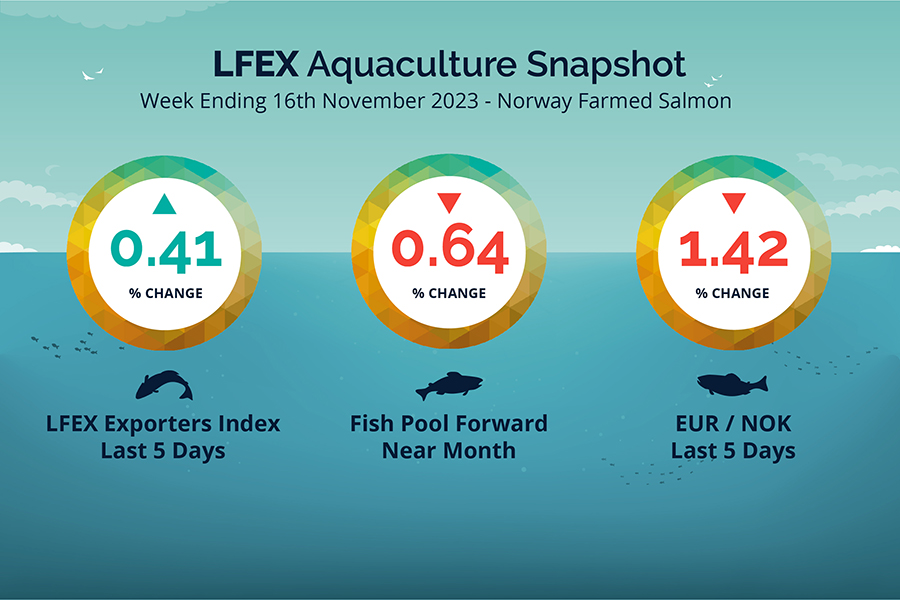 Market Data (Click Each to Expand)
| | | | |
| --- | --- | --- | --- |
| LFEX Prices | FX Rates | LFEX Indicative Exporter Prices (4 Week) | EUR / NOK FX Rate (4 Week) |
Did You Know?
Built by traders for traders.
For sophisticated users LFEX provides the ultimate in flexibility in setting up your screens the way you want to, to drive the system. People work differently and have different priorities in terms of functions or data. The system allows you to set-up as many of your own workspaces as you need, as well as spread over multiple monitors – ensuing you can track offers, orders and pricing quickly and easily.
FAQ's
Q. How can I find orders and trades on the system?
A. The system captures all pricing, orders and trading activity in real-time for users. You have immediate access to all your pricing and trade data, and the ability to search and sort this data by any data item(s). Further users can add post trade information within the same environment, meaning sales staff, management, logistics and finance staff can all view, use and manage business activity, as well as start to analyse their own data at a very granular level.