The London Fish Exchange
Data / Market Insight / News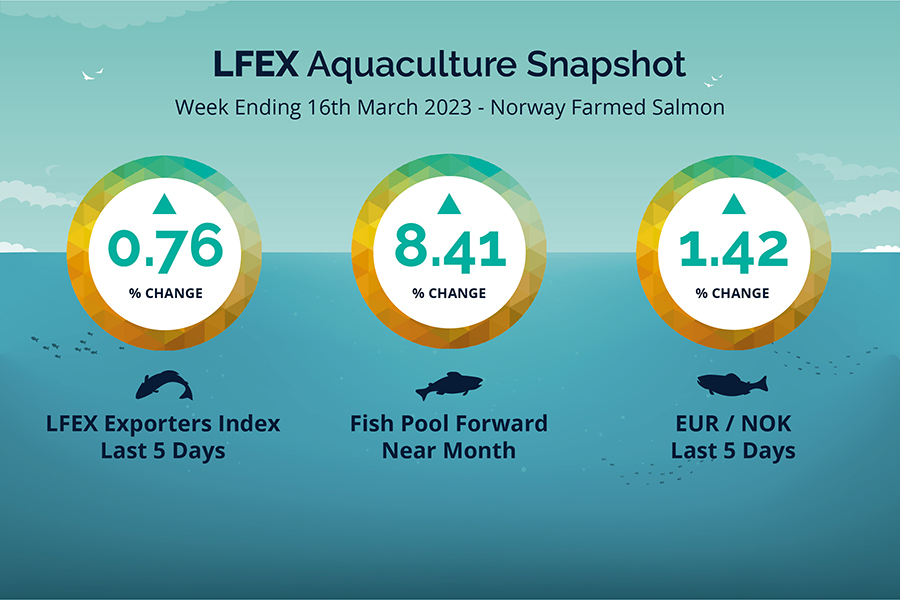 LFEX European Aquaculture Snapshot to 16th March, 2023
Published: 18th March 2023

This Article was Written by: John Ersser
---
The LFEX Norwegian Exporters Index Week 11 2023 was up +0.76% +0.95 NOK to stand at 125.74 NOK FCA Oslo Week ending Thursday vs previous Thursday.
The NOK rate was up at 11.43 to the Euro over the period Thursday to Thursday +0.16 NOK or +1.42%. The Fish Pool future March was reported higher at 122.5 NOK up +9.50 NOK or +8.41%.
A record-breaking week where the LFEX Exporters Index peaked at 135.70 NOK breaking the April 26th 2022 of high of 130.44. In fact the record was exceeded 4 days in a row in Week 11. Prices kicked off the week on Friday up 8.14 NOK to 132.93, and peaked on Monday at the 137.7 level. Similar to last week's pricing pattern, pricing remained consistent around these new elevated levels around the mark 134 NOK until Thursday which gave back 8.53 NOK around 6.35% – most of the week's gain, to close out the week at 125.74. Significant lack of fish continues to be the root cause of these problems. Week 10 volumes were 13,901. For next week there maybe a little more fish and buyer resistance at the record price levels initially indicates pricing around / slightly above the Thursday closing out levels. We shall see.
David Nye's technical analysis report will be published on Monday.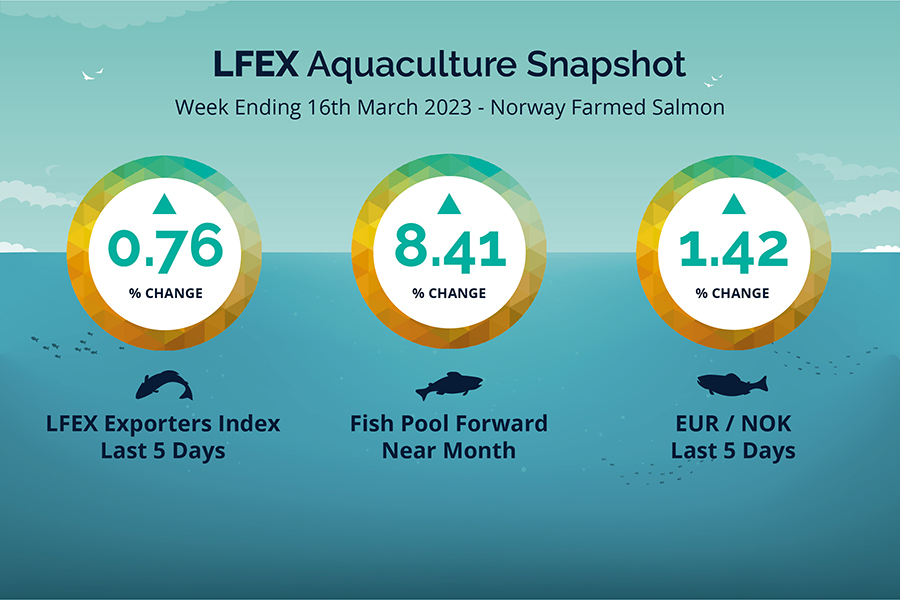 Market Data (Click Each to Expand)
| | | | |
| --- | --- | --- | --- |
| LFEX Prices | FX Rates | LFEX Indicative Exporter Prices (4 Week) | EUR / NOK FX Rate (4 Week) |
Did You Know?
In 1999 Barrons publishes an article predicting Amazon would go bankrupt – they called Amazon "just another middleman…".
The collision of buyers and sellers on one quality platform created transparency, volume, liquidity, market information, feedback and efficient price discovery. The rest is history.
FAQ's
Q. I want to use the platform more, how can I get my counterparties more involved?
A. As with most change, some need a gentle nudge. Make sure your buyers/sellers know you are using the platform and that you are set-up with them as valid trading partners to see your bids/offers/RFQ's/chat. Get your orders on the platform early and respond to inquiries in a timely manner. Let them know you intend to manage your orders more through the platform and it will give them a competitive advantage with you and your firm to do the same. In the beginning work to get transactions done.