The London Fish Exchange
Data / Market Insight / News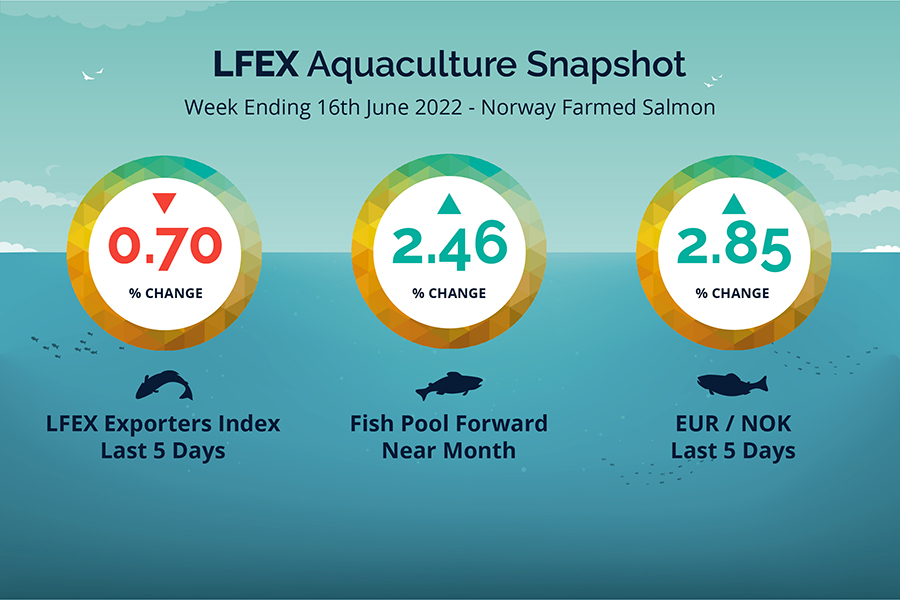 LFEX European Aquaculture Snapshot to 16th June, 2022
Published: 17th June 2022

This Article was Written by: John Ersser
---
The LFEX Norwegian Exporters index was down -0.7%, -0.75 NOK to stand at 106.03 NOK FCA Oslo Week ending Thursday vs previous Thursday.
The NOK was weaker at 10.46 to the Euro over the period Thursday to Thursday +0.29 or 2.85%. The Fish Pool future June made +2.50 NOK to 104.0, +2.46% over the same period.
Over all the prices ended up stable for the week, although this does not account for the intra week volatility. Friday pricing saw an increase over the previous week to 108.12 NOK from the 106.78 NOK close, with prices ticking up to the week high of 111.57 NOK on Monday, or over 4% from the previous week. Prices then slid back to finish on at 106.03. There was some more availability this week, reports of early week fish still available in Oslo at lower prices and Poland was off on Thursday. A lot of volatility and a big spread between offers. Next week views range between prices falling back, to stable early in week on steady volumes with maybe a downward tendency later and a similar pattern to this week. If very hot weather in Europe comes through this might stifle demand a little.… we'll see.
David Nye's analysis for a Technical viewpoint will be published on Monday.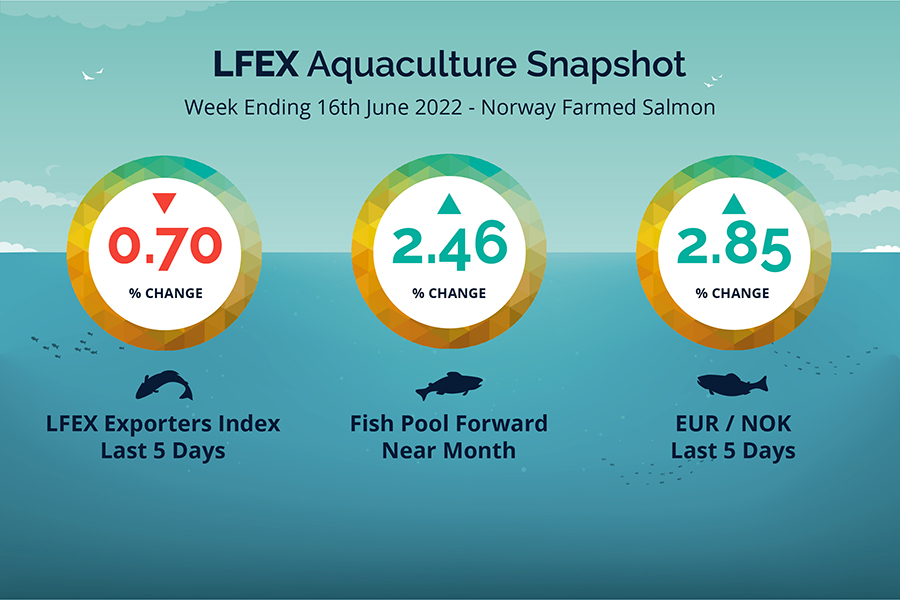 Market Data (Click Each to Expand)
| | | | |
| --- | --- | --- | --- |
| LFEX Prices | FX Rates | LFEX Indicative Exporter Prices (4 Week) | EUR / NOK FX Rate (4 Week) |
Did You Know?
You can transact with any of your counterparties 24 hours a day globally?
The system is enabled to trade anytime and because it is desktop and mobile friendly you can enjoy the same smooth access to pricing, offers, data and trading wherever you are. When trading in different time zones, the ability to leave and monitor orders from the office or home makes tracking, managing and executing your business easy.
FAQ's
Q. I want to send the same order as last week, how can I do this?
A. The purpose of technology is to build in efficiencies into your daily operations. The beauty of a professional and well thought through mature technology is that we offer these user efficiencies. The system will remember your last RFQ order and auto populate if you are not a heavy user. You can also set-up your own default RFQ's meaning your whole order profile is literally available at the click of 1 button. Within 5 seconds you can get your perfect RFQ out to as many sellers as you want.