The London Fish Exchange
Data / Market Insight / News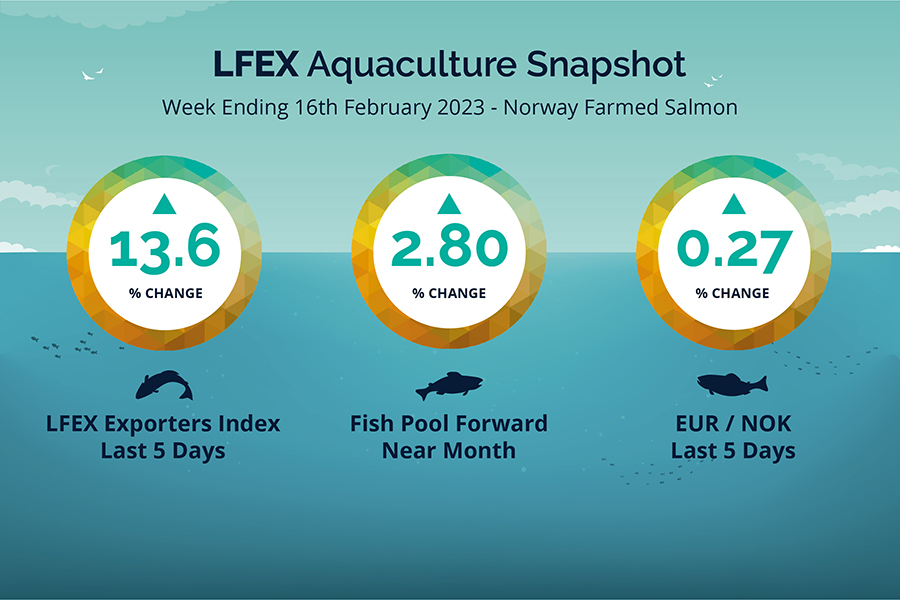 LFEX European Aquaculture Snapshot to 16th February, 2023
Published: 17th February 2023

This Article was Written by: John Ersser
---
The LFEX Norwegian Exporters Index Week 7 2023 was up +13.66% +12.7 NOK to stand at 105.64 NOK FCA Oslo Week ending Thursday vs previous Thursday.
The NOK rate was up slightly at 10.94 to the Euro over the period Thursday to Thursday +0.03 NOK or +0.27%. The Fish Pool future February was reported higher at 93.75 NOK up +2.55 NOK or +2.80%.
A huge week for the Norwegian market driven by unusually low harvest volumes. The market raced up at the beginning of the week 6.46 NOK or 6.96% to the better, breaking 100 NOK on Monday and Tuesday. Adding to the woes of low volume were very little superior grade fish available and the market reacted with prices taking off again on Wednesday and Thursday as news filtered through. A lot more of the stock was production quality with skin issues. Given the lack of superiors some of these found their way through as superior sales which were then discounted on review. While demand itself wasn't high with so few good fish available pricing could only head one way. Indications for next week are for continued low harvest volumes which will continue to put pressure on prices. As usual we shall see what the week brings.
David Nye's technical analysis report will be published on Monday.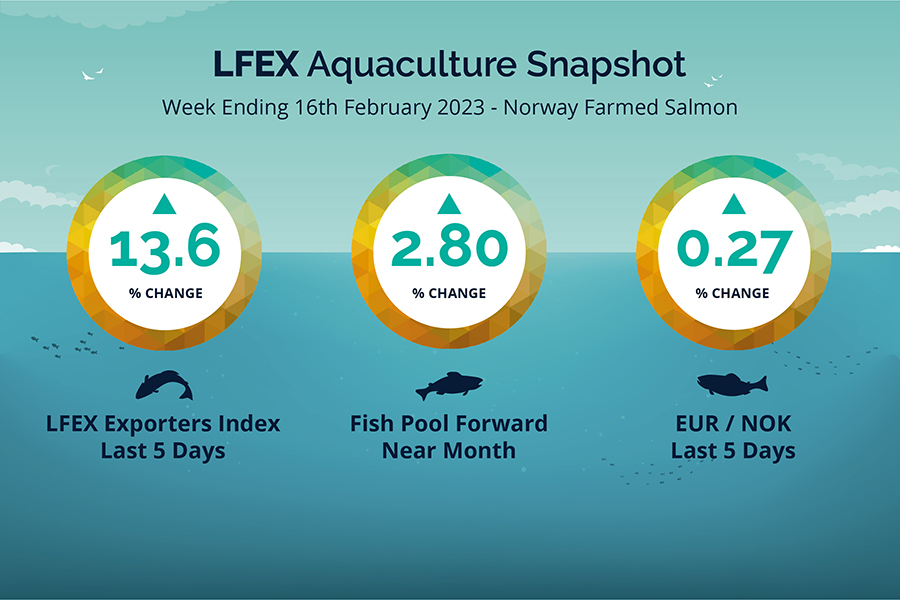 Market Data (Click Each to Expand)
| | | | |
| --- | --- | --- | --- |
| LFEX Prices | FX Rates | LFEX Indicative Exporter Prices (4 Week) | EUR / NOK FX Rate (4 Week) |
Did You Know?
Provenance and specifications documentation are supported trade by trade?
As provenance and certifications become more important to buyers, it is imperative that the supporting documentation can be made available down to the individual order/trade level. The system supports Fish CV's, certification documentation and detailed product specifications to ensure that you have all the required documentation and can evidence these materials for counterparty auditing, internal reporting and third-party auditing – all instantly available within your organisation.
FAQ's
Q. How does your platform work – buyers and sellers?
A. In its simplest form the system, using the RFQ (Request for Quote) module, allows you to reach out to multiple buyers / sellers on the platform within your private (or the wider) community. You can put up offers for fish you have available or as a buyer put on your orders / requests for pricing to multiple sellers at the same time – securely and discretely. By moving your relationships on-line you immediately generate more opportunity and more efficiency in your daily business, benefitting you and your business. In weeks when price discovery is challenging, using technology as a tool to cut through this effectively is very powerful.