The London Fish Exchange
Data / Market Insight / News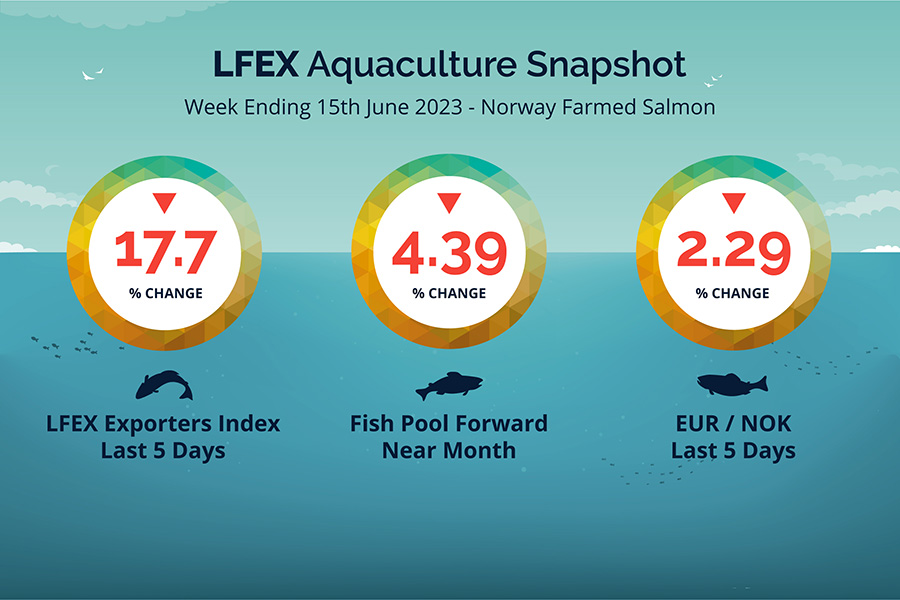 LFEX European Aquaculture Snapshot to 15th June, 2023
Published: 16th June 2023

This Article was Written by: John Ersser
---
The LFEX Norwegian Exporters Index for Week 24 2023 was in the end down -17.70%, -18.78 NOK to stand at 87.33 NOK FCA Oslo Week ending Thursday vs previous Thursday.
The NOK rate was down at 11.50 to the Euro over the period Thursday to Thursday -0.27 NOK or -2.29%. The Fish Pool future June was reported lower at 98.0 NOK down -4.5 NOK or -4.39%.
A brutal week as prices crashed. Despite hopes/indications of a stronger open the week kicked off significantly down at 101.49 NOK, -4.62 NOK or 4.35% which was the beginning of the rout. Monday saw further falls to 98.96, and each following day saw a further 3 or 4 NOK fall, at 94.02, 91.16 and 87.33 respectively. There is more volume but not enough to cause such a drop on its own. The issue is buyers 'finally' forcing prices down from the significant and continued highs that we have seen. So what happens next week? The sentiment from sellers seems to be not feeling very positive / not very optimistic. Prices have already come down a long way, but that doesn't mean they won't come down further. To balance the equation, as prices come down the demand picks up, but everyone knows that more biomass is coming down the line. We haven't nailed the last 2 Fridays expectations and it is difficult to predict at the moment. The sense is that prices have a little further to go down next week, but it will depend on available volume. To get Fridays actual index price login to the platform this afternoon. We shall see.
David Nye's technical analysis report will be published on Monday.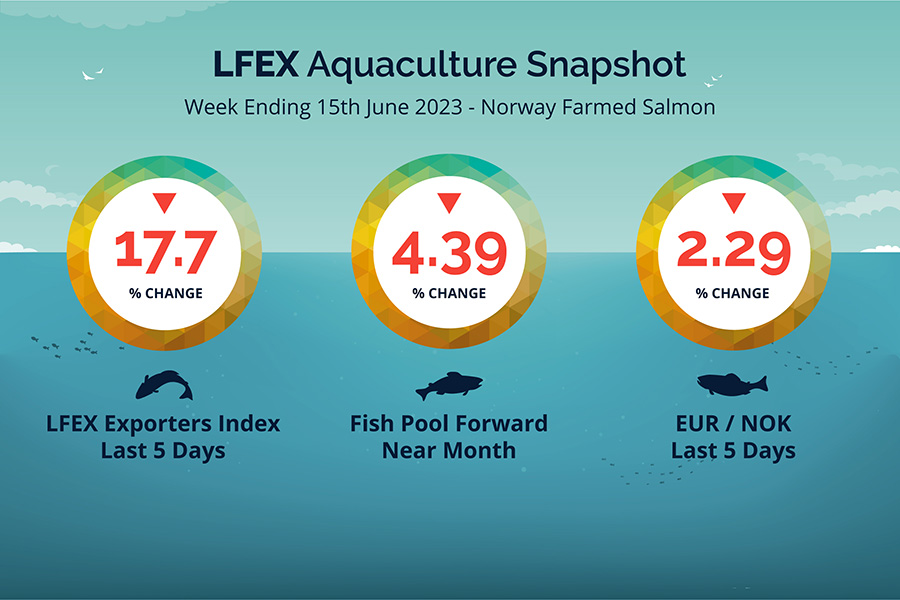 Market Data (Click Each to Expand)
| | | | |
| --- | --- | --- | --- |
| LFEX Prices | FX Rates | LFEX Indicative Exporter Prices (4 Week) | EUR / NOK FX Rate (4 Week) |
Did You Know?
Price volatility is an issue in many markets? The drop we saw this week is the biggest weekly fall we have seen in the last couple of years at 17.70%.
However, it is not a complete anomaly. In July 22 we saw a 17.27% drop in a week and in May 22 we saw a 14.84% drop. The problem is accessing prices during very volatile periods – or price discovery. This is where electronic platforms are very powerful, enabling second by second price updates for market participants in a very efficient manner, allowing both sides of the market a much clearer picture, and the ability to read market direction and react accordingly. One of the many ways technology creates efficiencies for markets.
FAQ's
Q. I travel a lot and need the flexibility to transact wherever and whenever the need arises. Can LFEX help?
A. The system is designed to be there for you 24 x 7, no matter where you are or what time zone you are in you will be able to access the platform and place orders or make offers or execute trades. Because of the system design (as long as you have your login credentials) you can login from a different computer and access all your own information and data as usual. You can also log into the LFEX MobileTrader wherever you have a connection and check your prices / order. Create new offers / modify pricing, negotiate, chat and trade, just like LFEX WebTrader.