The London Fish Exchange
Data / Market Insight / News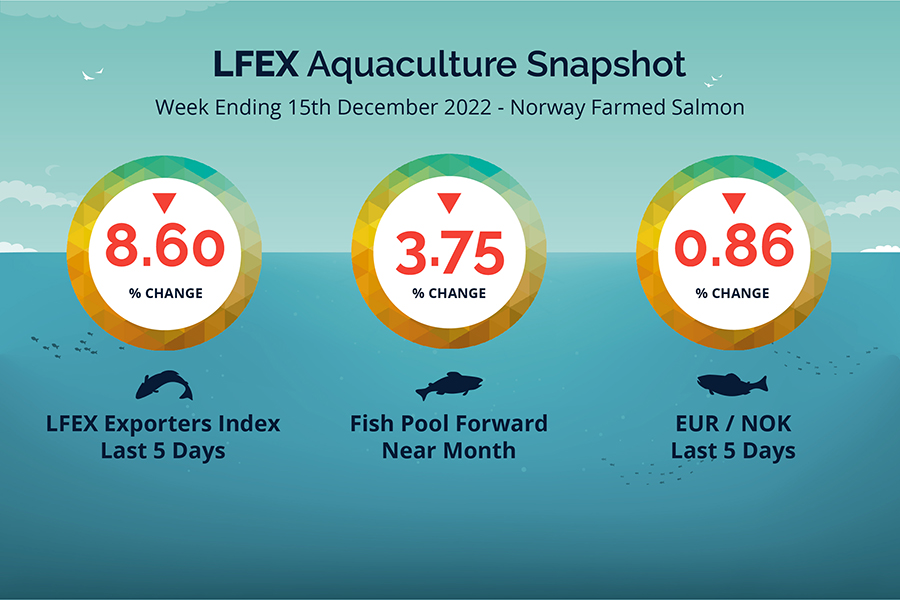 LFEX European Aquaculture Snapshot to 15th December, 2022
Published: 16th December 2022

This Article was Written by: John Ersser
---
The LFEX Norwegian Exporters Index Week 50 was down – 8.60%, -6.94 NOK to stand at 73.73 NOK FCA Oslo Week ending Thursday vs previous Thursday.
The NOK ended lower over the week ending at 10.41 to the Euro over the period Thursday to Thursday -0.09 NOK or -0.86%. The Fish Pool future December was reported down -3.0 at 77 NOK.
A roller coaster ride as prices opened firmly higher in the week, +2.53 NOK to the good at 83.2 NOK. Prices were however underwater from Monday at less than 80 NOK, rolling off on Tuesday and Wednesday 78.16 and 77.72 respectively to plumet to 73.73 on Thursday. Top to bottom a near 9.5 NOK or 11.38% drop in four days. It was a tough week to gauge pricing in the lead up to Christmas, but pricing is now at a similar level to the same time last year. Volumes were still good and Week 49 saw 23,460 fresh tons go through. Next week is a 5 day working week before Christmas and there is the expectation of fish availability. Therefore, pricing will be under pressure to start the week but might find some strength later. Again a hard one to judge and as usual we will see…
David Nye's analysis for a Technical viewpoint will be published on Monday.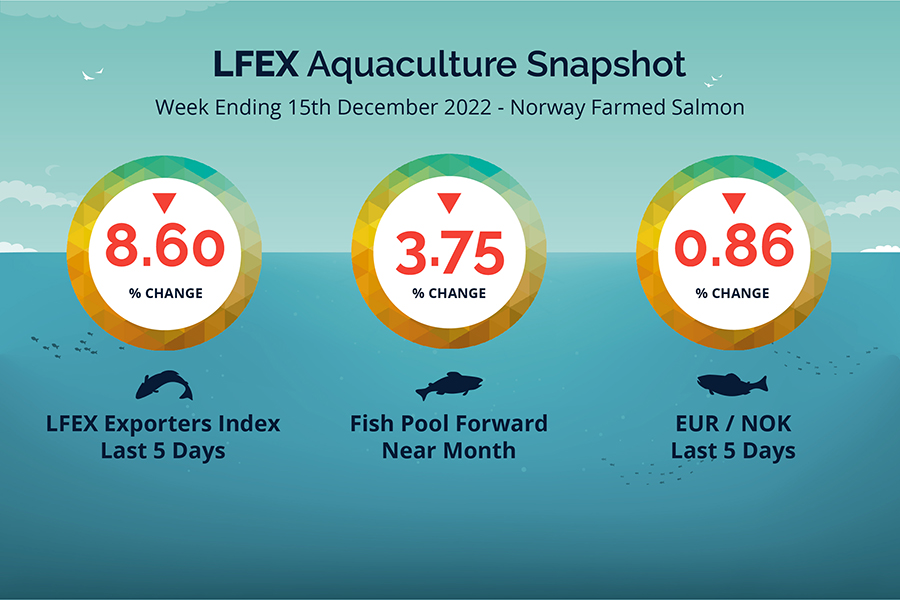 Market Data (Click Each to Expand)
| | | | |
| --- | --- | --- | --- |
| LFEX Prices | FX Rates | LFEX Indicative Exporter Prices (4 Week) | EUR / NOK FX Rate (4 Week) |
Did You Know?
Season's Greetings!
We wish everyone a Happy Christmas / compliments of the season wherever they are and look forward to a New Year with enthusiasm working with more participants and providing more and better services to our users.
FAQ's
Q. I trade a range of specifications – how can you support this?
A. LFEX has spent a long time working very closely with both buyers and sellers in the salmon and trout market to develop the platform which captures the different needs of all the participants in the market. It means users can manage a wide range of parameters and complexity – easily, quickly and simply.