The London Fish Exchange
Data / Market Insight / News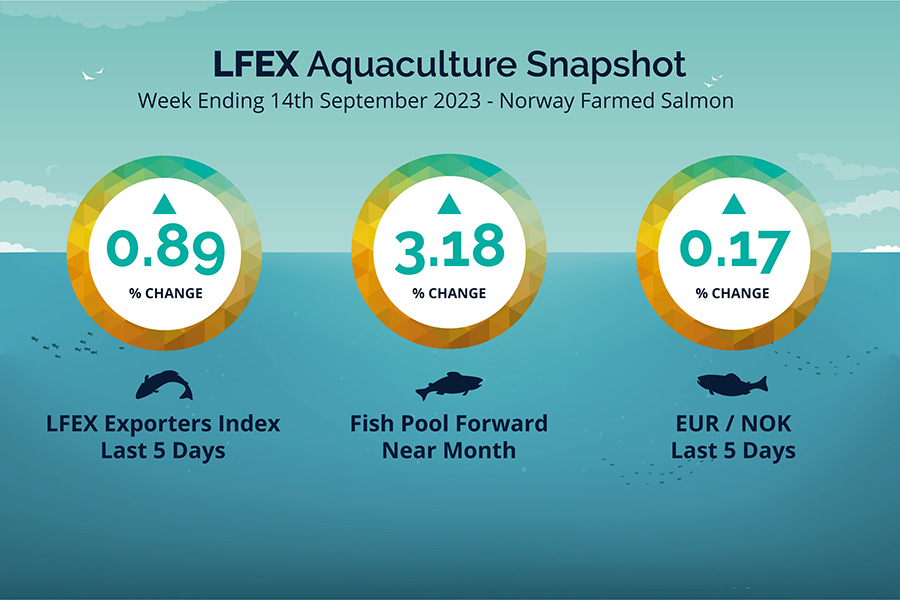 LFEX European Aquaculture Snapshot to 14th September, 2023
Published: 15th September 2023

This Article was Written by: John Ersser
---
The LFEX Norwegian Exporters Index for Week 37 2023 was up +0.89%, +0.66 NOK to stand at 74.53 NOK (approximately 6.48 EUR) FCA Oslo Week ending Thursday vs previous Thursday.
The NOK rate was pretty flat at 11.50 to the Euro over the period Thursday to Thursday +0.02 NOK or +0.17%. The Fish Pool future September was reported up +2.25 NOK, +3.18% at 73.00 NOK.
Prices opened up slightly higher as suggested for week 37, +0.69 NOK to the good over last Thursday's price at 74.56 NOK. And there it pretty much stayed. Wednesday saw the peak at 75.18, before a small fall back to 74.53 – but basically the same price. If we compare last year week 37, we were at 62.55NOK but the EURNOK was at 10.11, meaning the EUR price was at 6.19 Euro/Kg. So Euro purchasing power (or NOK weakness) means prices aren't so disconnected. (NOK difference is 12% yoy while in EUR its 4.7% yoy). Spreads have settled at 4 NOK 3-4s to 5-6s. Week 36 2023 volume was 25,523 tons (up slightly on 25,032 for '22). Week 38 coming has been peak harvesting week in the previous 2 years.
A lot of freezing last week especially with the Polish buyers stocking up at traditionally a low price point in the market. For next week early indications slightly above last weeks close. No great volatility expected this week. Early indications around (73-74 / 76-77 / 79) but pricing scarce with sellers not committing much this morning. We shall see.
David Nye's technical analysis report will be published on Monday.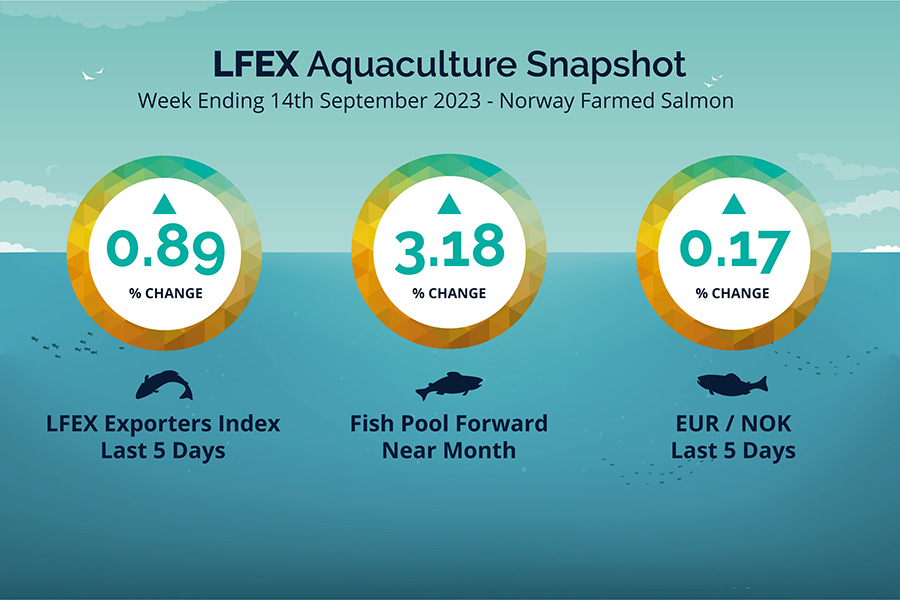 Market Data (Click Each to Expand)
| | | | |
| --- | --- | --- | --- |
| LFEX Prices | FX Rates | LFEX Indicative Exporter Prices (4 Week) | EUR / NOK FX Rate (4 Week) |
Did You Know?
The LFEX platform helps sellers manage and distribute multiple prices to different customers in real-time on the system.
Customers are different and have different demands, whether it is sizes, classifications, certifications, currencies or INCO terms. The platform allows sellers to manage this process, getting bespoke pricing out to a universe of customers quickly and easily allowing buyers more immediate access to offers to see and react to.
FAQ's
Q. Can my competitors see my price?
A. The simple answer is no. Whether you are a buyer or seller putting up prices you are in complete control of to whom and where you send your prices. The system is configured to the counterparties you are prepared to see prices / offers from and within this you can configure who sees what price, all manageable in real-time. Each price between a seller and buyer is secure and private, and no one else has access to this.