The London Fish Exchange
Data / Market Insight / News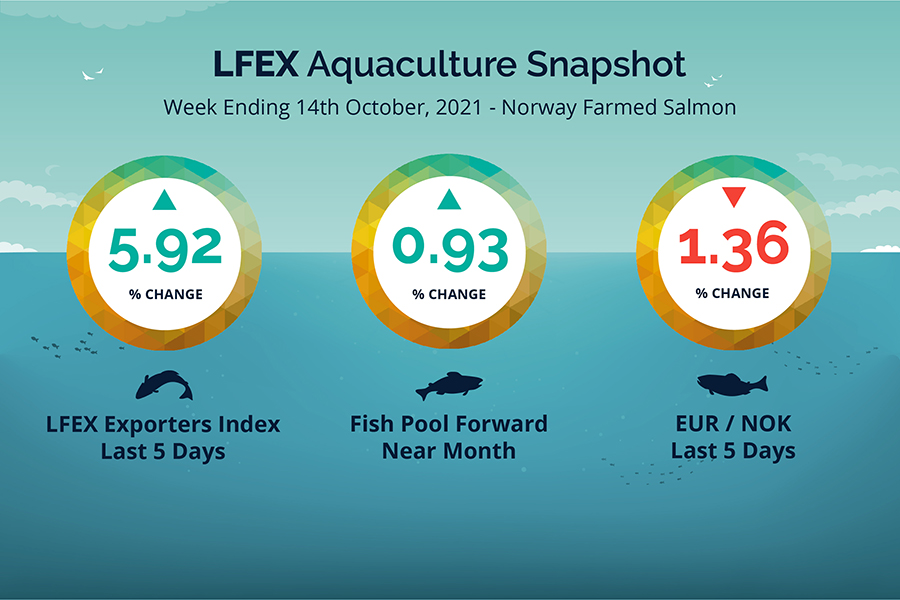 LFEX European Aquaculture Snapshot to 14th October, 2021
Published: 15th October 2021

This Article was Written by: John Ersser
---
Market Insight – Europe
The LFEX Norwegian Exporters price was up +5.92%, + 3.24 NOK at 57.96 FCA Oslo Week 41 ending Thursday vs previous Thursday price.
The NOK showed strength against the Euro at 9.795 down 0.135 NOK or – 1.36% Thursday to Thursday and the Fish Pool future October increased 0.5 to 54.5 NOK or +0.93% over the same period.
Prices gapped sharply higher Friday (+2.24 NOK / + 4.1%) and the average climbed peaking on Wednesday at 57.9 NOK. Prices are up +15.6% since the low on 16th September.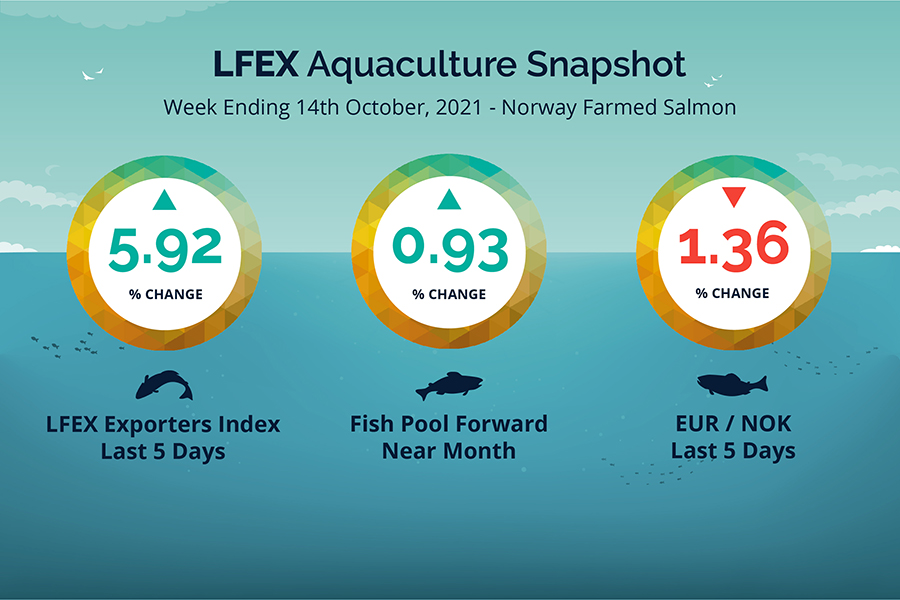 Market Data (Click Each to Expand)
| | | | |
| --- | --- | --- | --- |
| LFEX Prices | FX Rates | LFEX Indicative Exporter Prices (4 Week) | EUR / NOK FX Rate (4 Week) |
Did You Know?
Using technology as a tool it helps stream-line the supply chain processes for both sellers and buyers.
With supply chains globally under pressure as global economies rebalance, technology helps markets to communicate with trading partners globally, optimising access to offers, inventory, prices and data. When integrated this provides a seamless interface into logistics and finance systems optimising business activity and processes.
FAQ's
Q. I am new to technology and a bit nervous how can you help?
A. Firstly, good technology is there to help and assist you in your business. In any piece of technology we use there is an initial investment in time to learn how the new system works, and good technology will be intuitive but also support complexity when needed. A step by step approach to using the system and gaining confidence helps. As we do more trades and get into the more comprehensive features of the system, confidence builds until we become comfortable, and our working practises are now in harmony with the technology…and then the nerves will have been long forgotten.