The London Fish Exchange
Data / Market Insight / News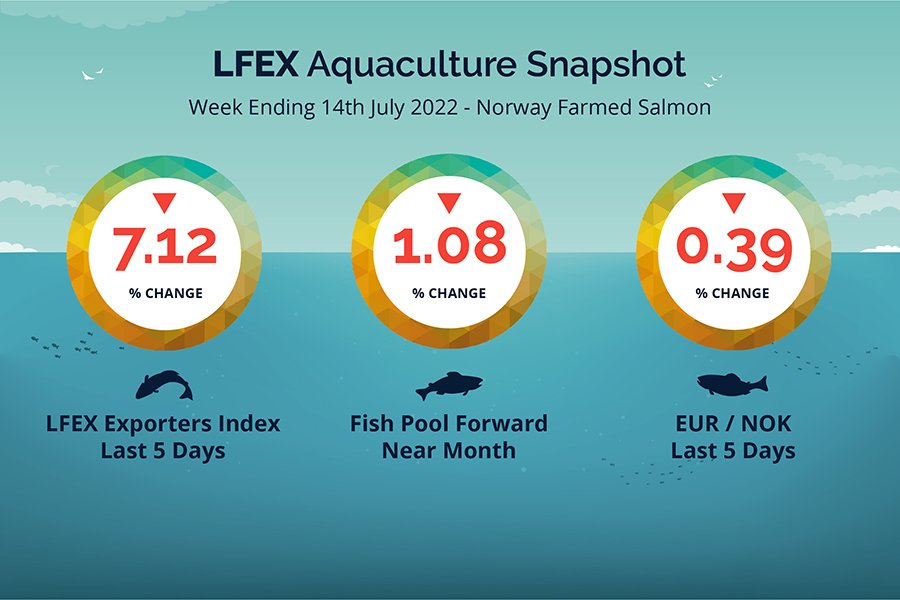 LFEX European Aquaculture Snapshot to 14th July, 2022
Published: 15th July 2022

This Article was Written by: John Ersser
---
The LFEX Norwegian Exporters Index Week 28 was down -7.12%, -6.91 NOK to stand at 90.09 NOK FCA Oslo Week ending Thursday vs previous Thursday.
The NOK was a little stronger at 10.25 to the Euro over the period Thursday to Thursday -0.04 NOK or 0.39%. The Fish Pool future July down 1.00 NOK at 92.00 NOK.
Another week that went against expectation with an overall -7.12% fall in prices despite holding up for the first 3 days. The market kicked off flattish (down 0.95% at 96.09) on Friday against the previous close and held these levels through Monday (95.75) and Tuesday (96.03). By Wednesday prices lost their support dropping to 91.86 and finally finish at the low of 90.09. The heatwave across Europe is having an impact with people buying ice cream and beer, and holidays in France and Denmark also softening demand. For reference fresh volumes versus the same weeks last year were all higher; Week 25 19385 vs 16619, Week 26 18688 vs 16407, Week 27 18410 vs 16656. Expectations for next week will be softer pricing to continue. As usual, we will see…
David Nye's analysis for a Technical viewpoint will be published on Monday.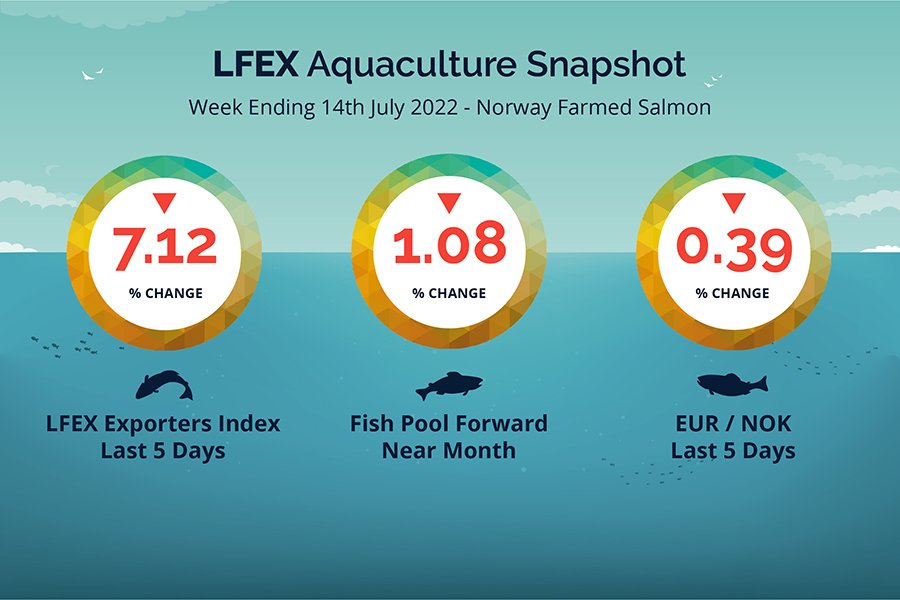 Market Data (Click Each to Expand)
| | | | |
| --- | --- | --- | --- |
| LFEX Prices | FX Rates | LFEX Indicative Exporter Prices (4 Week) | EUR / NOK FX Rate (4 Week) |
Did You Know?
Global geo-political and economic forces have driven the Euro to the USD down nearly 20% over the past year and 7% in the last few weeks, to parity with the dollar.
Which means that US$ based markets can buy fish comparatively much more cheaply – and may be a helpful focus when identifying and optimising target markets. You can track and calculate FX rates on the London Fish Exchange platform.
FAQ's
Q. I have a network of buyers I supply, how can the system help me manage my distribution channels?
A. The system is highly customisable and can be configured to show your specific network of buyers prices and offers according to their individual requirements or to groups of some of your buyers. You can manage these orders individually or collectively depending on the volume you want to sell to these customers.