The London Fish Exchange
Data / Market Insight / News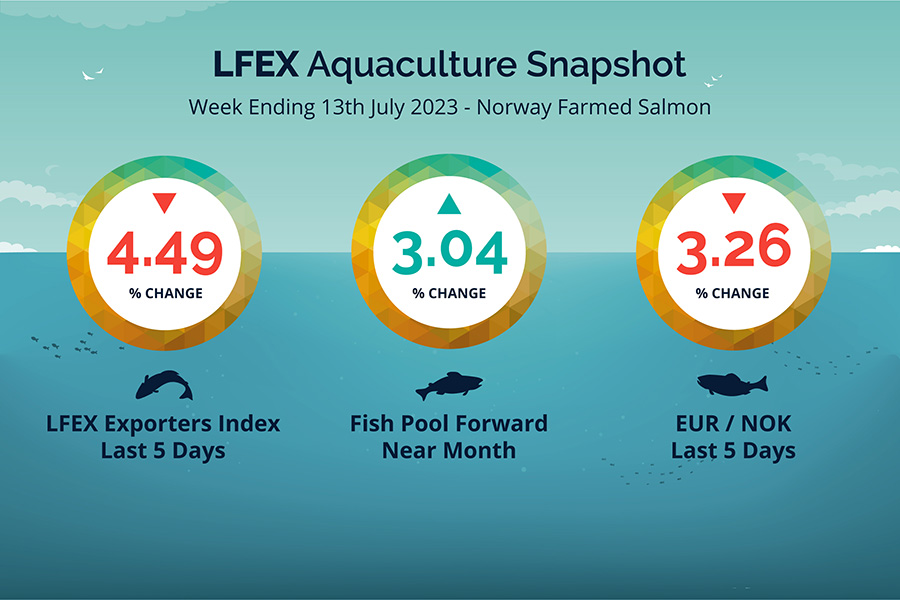 LFEX European Aquaculture Snapshot to 13th July, 2023
Published: 14th July 2023

This Article was Written by: John Ersser
---
The LFEX Norwegian Exporters Index for Week 28 2023 was down -4.49%, -4.46 NOK to stand at 94.78 NOK FCA Oslo Week ending Thursday vs previous Thursday.
The NOK rate was down at 11.26 to the Euro over the period Thursday to Thursday -0.38 NOK or -3.26%. The Fish Pool future July was reported higher at 91.4 NOK up +2.7 NOK or +3.04%.
The index price opened higher for week 28 trading last Friday at 101.69 NOK +2.45 NOK from the previous week. The index increase reflected the jump in 5/6s from 108.75 to 117.26, whilst smaller fish remained flat at around 89 and 99 respectively. While 5/6's increased slightly Monday and Tuesday, the 3/4s fell all week ending at 83.95. 4/5's peaked on Monday at 100.25 but fell back to end the week at 92.09 NOK. Larger fish closed out 109.2 NOK with a 25 NOK spread in the prices. The story for next week is definitely more 5/6s volume coming through which will put pressure on pricing with early indications around 105 to open. This may also put some pressure on the smaller sizes, however the spread is expected to contract. We shall see.
David Nye's technical analysis report will be published on Monday.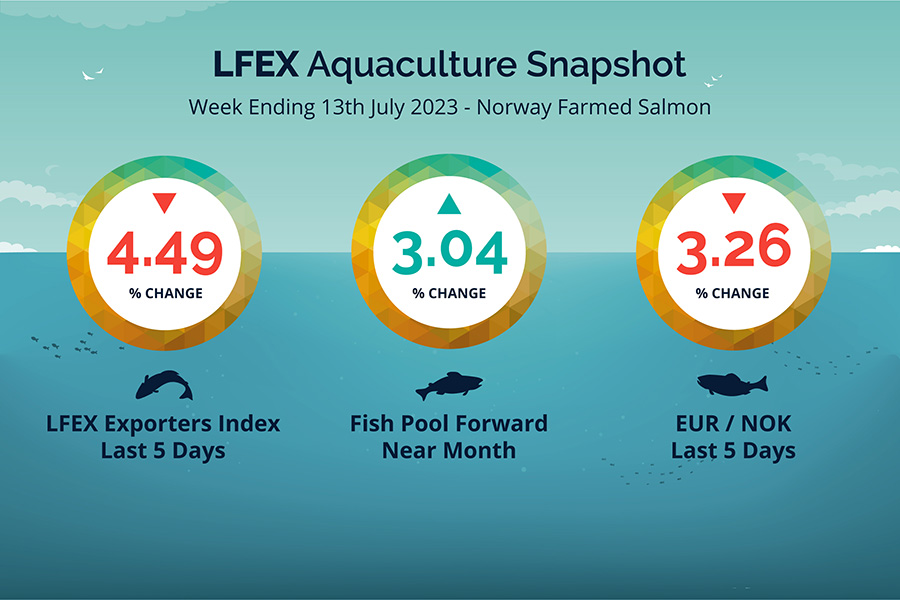 Market Data (Click Each to Expand)
| | | | |
| --- | --- | --- | --- |
| LFEX Prices | FX Rates | LFEX Indicative Exporter Prices (4 Week) | EUR / NOK FX Rate (4 Week) |
Did You Know?
Using the LFEX RFQ system you can set-up your requests to only go to specific counterparties?
Users can target specific or preferred counterparties to send offers to or request prices from allowing you to manage and focus your business, maybe because of relationships, accreditations or credit or inventory / purchasing management.
FAQ's
Q. If I use your chat service can anyone else see my messages?
A. LFEX Chat is available on both web and mobile devices and allows users to communicate in real-time with named individuals at their counterparties. This is a secure, robust and private service. It is free to use as part of the LFEX service and puts all your business communications in one place, and your private data remains just that… private.