The London Fish Exchange
Data / Market Insight / News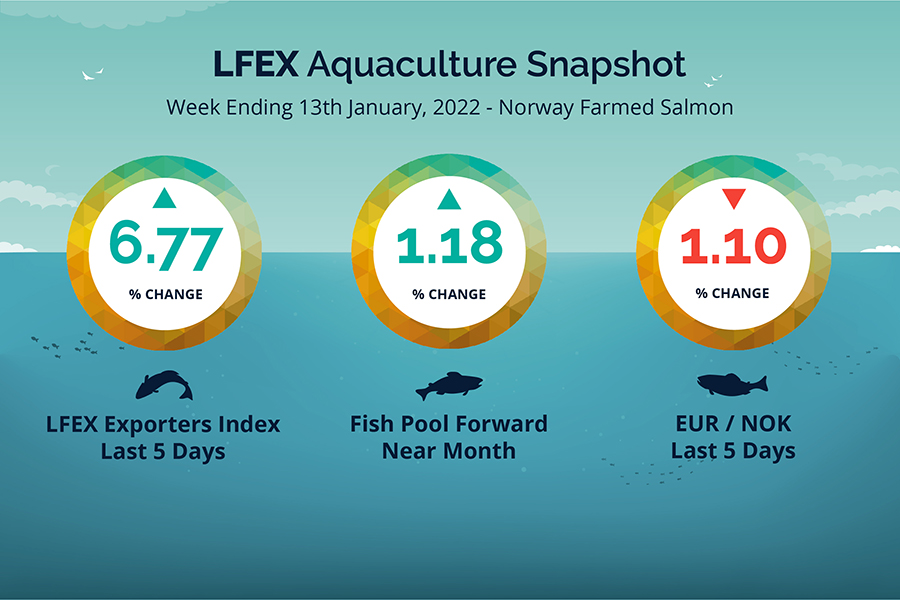 LFEX European Aquaculture Snapshot to 13th January, 2022
Published: 14th January 2022

This Article was Written by: John Ersser
---
Market Insight – Europe
The market was up again this week with the LFEX Norwegian Exporters prices up +6.77%, +4.66 NOK at 73.49 FCA Oslo Week 2 ending Thursday vs previous Thursday price.
The NOK slightly ahead against the Euro at 9.93 down -0.11 NOK or -1.1% Thursday to Thursday and the Fish Pool future January climbed 0.8 to 68.5 NOK or +1.18% over the same period.
The market opened up 4.3% on Friday at 71.79 and remained flat-ish to Tuesday when storms and bad weather affected harvesting forcing some cancellations and prices moved up a little more. Expectation of higher harvest volumes next week, but a sense that prices won't go lower. Overall good demand impacted by harvesting keeps prices high.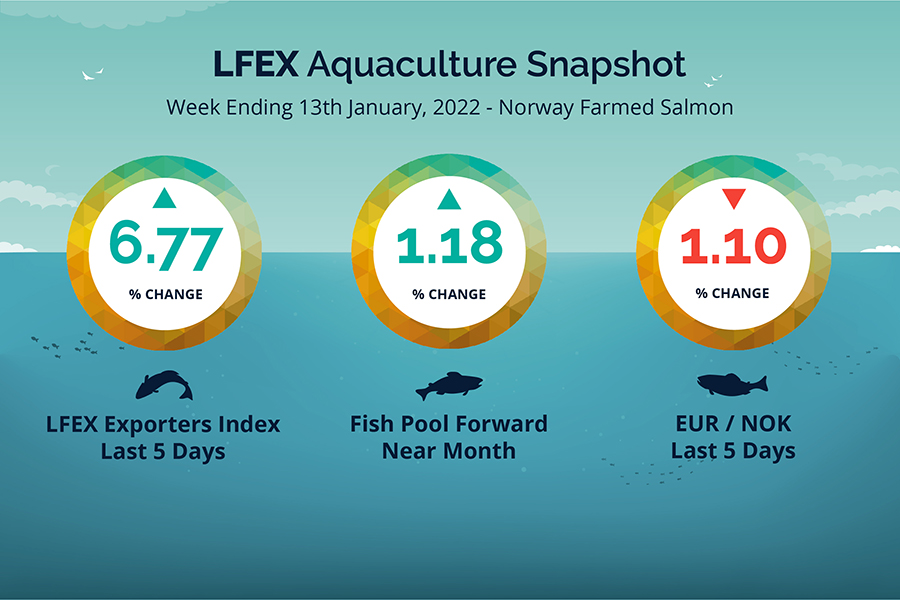 Market Data (Click Each to Expand)
| | | | |
| --- | --- | --- | --- |
| LFEX Prices | FX Rates | LFEX Indicative Exporter Prices (4 Week) | EUR / NOK FX Rate (4 Week) |
Did You Know?
Many financial markets use technical analysis to try and predict future price movements?
Technical Analysis is used to try and identify price movements in the future and trading opportunities. Analysts believe that past trading activity and price changes can be a valuable indicator of future price movement and is quite prevalent in commodity and forex markets but can be applied to any product. Technical Analysis has been developing for over a century, and there are now hundreds of patterns and signals that have been developed. They are often used in conjunction with other forms of research and analysis to formulate price opinions.
FAQ's
Q. How can I benefit from technical analysis?
A. If it were possible to track salmon prices – the more frequent the better – then an independent professional Technical Analyst could provide an insight (based on historical data) into future price trends for the salmon market. This could potentially be a very useful tool for both sellers and buyers to help identify trading patterns over the short or medium term and improve trading performance. For more information on this please contact support@lfexchange.com.