The London Fish Exchange
Data / Market Insight / News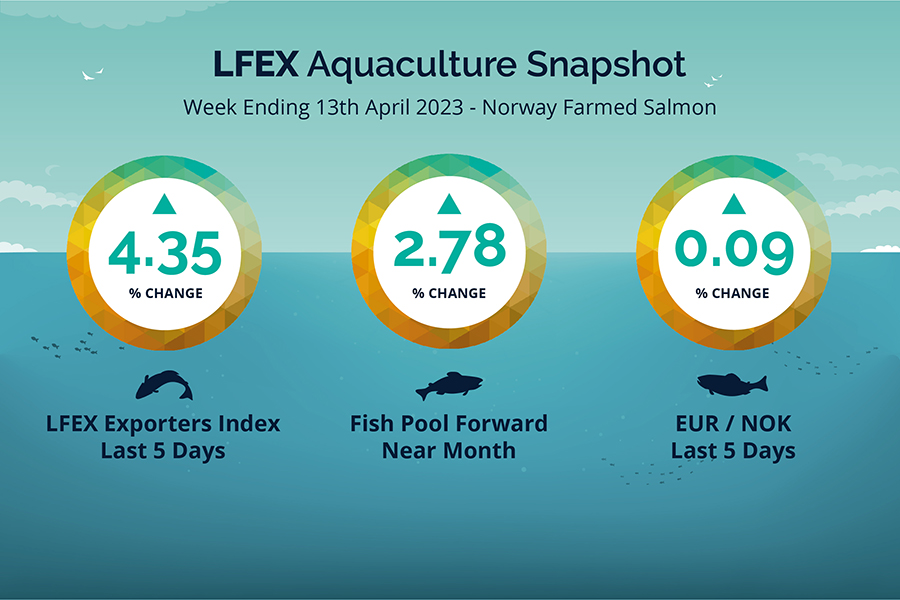 LFEX European Aquaculture Snapshot to 13th April, 2023
Published: 14th April 2023

This Article was Written by: John Ersser
---
The LFEX Norwegian Exporters Index for the short Week 15 2023 was up +4.35%, +5.25 NOK to stand at 125.93 NOK FCA Oslo Week ending (yesterday) Thursday vs previous Wednesday.
The NOK rate was flat / up at 11.40 to the Euro over the period Thursday to Thursday +0.01 NOK or +0.09%. The Fish Pool future April was reported higher at 111.0 NOK up +3.0 NOK or +2.78%.
The market opened on Tuesday after the long Easter weekend break a little firmer at 122.19, around 1.5 NOK the better as anticipated. Wednesday saw a further jump to 126.17 and the week settled at 125.93 NOK. A quiet post Easter week with less harvest and subdued activity, but still enough to keep prices high. Volumes pre-Easter week 14 were down at 11,722 tons. Buyers want to see lower prices, but it isn't happening just yet, and there aren't expectations of any major price drops for the next couple of weeks. We shall see.
David Nye's technical analysis report will be published on Monday.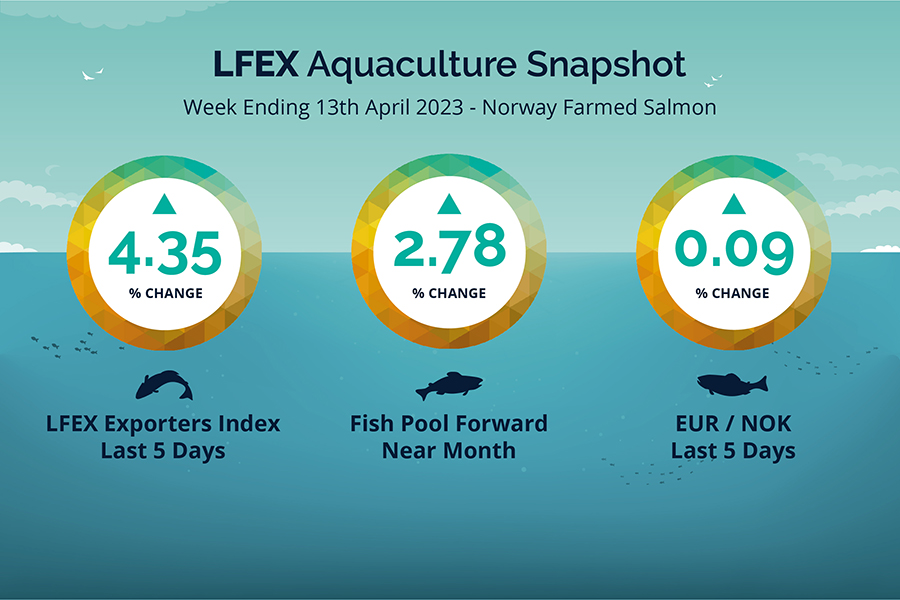 Market Data (Click Each to Expand)
| | | | |
| --- | --- | --- | --- |
| LFEX Prices | FX Rates | LFEX Indicative Exporter Prices (4 Week) | EUR / NOK FX Rate (4 Week) |
Did You Know?
The Composite Index used in technical analysis was developed by Constance Brown?
It was developed to fix a problem traders and asset manager were experiencing with the existing Relative Strength Index, which frequently failed to show any divergence where markets were flatter, and therefore missed trend reversals. By imbedding a Momentum formula within the Relative Strength Index, Constance showed a significantly improved trend reversal signal and timing characteristics. David Nye uses the Composite Index (amongst other studies) for his fascinating technical analysis views on the Norwegian and Chilean salmon markets published weekly by the LFEX.
FAQ's
Q. I want to track the business I do with specific counterparties how can I do this?
A. The system saves all your and your counterparties activity on the system. We give you the tools to then sort and manage this data yourself. If you want to find trades with just one counterparty this is easily achieved, as well as any pricing/data, or documentation against these trades. It's a super flexible real-time system to get you the information and data you need, when you need it.