The London Fish Exchange
Data / Market Insight / News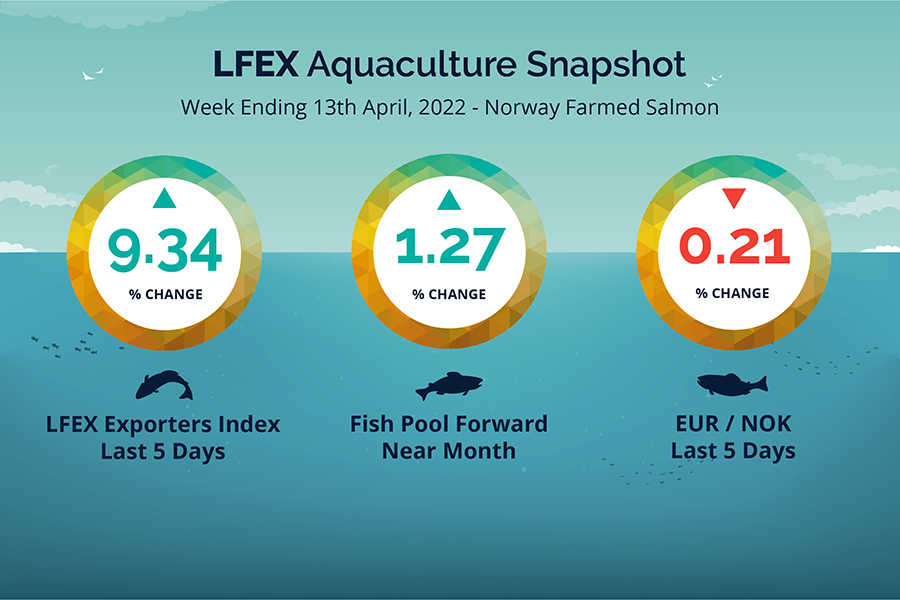 LFEX European Aquaculture Snapshot to 13th April, 2022
Published: 14th April 2022

This Article was Written by: John Ersser
---
A second incredible week in succession in the history of Norwegian salmon pricing, as prices burst through the 110NOK level building on last weeks' record highs. The LFEX Norwegian Exporters index was up +9.34%, +9.59 NOK to stand at 112.29 NOK FCA Oslo Week ending Wednesday vs previous Thursday price for the short Easter week.
The NOK was flat at 9.57 to the Euro over the period Thursday to Wednesday -0.02- or 0.21% stronger. The Fish Pool future April gained +1.25 NOK to 99.75 +1.27% over the same period.
Yet again the markets massively gapped upwards on the Friday, this time to 113.22 NOK, +10.52 or 10.24% as concerns materialised. While this was the peak for the week, falling back to 111.33 by Tuesday, Wednesday ticked up slightly to 112.29.
A short Easter week with demand peaking and lack of availability of superior quality fish for export. At these levels buyers are in shock and not much appetite yet for next week.
David Nye's analysis for a Technical viewpoint will be published on Tuesday.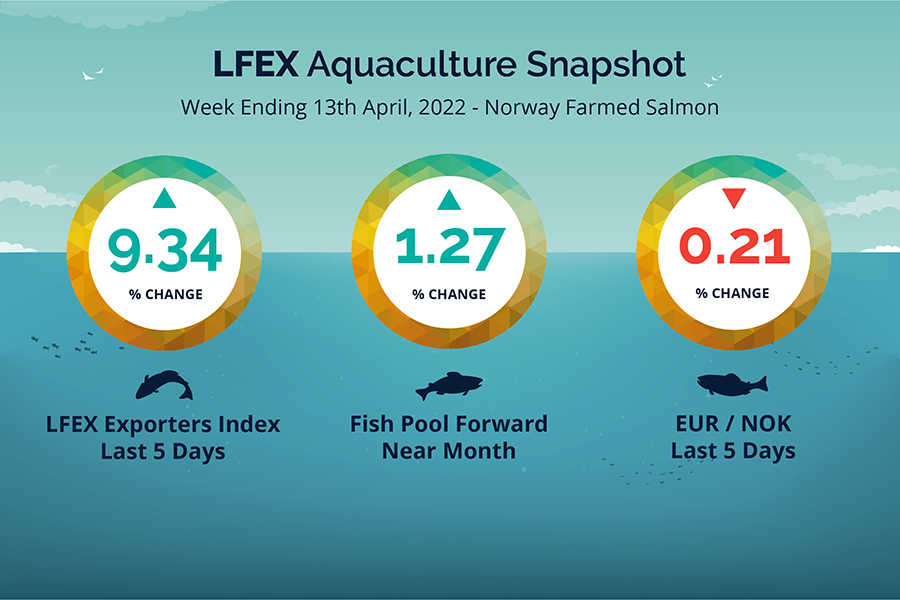 Market Data (Click Each to Expand)
| | | | |
| --- | --- | --- | --- |
| LFEX Prices | FX Rates | LFEX Indicative Exporter Prices (4 Week) | EUR / NOK FX Rate (4 Week) |
Did You Know?
We monitor pricing trends in the market and with our data look to provide useful insights into pricing dynamics for Salmon.
The pricing comparisons can take into account not just the underlying fish sizes and quality, but currency rates, duties and transportation and freight costs. In Week 14 for example Norwegian FoB Oslo 4-6KG fish were around $11.89, whilst Chilean FoB Puerto Montt 10 – 12 lbs were $9.21, a huge and unusually large $2.68 variance per KG.
FAQ's
Q. Can LFEX help me find new trading partners?
A. The answer is yes, we are here to help you and work with you. We can help introduce you to more buyers / sellers around the globe. Contact us to discuss potential counterparties and let us help you expand and improve your supply chain and business.