The London Fish Exchange
Data / Market Insight / News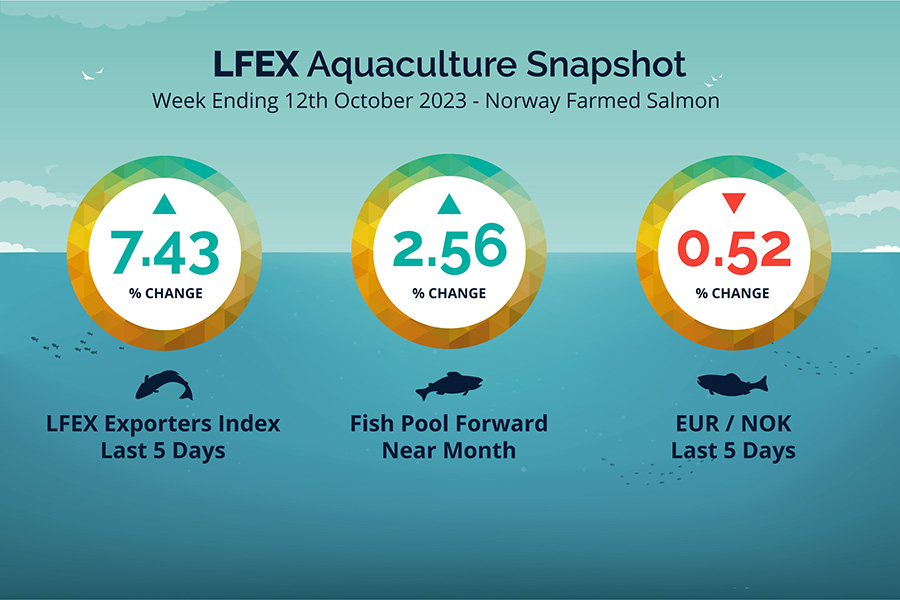 LFEX European Aquaculture Snapshot to 12th October, 2023
Published: 13th October 2023

This Article was Written by: John Ersser
---
The LFEX Norwegian Exporters Index for Week 41 2023 was up +7.43%, +5.88 NOK to stand at 85.01 NOK (approximately 7.38 EUR) FCA Oslo Week ending Thursday vs previous Thursday.
The NOK rate was slightly lower at 11.52 to the Euro over the period Thursday to Thursday -0.06 NOK or -0.52%. The Fish Pool future October was reported up + 2.00 NOK, +5.41% at 80.0 NOK.
Index prices opened up on the Friday a little higher +2.17 NOK / +2.67% at 81.3 slightly up on initial indications with zero premium for the 5/6s over the 4/5s both at 81.75, and Monday settled at 80.7 and the week low, 5/6s unchanged but 3-5s losing ground slightly. Tuesday started the climb and back up at 81.12 while Wednesday saw 82.88 NOK. Thursday pricing finishing off a positive price week indicated 85 NOK and the high. The reason for this was a lot of fish sold early on, lower volumes vs last week but very specifically poor weather and high swells (8m) meaning lack of harvesting availability pushing prices up. Fresh volumes for week 40 were 25,979 (vs 24,934 wk40 2022). Looking forward to next week weather conditions are improving, and early indications around the 87 NOK level, quite a spread with some higher offers out there.
David Nye's technical analysis report will be published on Monday.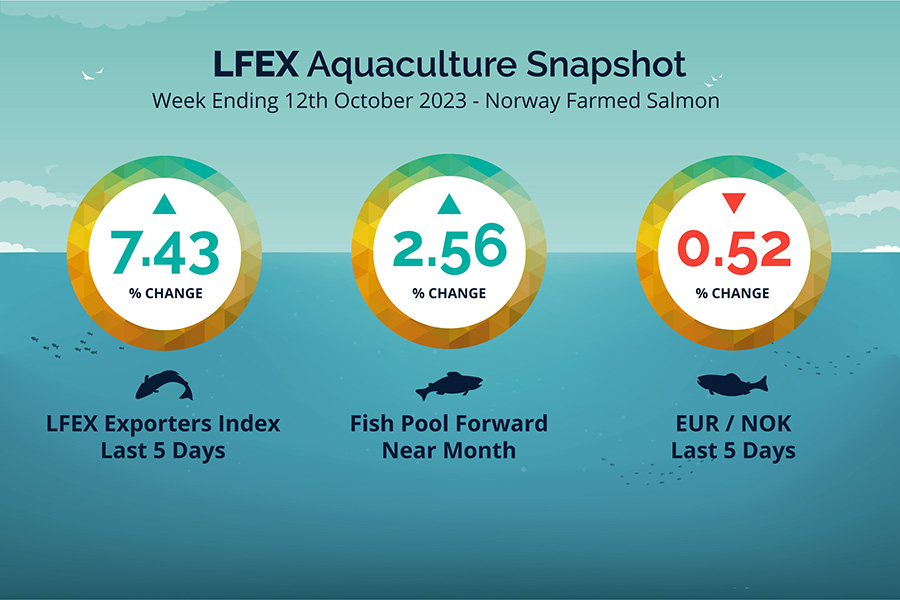 Market Data (Click Each to Expand)
| | | | |
| --- | --- | --- | --- |
| LFEX Prices | FX Rates | LFEX Indicative Exporter Prices (4 Week) | EUR / NOK FX Rate (4 Week) |
Did You Know?
Buyers don't just have to be price takers.
A balanced and ordered market should represent both sell side and buy side interest to facilitate price discovery. Buyers have as much ability to input prices and offers / orders, which in turn helps sellers get to the right price as well.
FAQ's
Q. How flexible is the system if my specifications aren't shown?
A. This is a great question, and the answer is ultimately infinitely flexible. Every week we get feedback from users and we can add new features or parameters to the system to ensure that users demands are met. Data capture and communication are key. The system also offers multiple ways of communicating in addition to the core order/trading functions, including order commentary and chat to ensure that you can always communicate clearly with counterparties.