The London Fish Exchange
Data / Market Insight / News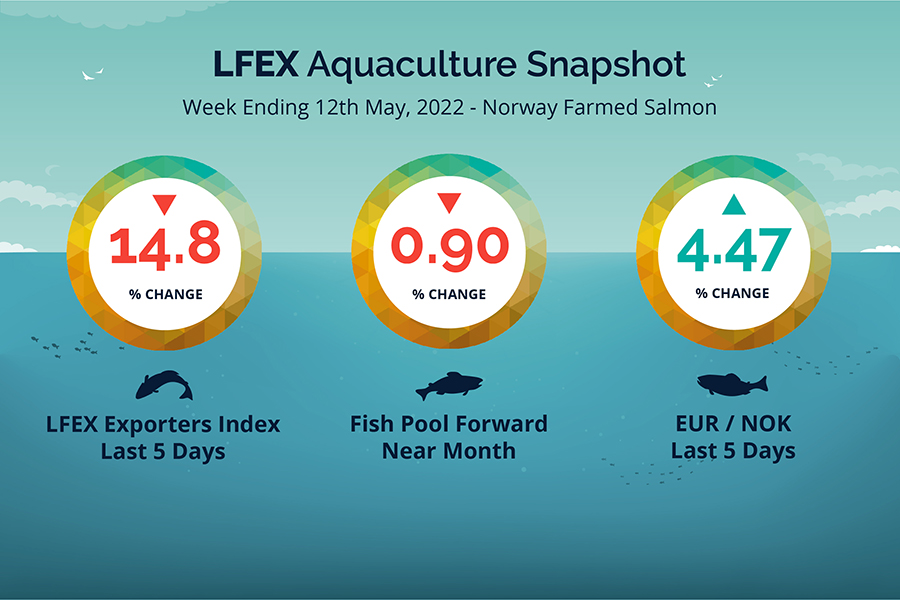 LFEX European Aquaculture Snapshot to 12th May, 2022
Published: 13th May 2022

This Article was Written by: John Ersser
---
A big drop in prices this week. The LFEX Norwegian Exporters index week 19 was down -14.84%, -17.71NOK to stand at 101.59 NOK FCA Oslo Week ending Thursday vs previous Thursday.
The NOK jumped to 10.29 to the Euro over the period Thursday to Thursday +0.44 or 4.47% weaker. The Fish Pool future May lost -1.0 NOK to 110.00, -0.9% over the same period.
In markets there is an expression, the cure for high prices is high prices, and the market is now 22.3% off its high. The week started down -3.36% at 115.29, held on Monday and then dropped nearly 15% in 3 trading sessions, 110.51, 107.72 and 101.59. The price spread between sizes has been gapping hugely (21.18 NOK), 3/4s 93.55 to 5/6s 114.73, as well as large spreads in the market between sellers. Buyers have been pushing prices down and there is inventory. Bigger fish with the chance to send to Asia making better money, smaller less especially if the fish is a little older. Next two weeks are 4 day weeks, and there really is no consensus on where pricing will go. The sense is that sellers think it over sold last week, buyers not so sure, and what is the new normal? We'll see.
David Nye's analysis for a Technical viewpoint will be published on Monday.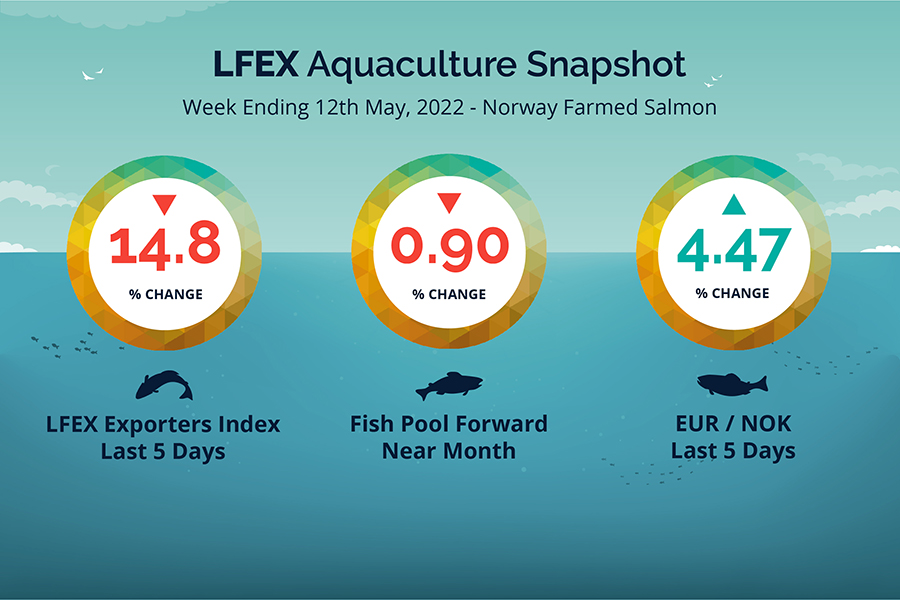 Market Data (Click Each to Expand)
| | | | |
| --- | --- | --- | --- |
| LFEX Prices | FX Rates | LFEX Indicative Exporter Prices (4 Week) | EUR / NOK FX Rate (4 Week) |
Did You Know?
Sea temperatures have been big news for the Norwegian market.
Salmon grow well with sea temperature approximately between 8 degrees and 14 degrees C, although start to pick-up feeding at around 4 degrees. seatemperature.org is a source for this information and temperatures were unusually cold and are picking up, but there is still the need for the fish to grow as things start to warm.
FAQ's
Q. I want to benchmark my Chilean salmon – how can I do this?
A. There is only one way to benchmark the Chilean salmon market and that is to use the LFEX DataSalmon indices for both the USA market (Miami D Trim) and Brazil (HON). The indices are based on the actual trades going through the market and compiled independently and auditable with nearly 80% of the market covered. It is accurate and comprehensive.