The London Fish Exchange
Data / Market Insight / News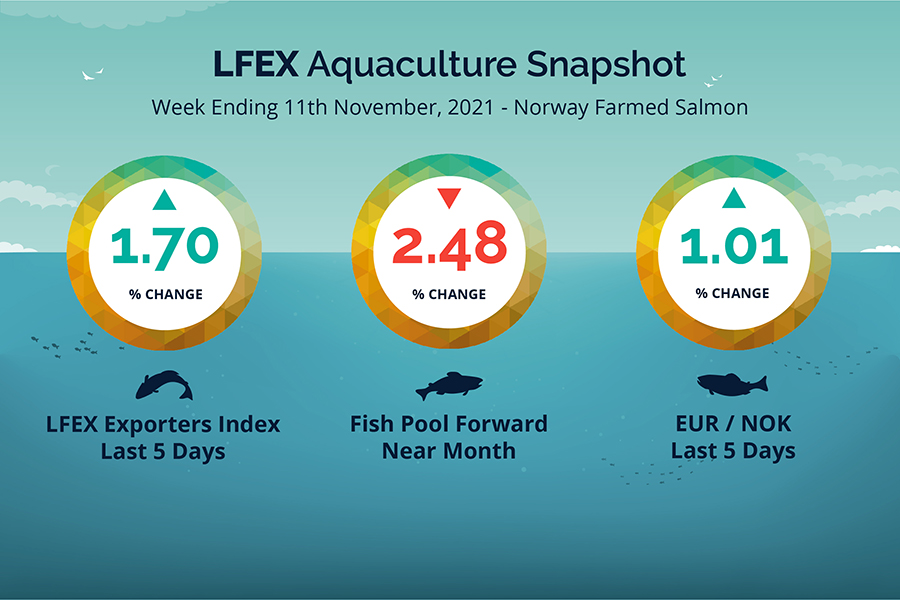 LFEX European Aquaculture Snapshot to 11th November, 2021
Published: 12th November 2021

This Article was Written by: John Ersser
---
Market Insight – Europe
The LFEX Norwegian Exporters price was up + 1.7%, +0.94 NOK at 56.14 FCA Oslo Week 45 ending Thursday vs previous Thursday price.
The NOK weakened further against the Euro at 9.97 up +0.1NOK or + 1.01% Thursday to Thursday and the Fish Pool future November fell -1.4 to 55.1 NOK or -2.48% over the same period, another big drop down in the week.
Prices opened the week lower on the Friday (53.85 vs 55.2) down -2.5%, trickled lower to Tuesdays low at 53.64, before jumping sharply in the last 2 days up 4.66%. What does this volatility mean? The 3 – 6 spreads widen back to around 2.62 NOK.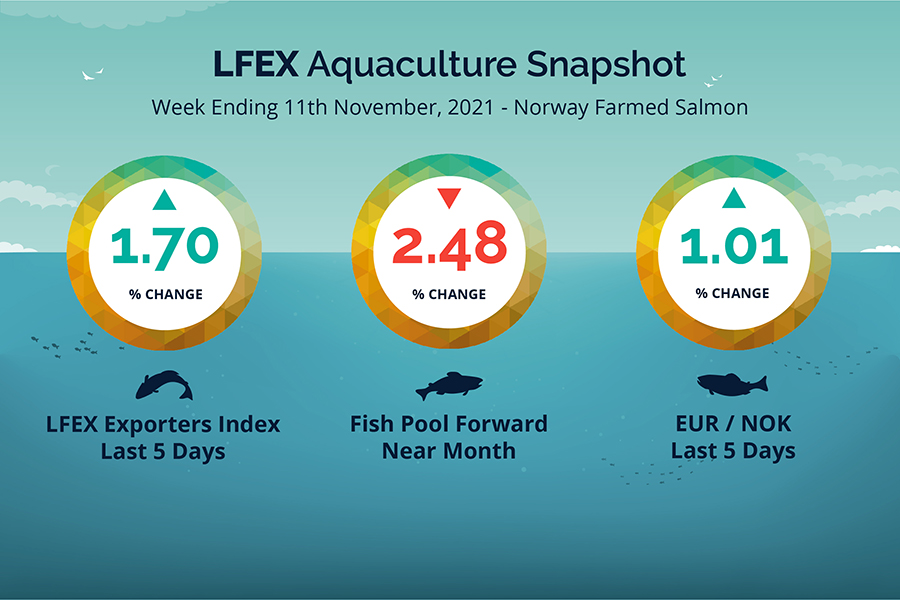 Market Data (Click Each to Expand)
| | | | |
| --- | --- | --- | --- |
| LFEX Prices | FX Rates | LFEX Indicative Exporter Prices (4 Week) | EUR / NOK FX Rate (4 Week) |
Did You Know?
DataSalmon our JV partner in Chile is the leading provider of market data for the Chilean salmon market.
The data is created from the sales information from the most important producers in Chile to provide the most accurate picture of prices as well as import and export figures, volumes and stocks.
FAQ's
Q. How can I find an average market price on LFEX.
A. LFEX publishes it's Norwegian Exporters indicative prices on a daily basis. This is an independent index and pricing created by LFEX to provide an indication of pricing and also volatility, and is the world's first daily index for the industry. It is helpful to track the market movement and sentiment intraweek. Looking back traded prices would tend to go through at slightly lower level than the exporters index as you would expect.