The London Fish Exchange
Data / Market Insight / News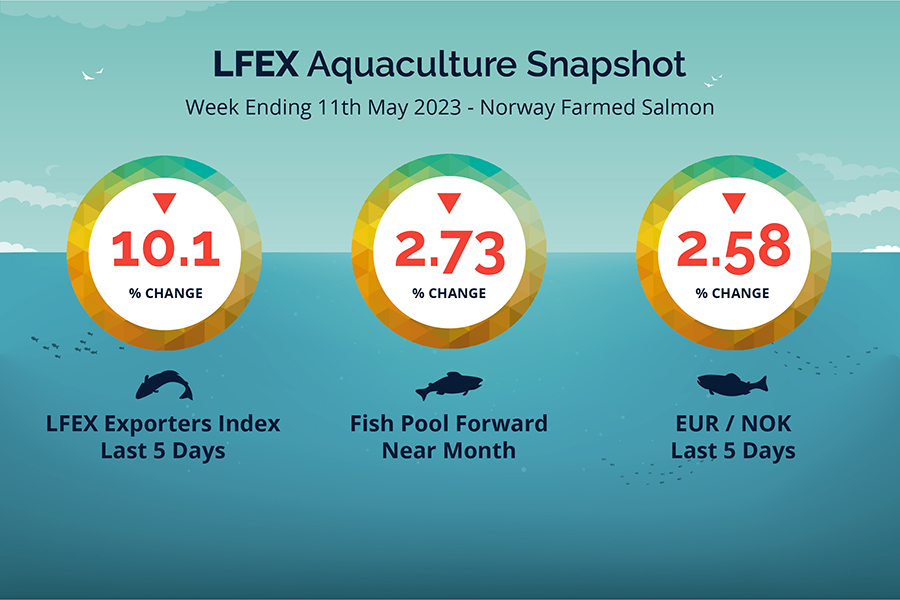 LFEX European Aquaculture Snapshot to 11th May, 2023
Published: 12th May 2023

This Article was Written by: John Ersser
---
The LFEX Norwegian Exporters Index for Week 19 2023 saw a significant drop down -10.14%, -11.44 NOK to stand at 101.35 NOK FCA Oslo Week ending Thursday vs previous Thursday.
The NOK rate was down at 11.53 to the Euro over the period Thursday to Thursday -0.305 NOK or +2.58%. The Fish Pool future May was reported lower at 107.0 NOK down -3.00 NOK or -2.73%.
A normal full trading week save for a Coronation, and for the second time in a row the market opened weaker on the Friday, down- 4.37 NOK or -3.87% at 108.42. Monday held up at 109.15 as the market tried to figure out where it was, and then prices headed south posting 106.03 on Tuesday, 103.41 on Wednesday to finish the rout at 101.35 – which wasn't predicted. Good availability of fish made buying easier especially at the end of the week. Demand was down, particularly in Poland which would account for the availability of fish and a buyers market. Pricing for next week may strengthen over all a little but this will be dependant on how much unsold fish remains available from this week. Good availability of 2-4s with the larger fish still attracting a premium (+19 NOK over 2/3s). Public holiday in Norway (17th/18th) and Ascension Day in the parts of northern Europe on the 18th will disrupt the week. We shall see.
David Nye's technical analysis report will be published on Monday.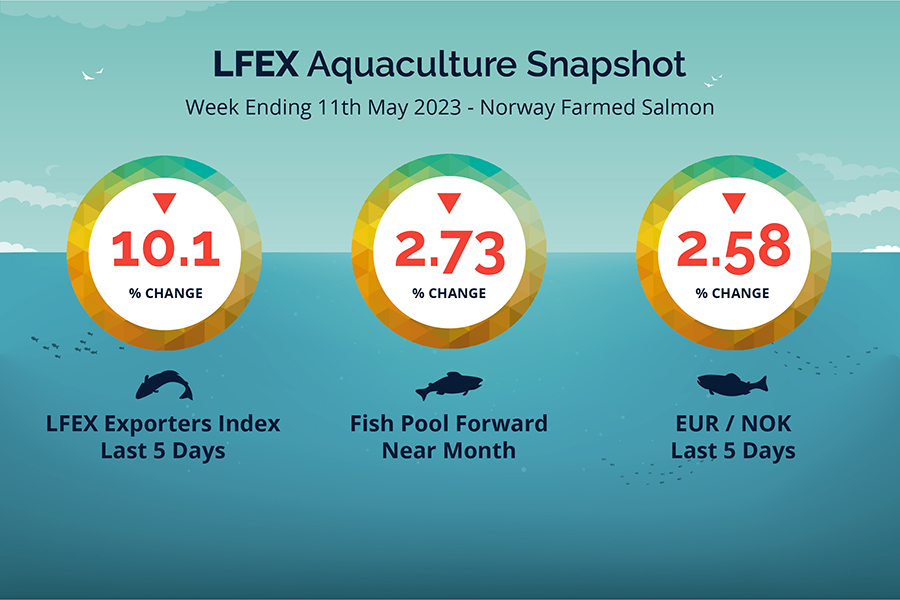 Market Data (Click Each to Expand)
| | | | |
| --- | --- | --- | --- |
| LFEX Prices | FX Rates | LFEX Indicative Exporter Prices (4 Week) | EUR / NOK FX Rate (4 Week) |
Did You Know?
The London Fish Exchange works 365 days, 24/7!
Let the LFEX work for you. It never needs an afternoon off, or a day off, or holiday (although you can access it on your vacation). It can help your company buy or sell efficiently and in a cost effective manner. You can leave offers (or requests) open when you are away, and even log on from home to check on customers / order progress when you are closed but they are still working. Let the LFEX be a key member of your team.
FAQ's
Q. After I have executed transactions on the platform can I access documentation from this order?
A. By executing on the platform you have a confirmed transaction between you and your counterparty – a fully electronically documented record of your transaction with all associated details contained in this. These details are immediately available in real-time to both parties and can be accessed whenever required. All history is maintained within the system. Further, a full suite of documentation can then be attached to these records whether it is invoices, specifications, logistics etc making all relevant trade documentation available to both parties the instant they are uploaded / updated.