The London Fish Exchange
Data / Market Insight / News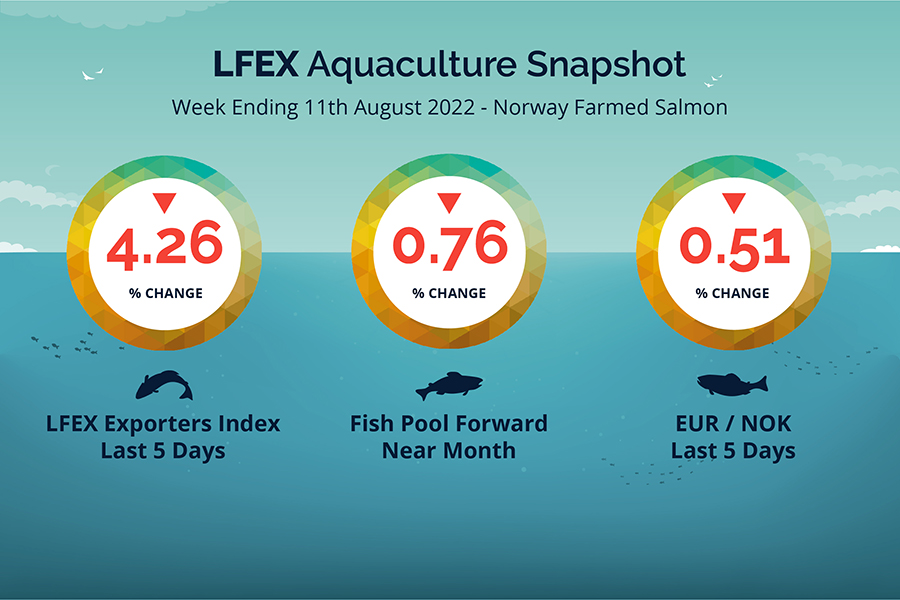 LFEX European Aquaculture Snapshot to 11th August, 2022
Published: 12th August 2022

This Article was Written by: John Ersser
---
The LFEX Norwegian Exporters Index week 32 was down -4.26%, -3.12 NOK to stand at 70.14 NOK FCA Oslo Week ending Thursday vs previous Thursday.
The NOK found strength ending at 9.817 to the Euro over the period Thursday to Thursday -0.053 NOK or 0.54%. The Fish Pool future August was down -0.55 NOK at 71.70 NOK.
The market reasonably followed expectations week 31 with similar prices to open the week and softening as the week progressed. The market was pushed slightly higher on the Friday open at 74.27 up 1.01% and maintained these levels through Monday, before softening on Tuesday by a NOK. Wednesday saw the drop down 3.75% to 70.19 where it settled for Thursday at 70.14 NOK. Over 5.5% range in the week. No great news of note being mid-summer. While the market is awaiting a further decline for next week with more volumes coming through, the overall sense is for relatively stable prices with any price movement to be on the downward side. As usual, we will see…
David Nye's analysis for a Technical viewpoint will be published on Monday.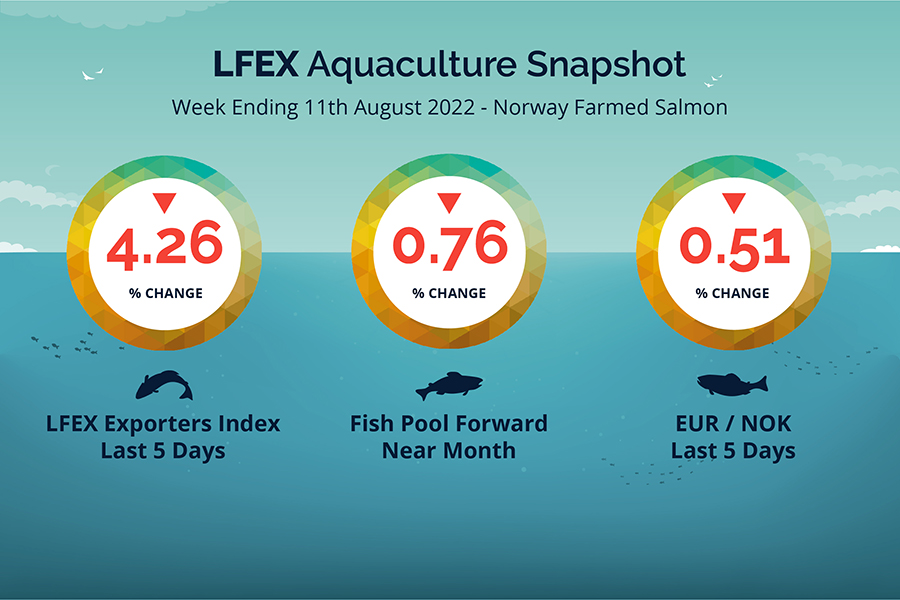 Market Data (Click Each to Expand)
| | | | |
| --- | --- | --- | --- |
| LFEX Prices | FX Rates | LFEX Indicative Exporter Prices (4 Week) | EUR / NOK FX Rate (4 Week) |
Did You Know?
If you have scheduled and/or multiple orders you can input and manage them all using the LFEX platform.
It provides a fantastic tool for organisation and schedule management for your business with all your counterparties.
FAQ's
Q. Is it difficult to use the system?
A. The system is very comprehensive and provides support for your pricing and trading front to back. It has been designed to handle standard orders very quickly and efficiently, to simplify complex orders / trades and it is straight forward and intuitive to use. LFEX provides training for all your users and can go through a demo sessions and Q and A's with you. Once set-up we provide user support on an on-going basis.