The London Fish Exchange
Data / Market Insight / News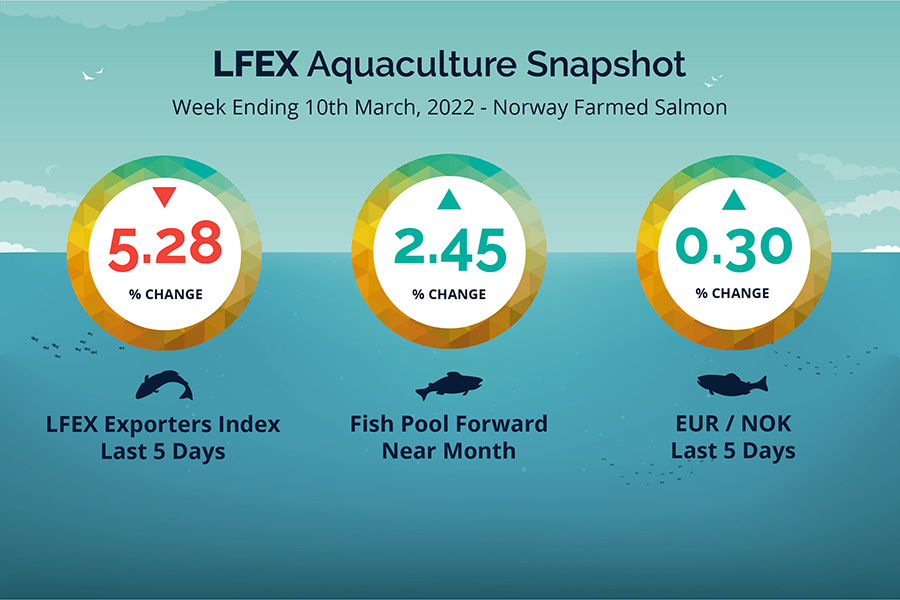 LFEX European Aquaculture Snapshot to 10th March, 2022
Published: 11th March 2022

This Article was Written by: John Ersser
---
Prices for Week 10 continued the downward trend. The LFEX Norwegian Exporters index was down -5.28%, -4.51 NOK at 80.86 NOK FCA Oslo Week ending Thursday vs previous Thursday price.
The NOK was pretty much flat at 9.89 to the Euro versus 9.86 NOK over the period Thursday to Thursday, having dipped as low as 9.77 on oil strength intra week. The Fish Pool future March climbed +2.00 to 83.50 NOK, +2.45% stronger over the same period.
Prices opened pretty flat from last weeks close as anticipated (85.77 versus 85.37) and proceeded to fall during the week to end on the low of 80.86 NOK. The spread between 3's and 6's reducing to 3.62 NOK. The market has lost 16% since the high of 21st February. The expectation is for further falls next week, with support being found at levels where more buyers are prepared to come back in. Bigger fish are more resilient due to Far Eastern demand. David Nye's analysis for a Technical viewpoint will be published on Monday.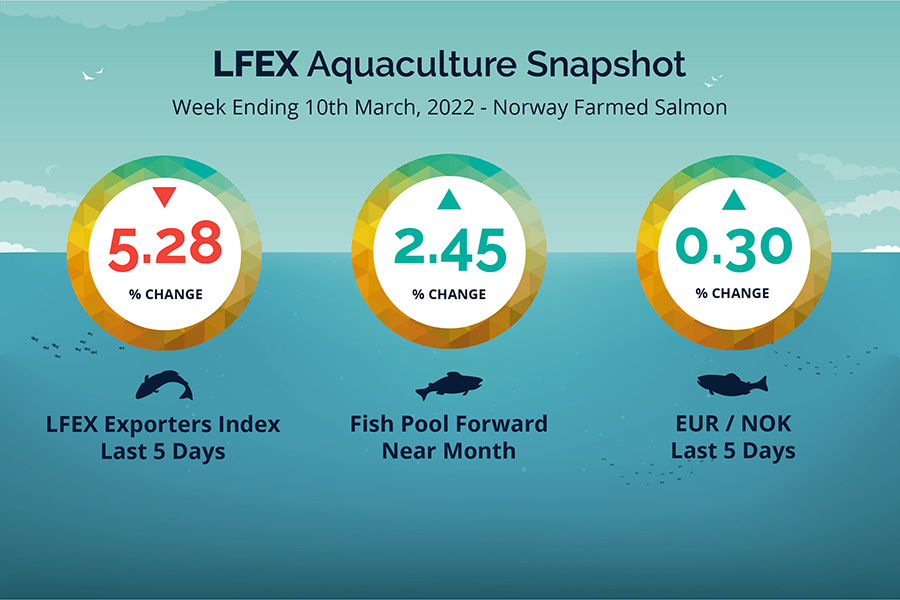 Market Data (Click Each to Expand)
| | | | |
| --- | --- | --- | --- |
| LFEX Prices | FX Rates | LFEX Indicative Exporter Prices (4 Week) | EUR / NOK FX Rate (4 Week) |
Did You Know?
LFEX delivers secure and trusted connectivity with counterparties globally for order routing, price discovery and transactions.
We deliver unique market data for the industry to help support price discovery and risk management, and we offer pre and post trade services and data to support industry operations – all in a single, real-time, seamlessly integrated technology platform.
FAQ's
Q. How does your platform work?
A. Using world-leading technology, we deliver the tools to help increase efficiency in the daily operations of the aquaculture industry. Bringing together communities on a single platform we create immediate connectivity, opportunity, price discovery and secure trading, as well as electronic order capture, documentation and data in a secure, modern and transparent environment, 24 x 7 globally – tools for you and your business to thrive.