The London Fish Exchange
Data / Market Insight / News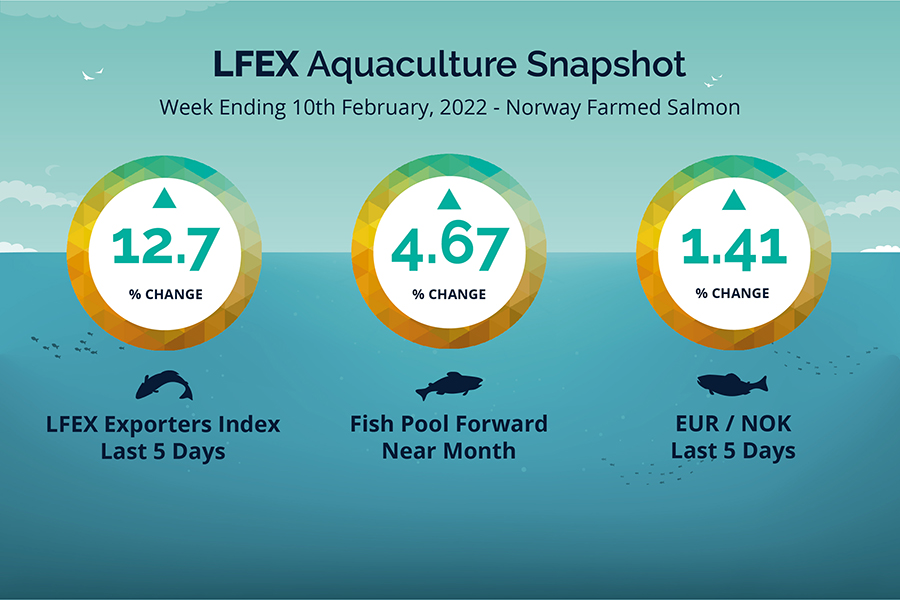 LFEX European Aquaculture Snapshot to 10th February, 2022
Published: 11th February 2022

This Article was Written by: John Ersser
---
Market Insight – Europe
A huge week in the market. Prices sharply up with the LFEX Norwegian Exporters index up 12.72%, +9.58 NOK at 84.91NOK FCA Oslo Week 6 ending Thursday vs previous Thursday price.
The NOK was +1.41% weaker to the Euro +0.14 at 10.09 NOK over the period Thursday to Thursday and the Fish Pool future February also climbed +3.5 to 75.0 NOK, +4.67% better over the same period.
An already tight market opened up 3.61 NOK (+4.79%) from Thursdays' pricing and really just kept going for one of the biggest gaining weeks we have seen. The story is little changed from last week with a dearth of export quality fish available for sale (estimates around 70% exportable versus 90% – 95% norm). Throw in bad weather and decent demand even at these price levels with people chasing fish and prices are getting driven up. The market is up 33% since December close, and there is talk of higher prices next week with perhaps the 9 Euro barrier being hit.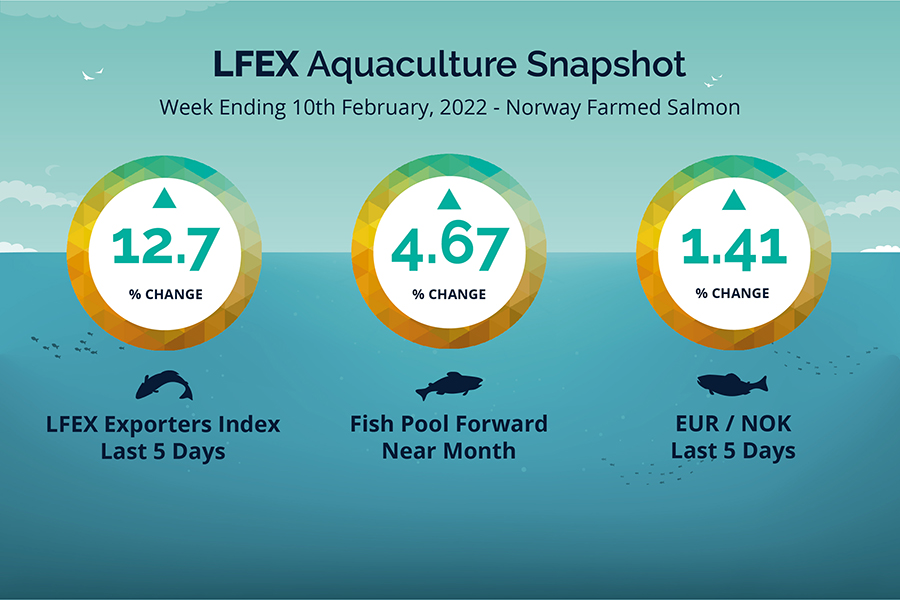 Market Data (Click Each to Expand)
| | | | |
| --- | --- | --- | --- |
| LFEX Prices | FX Rates | LFEX Indicative Exporter Prices (4 Week) | EUR / NOK FX Rate (4 Week) |
Did You Know?
Benchmark Indices are common across all major commodities.
Many of the world's agriculture products are actively trades on futures markets for either delivery or hedging or speculation. Market participants can use deliverable contracts to secure delivery of commodity products at a future date. Alternatively, users can hedge inventory or contracts using futures and either closing them out or rolling them at expiry. A liquid and active market helps in price discovery for everyone, and also the creation of indices to benchmark values and contracts against.
FAQ's
Q. I need to benchmark Chilean salmon for a contract can you help?
A. The LFEX DataSalmon Indices are the best sources of pricing for Chilean salmon products. The DS Miami D Trim and FoB PMC whole fish index for Brazil are two of the most popular. DS uses the underlying trading data from up to 80% of the market in any given week to produce independent, comprehensive and auditable index benchmark pricing for the industry. This can be used to compare trading performance or physical contract settlement for parties who want a floating market-based settlement rate.