The London Fish Exchange
Data / Market Insight / News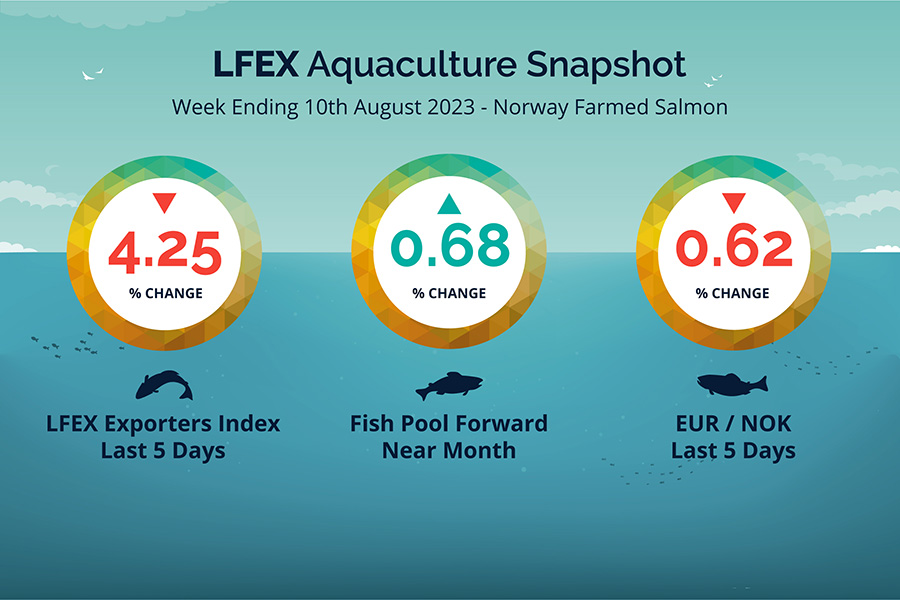 LFEX European Aquaculture Snapshot to 10th August, 2023
Published: 11th August 2023

This Article was Written by: John Ersser
---
The LFEX Norwegian Exporters Index for Week 32 2023 was down -4.25%, -3.37 NOK to stand at 75.99 NOK FCA Oslo Week ending Thursday vs previous Thursday.
The NOK rate was down at 11.19 to the Euro over the period Thursday to Thursday -0.07 NOK or -0.62%. The Fish Pool future August was reported higher at 74.0 NOK up +0.5 NOK or +0.68%.
The index price opened slightly lower for week 32 trading last Friday at 77.87 NOK -1.49 NOK from the previous week, with all weight classes (3-6) down slightly. The overall trend was a steady / gentle fall in the week, punctuated with slightly stronger pricing on Wednesday as the 3-4s picked up a couple of NOK. Thursday reached a consistency of approximately 3 NOK spread between the weight classes (72.93 / 76.15 / 78.84). Fresh volumes for week 31 were 20,649. The market has changed in terms of pricing formation at the beginning of the week, with bigger sellers leading pricing on a Friday with less intel on a Thursday. As of Friday morning, we see prices remaining around current levels from yesterday. 5/6s showing a small drop because of cancelled orders from last week due to logistics issues. Buyers are tolerating the current pricing. 5/6 pricing will come more into line with 4/5's (a prior lack of 6+). No room for prices increases next week, and likely to remain in a tight range. We shall see.
David Nye's technical analysis report will be published on Monday.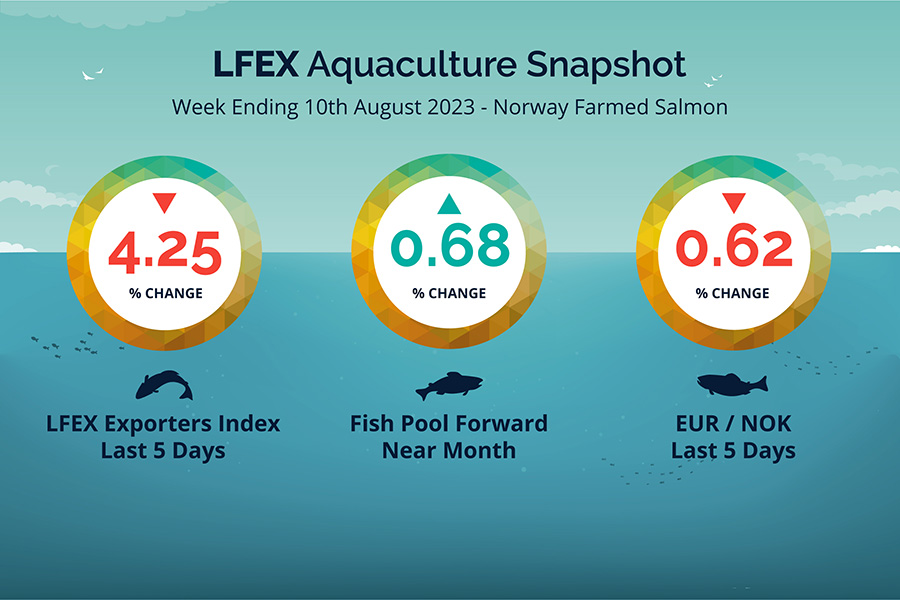 Market Data (Click Each to Expand)
| | | | |
| --- | --- | --- | --- |
| LFEX Prices | FX Rates | LFEX Indicative Exporter Prices (4 Week) | EUR / NOK FX Rate (4 Week) |
Did You Know?
The LFEX stores all your previous orders and transactions for immediate access to all your activity on the platform.
It also saves previous orders so that you can quickly and accurately input new orders / RFQ's without having to constantly key in new order information, and allows constant updating of these orders (price / volume etc) as the market develops, until you trade or end the RFQ.
FAQ's
Q. How can I better draw attention to my orders entered on LFEX?
A. An old trading adage says "size opens your eyes". Yes, a good price is nice at getting attention, but if you are willing and able to move a good volume of product it will capture attention and may help in getting the trade/s completed.