The London Fish Exchange
Data / Market Insight / News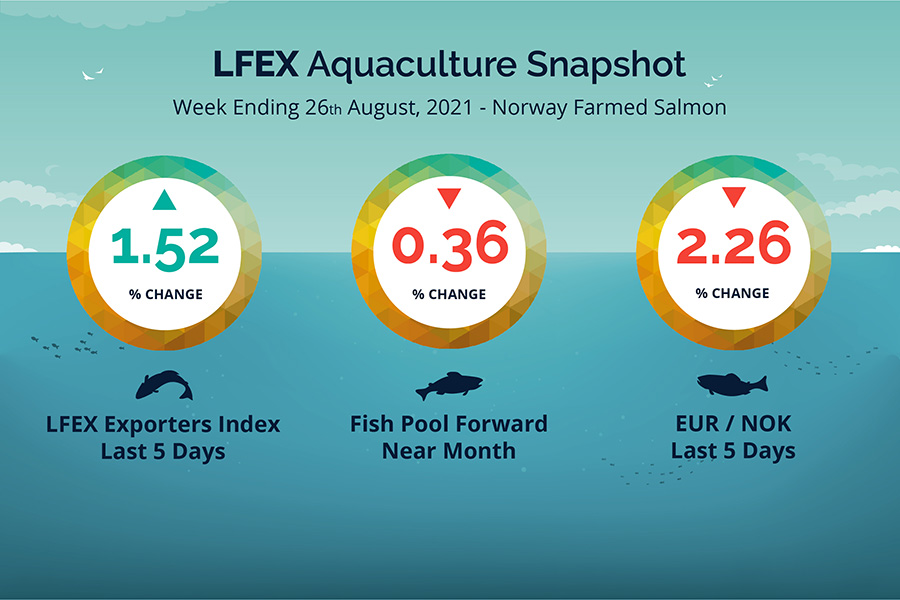 LFEX European Aquaculture Snapshot – 26th August, 2021
Published: 27th August 2021

This Article was Written by: John Ersser
---
Market Insight – Europe
The LFEX Norwegian Exporters price was up + 0.81 NOK at 54.08 over week 34 ending Thursday.
The NOK strengthened versus Euro down – 0.24 to 10.36 and the Fishpool future August was down – 0.2 to 55.0 over the same period. Prices popped up during the week to 54.76 before dropping on Thursday. European summer holidays, China logistics issues and good supply are the main themes this week.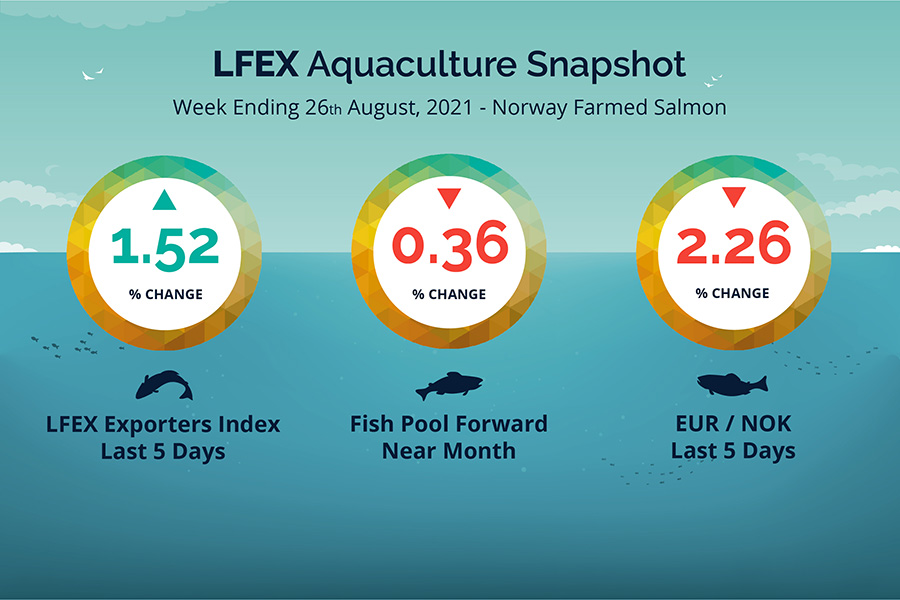 Market Data (Click Each to Expand)
| | | | |
| --- | --- | --- | --- |
| LFEX Prices | FX Rates | LFEX Indicative Exporter Prices (4 Week) | EUR / NOK FX Rate (4 Week) |
Prices Ending 26th August, 2021
Did You Know?
The LFEX Charting. Our platform is feature rich with lots of tools to help both buyers and sellers in their business.
The LFEX Charting provides users with (amongst other things) an immediate visual representation of the market intraweek of the Exporters indicative prices, along with current FX rates and Fish Pool near month future – this gives users an immediate picture of current price and currency volatility as well as potential future trend.
FAQ's
Q. I am a global buyer and would like to trade Chilean Salmon on the platform. Is this possible?
A. In partnership with DataSalmon in Chile and feedback from market participants in Chile, LFEX has implemented the required parameters for trading Chilean sourced products, these include Salmon, Coho and Trout which are now all supported. Our ambition is to provide a global platform for all sources of salmon and trout giving sellers distribution and buyers choice and connectivity globally.